"I worked with Renée Phillips for three coaching sessions. It was great to have Renée review my website, social media, e-news, correspondence and goals. She had incredibly helpful suggestions. Each session I walked away with a practical to-do list that I could see would help me toward my goal of creating a sustainable full-time artistic career. She was generous with information and I could tell she really thought about my work, goals and me when suggesting potential avenues for me to explore. Probably the most important piece I gained was the "people power list" which I'm putting in to action now. I would highly recommend Renee as a coach. She was easy to work with and kept me moving, which is exactly what I wanted and needed." ~ Melissa Dorn Richards
"Renée, thank you for your help. The clarity I gained was tremendous and I feel a little more confident every day." ~ Dianne Poinski
"I am so happy I invested in our coaching session. It gave me clarity on several things, and I LOVE how you want me to emphasize the faux finishing skill set to set me apart from other artists. Once I get my website looking better, I will contact you again for guidance and suggestions to keep me moving forward. Thanks again for being so inspiring!" ~ Debbie Viola
"Renee's knowledge helped me define tangible next steps which resulted in gaining connections, sales, and a sense of purpose and progress." ~ R. Michelle
"I can't thank you enough for the encouraging and informative consultation. Our phone call was really a turning point for me. I gained enough direction and confidence to have a go at this thing called the art business." ~ Niklas R.
"I am very pleased with the way you wrote my Artist's Biography. I now have a product that is comparable to other professional artists. Your words are very powerful and awe-inspiring. I appreciate your inputs for breaking the paragraphs down to be used for other specifics as well."
~ Lee Tisch Bialczak
"Renee, I wanted to thank you for all your knowledge, advice, and encouragement. Every time I spoke with you, I came away completely fired up—full of new ideas, direction, hope, and ready to tackle the world! The coaching I received from you transferred directly into results exceptionally quickly and has had a very positive effect on my career. You are truly great at what you do and I feel very lucky to have had the opportunity to be instructed by you. Thank you again for all your care…to say I appreciate it is a massive understatement!" ~ Sue Miller
"Every time I have had a coaching session with Renée Phillips, the quality and impact of my presentation took a quantum leap." ~ Gaia Orion
"Thanks Renee for your art coaching, it has really made a difference in marketing my art and redefining myself as a cat artist. It was great to hear from an expert as yourself, all those compliments about my cats, it's great to be reassured that I'm on the right path. I didn't know how much I had achieved since I started painting full time until you rewrote my Bio. I have been super productive and ready to open my own gallery anytime soon." ~ Adriana Gasperi
"I have never met anyone in the art world like Renée who is so singularly focused in her pursuit to help artists establish and further their careers." ~ Edward Rubin, NY art writer for Contemporary magazine, Sculpture magazine, ARTnews
"Renée, it was our absolute pleasure to be coached by you. Your advice, guidance and integrity surpassed all our expectations. You showered your expertise with warmth and a deep sense of responsibility. We recommend your services to all artists who seriously desire advancement in their career." ~ Frantisek Strouhal and Chantal Robert
"Renée Phillips is a dedicated promoter of Excellence in Art. She continues to write articles that inspire and educate artists. Her articles are on target, interesting to read and full of helpful information. Renee is always looking for new ways to help artists to achieve their goals. Thank you Renee, for all your tireless work promoting our art." ~ Elaine Hunter
"Your meticulously crafted and marvelous essay will richly contribute to my journey and strive for artistic excellence." ~ Ronald Story
"After you published my e-newsletter in your post on this website my website's page views for the week went up 3,500 percent." ~ Susan McLaughlin
"Thank you for such great information (in the Renee Phillips Weekly E-Newsletter). It helps to weed through all the information that's out there – which can be be pretty discouraging." ~  Ellen E. Denuto, artist and subscriber
"In our consultation you provided many creative suggestions that will help take my career to the next level. I was impressed with your vast expertise and thorough preparation." ~ Lawrence Schneider
"Can't thank Renée enough for all her help. I am really happy that I found her. She truly cares for the Artists she works with. Her advice and help were priceless. Renée gave me feedback on my art, helped me write my bio, and motivated me to dive into the Art World with confidence." ~ Roohi Saleem
"Renée, it is largely due to your article that I've made so many sales and gotten such great publicity." ~ Linda S. Watson
"Renée is the 'artists advocate', very knowledgeable of the arts world and very professional. She is also an excellent writer with warm and kind feelings to all us artists. I highly recommend her because I have been gaining so much knowledge through her wise advice. I feel as I'm not alone in my artistic venture. ~ Corina S. Alvarezdelugo
"There are a few people that come into your lives who make a lasting impact. Renée is one of those people. But here's the thing, it's not just me. She impacts a huge array of artists who are lifted because of her passion for art and artists alike." ~ Lisa Goesling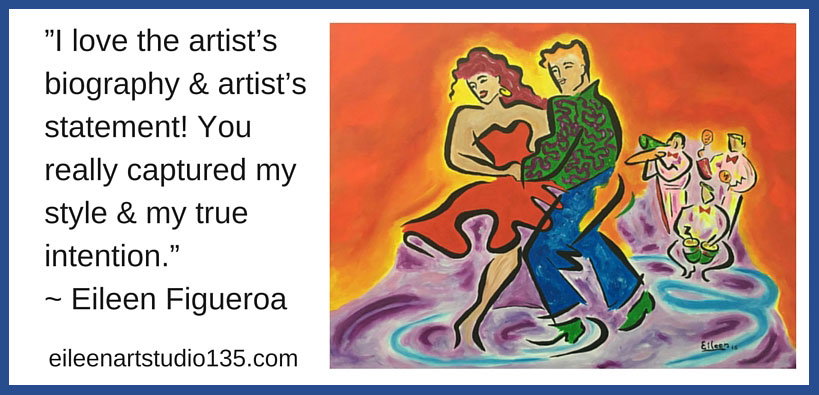 "I have known Renée since the early 1980s. She has always given me excellent advice and moral support in all my creative endeavors. I consider her one of the most experienced art professionals out there." ~ Diane Leon
"Renée is an outstanding art marketing consultant who helped me narrow my focus in my art business as well as helped me get past the hurdles and personal doubts of starting a nonprofit organization. I looked forward to our weekly sessions and always came away from them with lots of notes, inspiration and steps to implement." ~ Daggi Wallace
"I am grateful to you for recommending me for a major NYC exhibition and introducing me to a leading curator. ~ Marie Hines
"Renée is a highly motivated, creative minded and intellectual individual, both inside and outside the realm of art. Her knowledge and understanding of various art practices and her ability to advise artists career wise has given Renee an edge in her field. I highly recommend her." ~ Lavar Munroe
"Renée, my consultation with you and your articles positioned me to make a big sale.. Consulting you was a turning point in my career." ~ June Bisantz
"Renee is one the best and smartest help we can find in New York!" ~ Patrick Bancel
"I won a Pollock-Krasner Grant thanks to my private consultation with you and your career guidance." ~ Stephen A.
"Renée, Thank you very much for the bio – I am delighted with it. The quote is wonderful and I am sure it will have a positive effect." ~ Amanda B.
"You have been incredibly helpful in showing me my options and how they could fit into the scheme of my own work and life. I have more focus, confidence and motivation." ~ J. Taback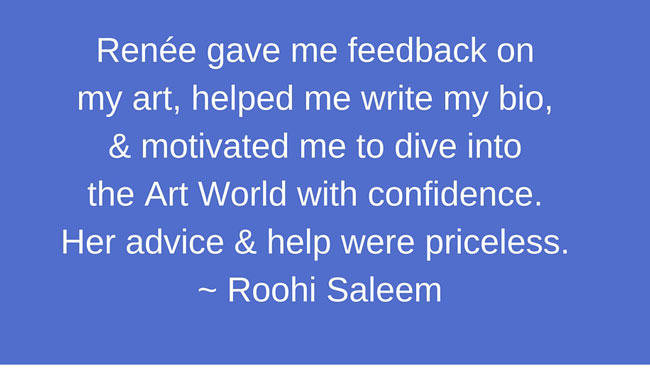 "Renée, with your advice I received a grant for $10,000 to make and promote this CD." ~ John Serafin
"Renée's infectious enthusiasm and wise, caring guidance have given me a greater sense of clarity in both the creative and marketing aspects of my business. My husband and friends have commented on how much more focused and happy I am since working with Renee. A more inspiring coach would be hard to find!" ~ Ellen Joseph
"Thanks to Renée Phillips, I'm very honored about the Individual Support Grant from the Adolph and Esther Gottlieb Foundation New York, Inc. 2014." ~ Elke Daemmrich
"Renée I love the Artist's Biography and Artist's Statements you wrote for me. You really captured my style and my true intention! ~ Eileen Figueroa
"The participants ranked your presentation as "excellent" (the highest choice) and pinpointed you as the highlight of the symposium." ~ Silvermine Guild
"Thank you for your discussion concerning my artwork during New York Foundation For The Arts "Doctor's Hours". After our meeting I am even more eager to work on getting my artwork into galleries. You gave me direction and ideas for making a professional presentation, places to send my work to, and validation that my work is cohesive enough to start contacting galleries." ~ Nisha D.
"Your talk was the best we've had." ~ Catharine Lorillard Wolfe Association
"I traveled from San Francisco to see you. I'm so glad I made the effort. Thank you for providing the art world with such an informative service. I have already made progress in several areas as a result of what you taught me." ~ Monoca L.
"Thank you on behalf of everyone at City College for the opportunity to learn from your expertise. We appreciate your enthusiasm, generosity and valuable information." ~ Susan Smolinsky, Graduate Art Society of City College
"I was blown away by the extent to which Renée studied all there is to know about my work, by her grasp of my vision, and her extraordinary language and insight." ~ Eleanor Gilpatrick
"I am in awe of your work! You have great writing ability. You really depicted me as a real professional artist. I am so grateful for you, for writing this spectacular Artist's Biography and Essay and for being an inspiration and mentor to me." ~ Beth Younger
"The biographical art essay you wrote is beyond perfect and I am so excited to use it in promoting my art. Your writing is a visual painting! I have to say no one writes as fantastic as you do."~ Bren Sibilsky
"I am very pleased with the way you wrote my Artist's Biography. I now have a product that is comparable to other professional artists. Your words are very powerful and awe-inspiring. I appreciate your inputs for breaking the paragraphs down to be used for other specifics as well."
~ Lee Tisch Bialczak
"Your ability to concisely, accurately and enthusiastically write about my art makes it a very important element in any marketing and promotional efforts" ~ Arthur Jacob
"I love how you wrote this bio. I am so happy that I met you and outsourcing this task has taken a
weight off my shoulders. Thank you." ~ Joanne Brown
"Renée, it is largely due to your article that I've made so many sales and gotten such great publicity." ~ Linda S. Watson
"Renée, the response to your article in my social network has been awesome. A Minneapolis magazine is going to do a story on me and my art work after they saw my post on Facebook."
~ Philip Noyed
"Thank you for your sharing so much useful information on how to improve our Art business.  Thank you for holding our collective hands!" ~ Bela Fidel