Helping Artists achieve their fullest creative, career and financial goals is my mission. I serve artists, from around the world, from beginners to advanced, in all styles and mediums. On this page you'll find out about my career consulting and career coaching services. I also offer writing services for artists so, if you're looking for help with your Artist's Biography, Artist's Statement and an Art Review visit this page.
Let's Take Your Art Career to the Next Level.
As your career consultant and coach I know how to evaluate your strengths and unique attributes as an artist. With a 30 year, in-depth knowledge of the art business I have served as an art marketing consultant, mentor, curator, arts writer and arts advocate. I'm the author of several art books, have presented talks in many leading art institutions and have curated more than 60 exhibitions. I also studied art at the Art Students League and other NYC art schools. I am a member of the International Association of Art Critics. I am also the founder, director and curator of Manhattan Arts International. and The Healing Power of ART & ARTISTS.
Read my longer bio here.

"Renée Phillips is not only incredibly knowledgeable in her field of expertise, she is also life changing in the direction of my art career. She helped me establish my creative goals, career goals and financial goals and expanded the horizon in all directions of what is possible for me as an artist. She truly cares for the growth of each artist in a realistic, objective and achievable way. Renée is a superb mentor!" ~ Denisa Prochazka
What You May Receive in the Career Coaching Sessions
Every artist's situation is different and the focus of our consultation depends on your goals and priorities. However, you can expect some if not all of these topics to be covered in your consultation with me.
• Professional and constructive feedback about your art portfolio and style.
• Editorial feedback on your website,  artist's statement and artist's biography.
• Ways to define your customer profile and market options.
• How to increase your sales, exhibitions, and career status.
* Pricing.
• How to approach galleries and art consultants.
• Choose the best art career marketing directions for you.
• Ways to use and improve your Social Media experience.
• Any other areas you want to receive advice about!
**********************************************************
Rates
One Session: 60-minute phone consultation: $250 by check or $265 by PayPal (where you can also pay using any major credit card).
Save Money by Taking 3 Sessions: Save 20% by scheduling three 60 minute sessions in advance.
Rates: $600 by check and $650 by PayPal. You'll also receive one bonus 30 minute session. Send me an email and let's get started!
Are You are Returning Client?
If you've had a consultation within the past 12 months and want to book another session, you are entitled to receive an additional 10% discount.
**********************************************************
How to Arrange A Consultation or Coaching Sessions With Me
Send me an email renee@manhattanarts.com and write "Consultation" in the subject of the email. Describe in about 50 words or less what you need help with. Let me know how you learned about me.
In the email supply a link to your web site. Please do not send any attachments.
If you don't have a website, upload 10-20 of your most recent works of art on google drive: https://drive.google.com/drive/my-drive and provide the link.
You will receive a reply from me within 4 business days.
Through email we'll get acquainted, I'll let you know if I'm the right person to help you reach your objectives. If so, we'll go ahead and arrange our official consultation appointment.
My Preparation Before the Consultation
Before our consultation I will ask you to provide 3 goals that you hope to gain through my professional guidance. Prior to the consultation I spend a substantial amount of time visiting your website, so I can prepare constructive feedback and strategies. You have the option to prepay for our consultation using either PayPal or check.
Thank you! I look forward to receiving an email from you soon and help you take your career to the next level!
I Also Offer Writing Services For Artists
If you're looking for my writing services for your Artist's Biography, Artist's Statement and an Art Review visit this page.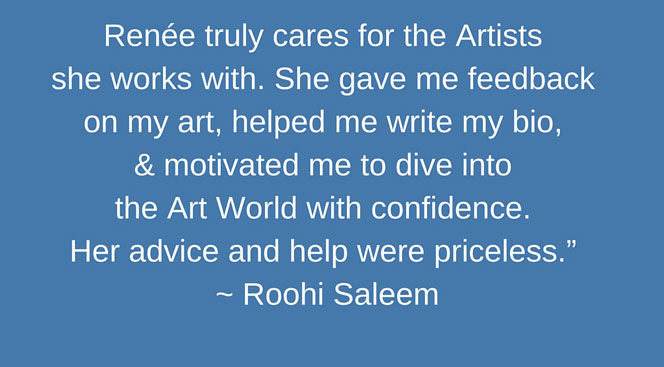 More Positive Comments From Artists
"Renée, it was our absolute pleasure to be coached by you. Your advice, guidance and integrity surpassed all our expectations. You showered your expertise with warmth and a deep sense of responsibility. We recommend your services to all artists who seriously desire advancement in their career."
~ Frantisek Strouhal and Chantal Robert
"What I appreciated most about our consultation was that you offered more than advice. You had the insight to connect deeply with who I am as an artist." ~ John S.
"Thank you for your discussion concerning my artwork during New York Foundation For The Arts "Doctor's Hours". After our meeting I am even more eager to work on getting my artwork into galleries. You gave me direction and ideas for making a professional presentation, places to send my work to, and validation that my work is cohesive enough to start contacting galleries." ~ Nisha D.
"Renée, my consultation with you and your articles positioned me to make a big sale.. Consulting you was a turning point in my career." ~ June Bisantz
"Renée, with your advice I received a grant for $10,000 to make and promote this CD."
~ John Serafin
"Renée's infectious enthusiasm and wise, caring guidance have given me a greater sense of clarity in both the creative and marketing aspects of my business. My husband and friends have commented on how much more focused and happy I am since working with Renee. A more inspiring coach would be hard to find!" ~ Ellen Joseph