This article includes four courageous artists who have overcome insurmountable odds. Hopefully, their stories will inspire you during difficult challenges throughout your art career.
As you know, when your career is going smoothly, it is easy to stay committed to your goals. When sales are steady, you seem to attract more buyers. When your work receives rave reviews, you are inspired to produce. But, the true test of courage and commitment is when something like this happens: Your art gets damaged in a flood, your gallery goes bankrupt, or the promised fellowship or grant falls through. Although you may be tempted to give up your career you persevere, knowing you are being prepared for something greater. You have the power to turn any obstacle into a triumph.
Frida Kahlo ~ Enduring Polio and Pain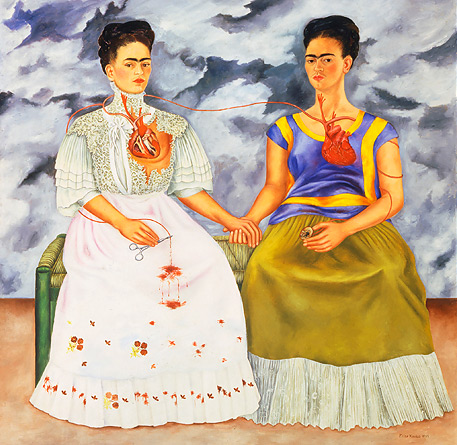 "I am happy to be alive as long as I can paint." ~ Frida Kahlo
Frida Kahlo, one of the greatest women artists, created art praised for its originality, its surreal, dreamlike, and fantastical quality, expressed in a personal voice. At the age of six she was stricken with polio. At age18 she was in a bus when it overturned. She suffered numerous injuries including a broken spinal column, a broken collarbone, and 11 fractures in her right leg. Throughout her life she had relapses of tremendous pain and fatigue, which caused her to be hospitalized for long periods of time and also caused her to undergo about 30 operations in her lifetime.
Her art both mirrored and transcended her suffering and loss. By exposing intimate aspects of herself, her paintings were a type of catharsis, releasing sorrow and pain associated with her physical trauma. Kahlo used her art as a way to bare her pain and tragedy instead of hiding her disability shamefully.
Through her many self-portraits she was able to project her pain onto the canvas. This enabled her to relieve herself from the burden of dealing with her agony. She wrote, "I paint self-portraits, because I paint my own reality. I paint what I need to. Painting completed my life. I lost three children and painting substituted for all of this." She wrote in her diary, "I am not sick, I am broken. But I am happy to be alive as long as I can paint."
Auguste Renoir ~ Painting With Debilitating Arthritis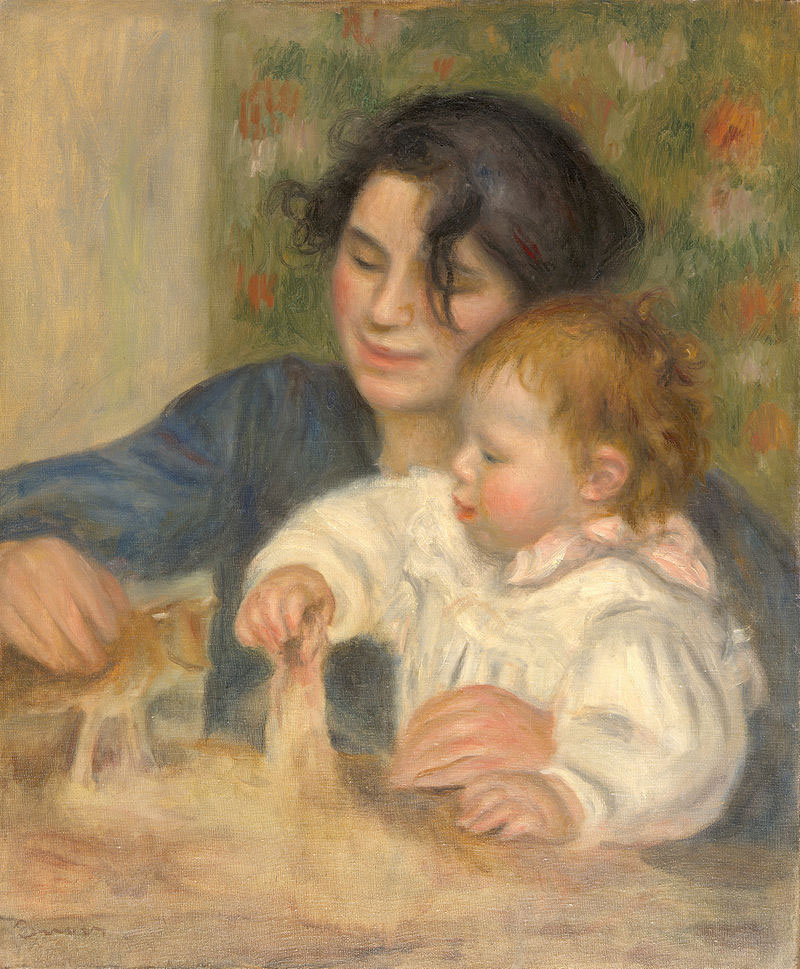 "One must from time to time attempt things that are beyond one's capacity."
~ Auguste Renoir
Auguste Renoir's paintings are known for often focusing on people in intimate and candid compositions. In characteristic Impressionist style, Renoir suggested the details of a scene through freely brushed touches of color, so that his figures softly fuse with one another and their surroundings.
After enduring a series of rejections by the Salon juries, Renoir joined forces with Monet, Sisley, Pissarro, and several other artists to mount the first Impressionist exhibition in April 187. In it, he displayed six paintings. Although the critical response to the exhibition was largely unfavorable, Renoir's work was comparatively well received. He enjoyed a successful career.
Around 1892, Renoir developed rheumatoid arthritis. In 1907, he moved to the warmer climate of "Les Collettes," a farm at Cagnes-sur-Mer, close to the Mediterranean coast. He developed progressive deformities in his hands and ankylosis of his right shoulder, requiring him to change his painting technique. The arthritis also cased severe pain. It has often been reported that in the advanced stages of his arthritis, he painted by having a brush strapped to his paralyzed fingers, but this is erroneous; Renoir remained able to grasp a brush, although he required an assistant to place it in his hand. The wrapping of his hands with bandages, apparent in late photographs of the artist, served to prevent skin irritation. (Source: Wikipedia)
Renoir painted during the last twenty years of his life even after his arthritis severely limited his mobility.
Mark di Suvero ~ Surviving Crushing Accident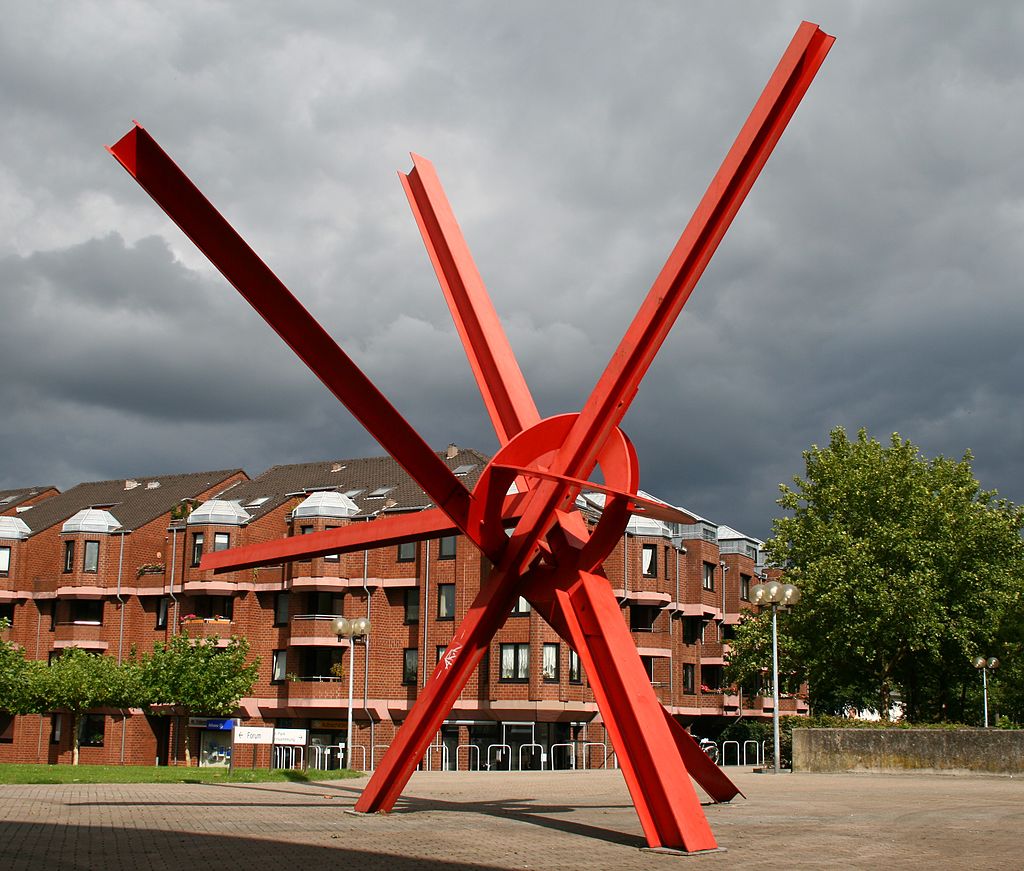 "The more of yourself you put into it, the more you get out." ~ Mark di Suvero
Mark di Suvero is one of the best-known sculptors in the world. Early in his career he was crushed in an elevator under a one-ton weight. He has found a way to crawl inside a crane in order to lift several tons of weight to make his fifty-foot sculptures. Since his accident his pieces have constantly grown in scale.
Di Suvero protested the Vietnam War, for which he was twice arrested, before he left the United States in 1971. During his four-year self-exile, he exhibited his works in the Netherlands and Germany, taught at the Università Internazionale dell'Arte, and lived in Chalon-sur-Saône, France where he maintained one of his studios on a barge until 1989.
He later returned to the United States and opened a studio in Petaluma, California in 1975. While the Petaluma studio is still active, di Suvero moved to New York City and opened a studio there.He founded the Athena Foundation in 1977 and Socrates Sculpture Park in 1986, both of which function to assist artists.
In the book Chronicles of Courage: Very Special Artists, written by Ambassador Jean Kennedy Smith with George Plimpton, di Suvero is quoted as saying: "The more of yourself you put into it, the more you get out. Anyone who creates art for any length of time ends up with this wish to bring more to the world!"
Success is not measured in terms of a single event but our endurance to prevail. When we face the tragic events in our lives with self-confidence and fortitude we experience our greatest potential for growth.
Physical prowess, financial wealth or intelligence will not help you as much as having strong commitment to achieving your goals as an artist. As Emily Dickinson reminds us, "We never know how high we are till we are called to rise. And then, if we are true to plan our statures touch the skies."
INSPIRE SOMEONE ELSE. PLEASE SHARE THIS ARTICLE!
by