I've had the pleasure of knowing Nancy Reyner www.nancyreyner.com, for several years. She is the epitome of a well-balanced consummate professional as a painter, author and instructor. She has been painting for over 30 years and is highly skilled in a variety of media including oil, acrylic, watercolor and mixed media. Her art can be found in galleries and is in numerous collections. Nancy and I recently had an invigorating conversation on a variety of topics ranging from art, galleries, career, healing, and wellness. I found her perspective on the topic of success extremely insightful. This interview with the inimitable artist Nancy Reyner on the topic of success will help many artists at all career levels.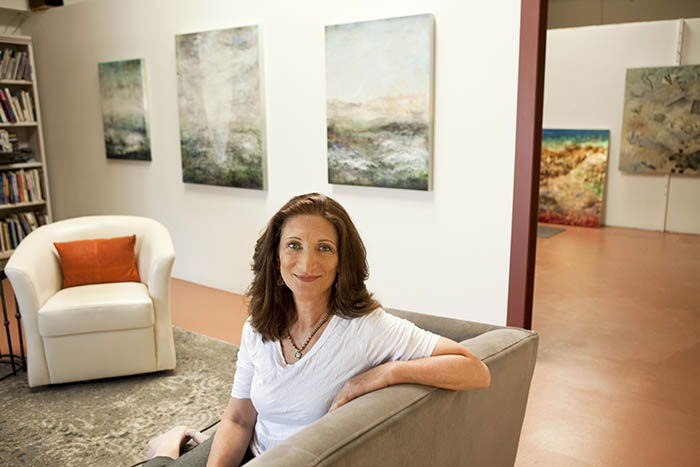 About Nancy Reyner
Born and raised in Philadelphia, PA, Nancy received her BFA from the Rhode Island School of Design, an MFA from Columbia University, and now lives in Santa Fe, NM. She is the author of several books on painting, including the best-seller "Acrylic Revolution". Her next book "Create Perfect Paintings: An Artist's Guide to Visual Thinking", is due for release in April 2017. It is now available to pre-order on Amazon.
Nancy's art is in numerous private and corporate collections including the City of Santa Fe Civic Center, Ritz-Carlton, Tysons Corner, VA, University of New Mexico Hospital, Albuquerque, NM, Southwestern College, Santa Fe, NM, among others. She has appeared on television for HGTV's "That's Clever", and worked for 16 years as a technical consultant for Golden Paints.
In future interviews we will delve into her latest book and her experience as an author, creator of instructional DVDs and creative coach.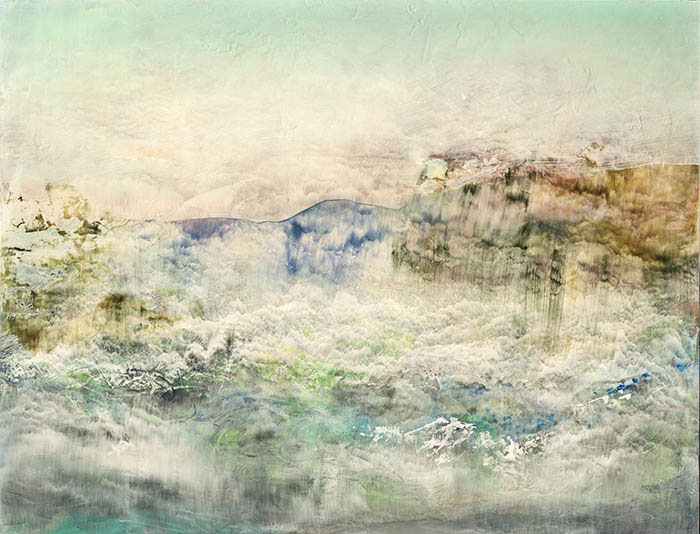 RP: Nancy, you have achieved a magnificent and spellbinding signature style that seems otherworldly… heavenly. What inspires you and how do you describe your work?
NR: I start with materials that excite me, like gold leaf, and reflective pigments. I then work the paintings until the images seem to glow, and the materials appear to transform into something else, something otherworldly. Using nature as a guiding principle, my images portray luminous notions of air, water, earth and light. Creating imaginary new worlds, merging the literal and the metaphorical, my paintings hover somewhere between pure abstraction and realistic landscape.
"Nancy Reyner's work is evocative of so much that it is hard to put any name on it. It's like my favorite kind of colors, the ones where you say, "Wow, what is that color? Is it mauve or is it gray? I don't know, but I love it." For me, Nancy's work is about the interstitial spaces between my reality and whatever else is out there!" ~ Edy Keeler, Interior Designer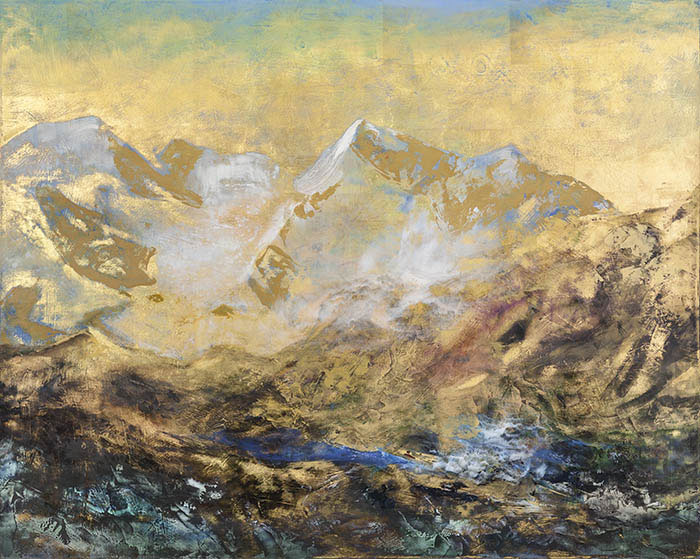 RP: How do you feel successful as an artist?
NR: To answer this question, I feel it necessary to first define success. The term is bantered around quite a bit, yet for each of us, I am sure that the picture of success varies greatly. The first time someone asked me what success looks like to me, it was over 20 years ago. It made me uncomfortable then, so I joked about it stating "having a 2000 sq ft studio, an assistant and a xerox machine". (Yes, xerox machines back then). Well, a few years later I did have a large studio and a copier, and it occurred to me that I had achieved something. From that point on, I have taken the idea of defining success seriously.
Periodically I write out a new vision and take time to acknowledge when I have achieved one or more of those goals. As time goes by my vision continues to change. My latest idea of success is waking up each morning happy, energized and healthy, with freedom in my day to paint when I want and for how long. Since that is my current reality, I feel successful. Maybe it's time for my next vision?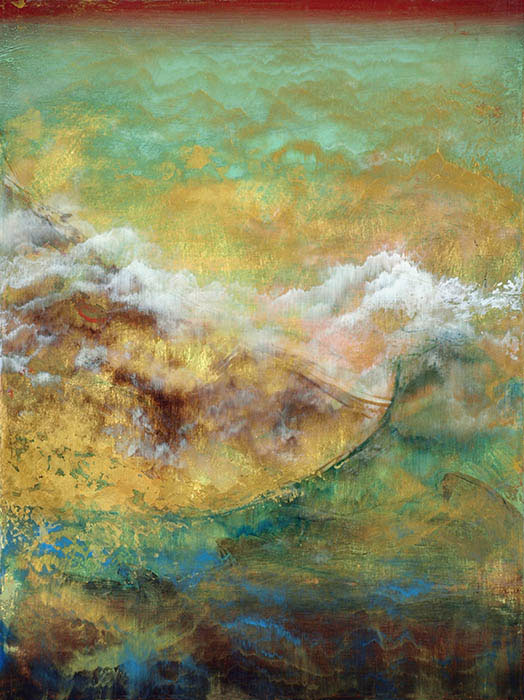 RP: You have achieved so many accomplishments. What advice can you offer to artists who find this career to be challenging and often frustrating?

NR: Three key aspects for me are perseverance, doing the best I can and staying positive. Regarding perseverance, I like the idea from Malcolm Gladwell's book Outliers, that any field, task or career requires 10,000 hours of practice to reach mastery level. This doesn't mean we need to wait that long to start an art career,;however, it does mean that we can't expect certain aspects of success until we work enough hours for the art to be noticeable, powerful, well-designed, and at a point where the work has a signature style. I feel that finding our personal or signature style is something we can't force, instead it will come naturally over time. So it's important to persevere knowing that our work continually gets better and better.
The second aspect, doing the best I can, is about making the best work I can make. I will not let a painting out of my studio until it is as perfect as I can make it. If my gallery needs work faster, requiring me to compromise quality, they aren't the gallery for me. I use all three aspects for my business side as well. In other words, I like to think of the business and marketing parts of my career as creative too, and put my best effort forward in every aspect. It is very fulfilling to do the best I can.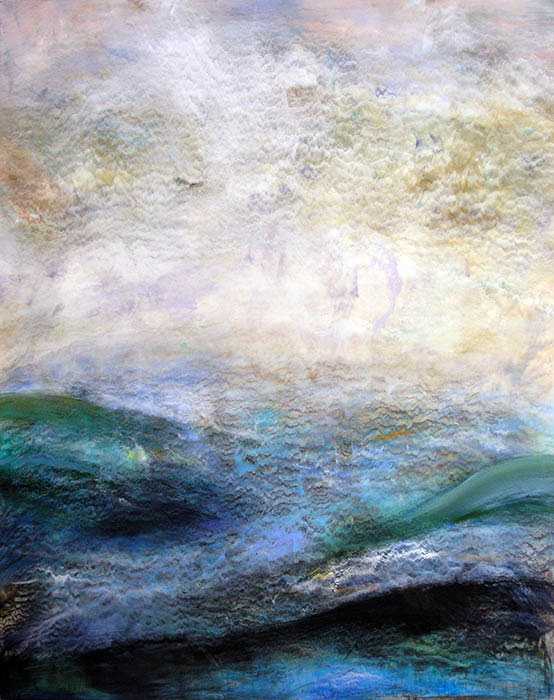 RP: That's wonderful advice. Please share more reflections on the subject of "success".

I remember not so long ago, pounding the streets looking for galleries to show my work, in my home town of Santa Fe as well as other cities, including NYC. Now I don't have to search. I have galleries all over the country contacting me. I have an agent that places almost all my finished work, so I actually don't even need a gallery at this point. This feels like success to me. More respect, more notoriety, more opportunities to make the art I want to make.
I take the time daily to meditate on my life and what I have achieved, and this gives me a sense of satisfaction. In other words, I don't take anything for granted – my muse, my dealers, my clients and all the other people in my life that mean a lot to me, personally as well as for my career.
Visit Nancy Reyner's website: www.nancyreyner.com
Join Nancy Reyner in Social Media
Facebook: https://www.facebook.com/NancyReyner
LinkedIn: https://www.linkedin.com/in/nancyreyner
Twitter: https://twitter.com/nancyreyner
Pinterest: https://www.pinterest.com/nancyreyner/
Instagram: https://www.instagram.com/nancyreyner/
PLEASE SHARE
by