In this article you'll learn about a wonderful upcoming exhibition in NYC and get a creative idea for your next art exhibition. It's an idea that will add an extra dimension to it, involve more participants, and get people talking about your exhibition before, during, and long after it.
This article includes excerpts from my e-Book "How To Create Successful Art Events".
A Multi-Disciplinary Collaborative Exhibition
American painter Linden Frederick creates dramatic paintings that are nocturnal visions of rural and small-town America. His dark and haunting signature style is reminiscent of that of Edward Hopper; however,  in Frederick's paintings the human presence is merely a suggestion.
For his upcoming one-person exhibition "Linden Frederick: Night Stories" at Forum Gallery in New York, NY, Frederick invited 15 of America's most renowned authors to write a work of short fiction inspired by one of his 15 paintings.
This unique and exciting collaboration is an unprecedented concept for both the artist and the gallery. It was an idea that grew organically because his paintings have a strong narrative element that have inspired so many writers. This project  also required long range planning to put all of the pieces together.
In coordination with this exhibition Forum Gallery will publish a book of the 15 paintings with the short fiction inspired by them.
The Inspiration Behind This Exhibition
Frederick explains the notion behind the project: "The growing number of authors, screenwriters, and playwrights collecting my work, and the resulting conversations with them as to why they are connecting so strongly to it as storytellers, made me decide an exhibit defining and honoring that connection could broaden the traditional art viewing experience and provide a cross-cultural entry point for a wider audience."
"Linden Frederick: Night Stories" will be on view at Forum Gallery from May 11 through June 30, 2017 before it travels to the Center for Maine Contemporary Art, Rockland, Maine, on view from August through October, 2017.
About Linden Frederick
Frederick grew up in Upstate New York and studied art at Ontario College of Art in Toronto and the Academia de Belle Arte, Florence, Italy. Since moving to midcoast Maine in 1989, Linden Frederick has been included in exhibitions at the Farnsworth, Ogunquit and Portland museums of art in Maine and in gallery exhibitions throughout the U.S. Most recently, his work was exhibited at the James A. Michener Art Museum in Doylestown, PA. His work is in public collections nationwide, and owned by private collectors from the literary, film and finance communities, among others.
About Forum Gallery
Forum Gallery was founded in New York City in 1961 as a gallery of American figurative art.  The gallery is a founding member of the Art Dealers Association of America. Its contemporary exhibition program has been augmented by curated, thematic exhibitions of historic importance, in keeping with the gallery's focus on humanism. Forum Gallery's program includes more than 20 leading American and European artists and estates. If you are ever in NY you should visit the gallery at 475 Park Avenue.
Try Your Own Innovation Version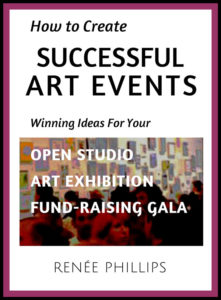 Frederick's career is something to admire and strive for, isn't it? Although you may not be at his level professionally or know renowned writers, you could try your own multi-disciplinary version of this type of collaboration.
The point of sharing this idea with you is to inspire you to take your vision higher when planning your next exhibition.
Why organize an ordinary exhibition like everyone else when you could do something that will be challenging, collaborative, and have people talking about your exhibition before, during and long after it!
For more ideas like this one, check out my e-Book "How To Create Successful Art Events".
PLEASE SHARE
by