It's fascinating how many artists reveal how they are inspired by God, prayer and faith. Their religious beliefs play an important role in their creative process. It's an important subject worthy of our attention and discussion, with many artists to write about — more than I could cover in one article. In this article I am pleased to present four extraordinary artists — one leading artist from history and three contemporary artists.
Does God, prayer and faith influence your art? Please write your comment below after reading this article.
Minnie Evans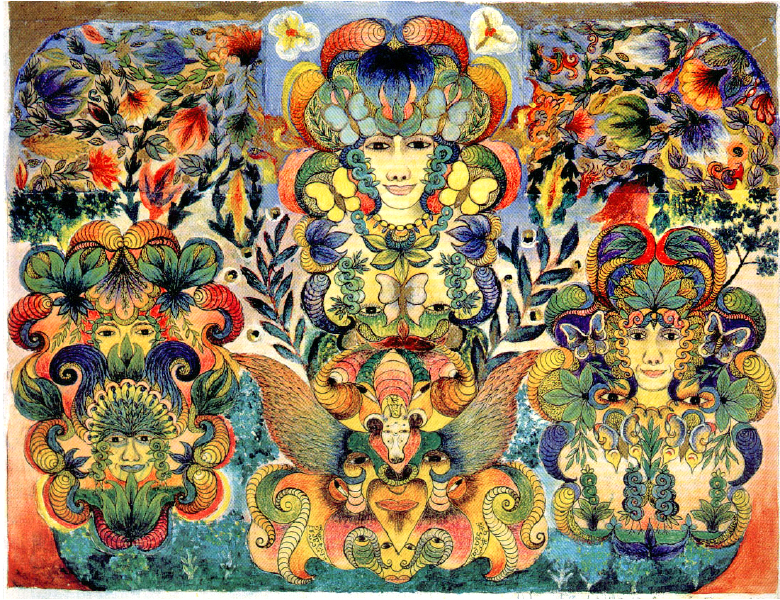 Minnie Evans, (1892-1987), has been described as a "visionary" "surrealistic", "psychedelic" "folk" and "outsider" artist. Inspired by childhood visions and dreams she was surprised as to how her images evolved. She wrote, "When I get through with them I have to look at them like everybody else. They are just as strange to me as they are to anybody else."
Born in Long Creek, North Carolina, her African American ancestry traces to Trinidad, where her great grandmother was a slave. Today, her extraordinary works of art can be seen in many museum collections including the Museum of Modern Art, Whitney Museum of American Art, Smithsonian Institution, and High Museum of Art.
The central motif in many of Minnie Evans' works of art is a human face surrounded by plant and animal forms. The eyes, which Evans equated with God's omniscience, are central to each figure.  it is stated that her art was inspired by God on Good Friday when she was in her fifties. She claims to have heard God's command telling her to draw.
Patti Bradeis
Patti Bradeis, is the recipient of the Manhattan Arts International Third Place Award, in an exhibition I curated "The Healing Power of ART",  which had the theme "Inspiring the Positive". When sharing the source of her creativity, she explains, "During an unexpected traumatic season in my life, I began to draw. Each drawing refocused my perspective toward the lighter, happier, positive side of each new day."
About her drawing "Angels's Touch",  she wrote "This is my son and my granddaughter taking a leisurely stroll with barely a breath between their fingers. It struck me that the gentlest touch of our Lord is sufficient to carry us in this moment and every single one beyond." The artist created a book What A Wonderful Life which includes 32 of her drawings paired with verses from the New International Version translation of the Bible.
Shellise Berry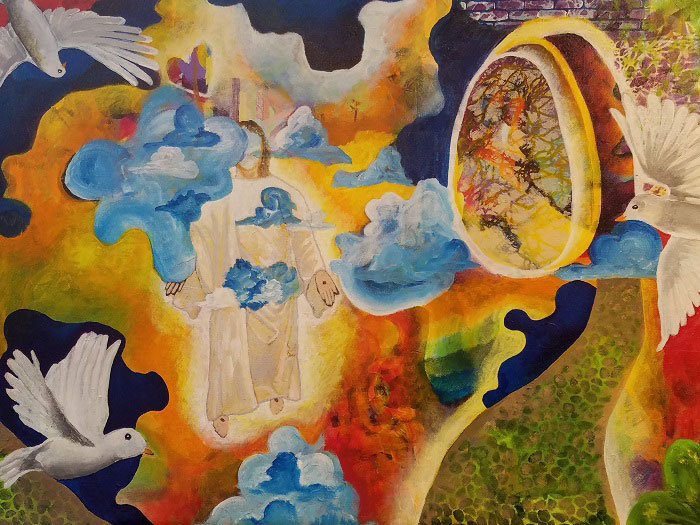 Shellise Berry, whose article is included in the Artists' Stories series on The Healing Power of ART & ARTISTS website, explains how she begins each creative session. "My process begins with prayers to God for His blessing over my hands and my time in the studio. I ask Him to speak to me and provide guidance throughout my session. Music that praises God and is positive is used to set the mood and atmosphere in my studio."
The artist, who is a member of Christians in the Visual Arts (CIVA), explains, "Often, I use the African Adinkra Symbols for "bravery, love, praise, trust God and faith in God," in my paintings. Some of the imagery will remain until the end of the painting, but often they end up in the background or completely covered by new layers of paint."
Matti Sirvio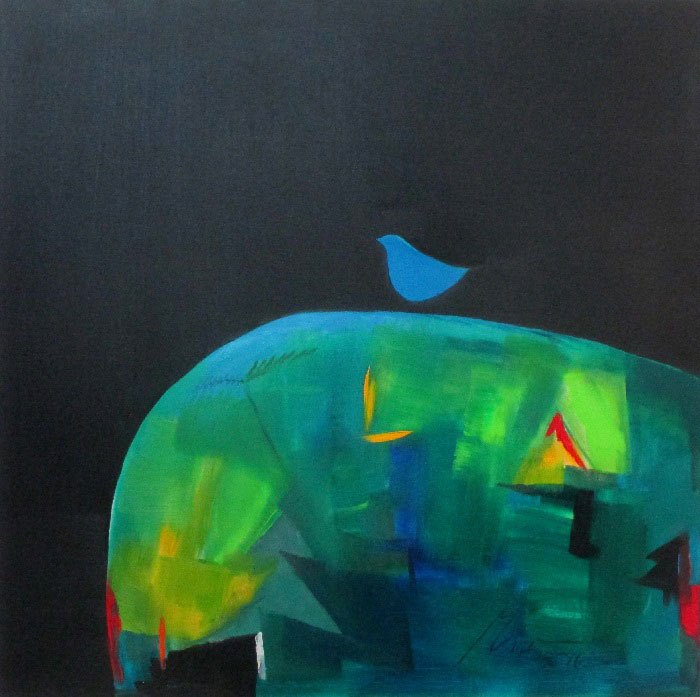 Matti Sirvio, a member of Manhattan Arts International, is also a pastor. He states, "I want people to see the unseen world through my art, a view beyond time into eternity." He leads the viewer to consider the fundamental questions of our very existence. When I asked him, what inspires your art he replied, "I'm inspired by the humanity with all its pains and joys. Whatever connects me with people, inspires me. It can be a line from a popular song, an event, the Bible (my favorite source for everything), a relationship, a value, conviction, priority, problem, life-style… They all are memories and thoughts that demand to be expressed and processed in a painting."
About his painting "O That I Had Wings", shown above, he explains, "from Psalm 55:6, The cry of many hearts in today's stressful world."
What are your thoughts about the artists shown here? Does religion and faith play a role in your creative inspiration? Please share in a comment below.
PLEASE SHARE
by