NOW MORE THAN 100 PAGES OF VALUABLE INFORMATION – REVISED IN 2018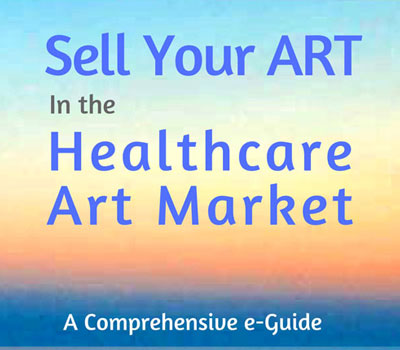 Selling your art to the Healthcare Art Market is a wonderful opportunity to expand your sales and reputation and to help others through your art. It might be one of the most rewarding ways to bring your art to the public.
Art is being installed in wellness centers, medical facilities, general hospitals, pediatric medical spaces, senior residences, acute care hospitals, surgery centers, medical office buildings, physicians' offices, rehabilitation centers, and more, around the world.  Art with positive images is also being placed in treatment centers, spas, corporate lobbies, educational facilities, yoga and meditation centers.
With this e-Book you can learn about the many venues that seek art, the criteria they use to make their selections, how and where to find art consultants in the industry, and much more.
"Sell Your Art In The Healthcare Art Market" is a 100+ page PDF document I have produced for artists who want to learn and excel in this fascinating field. It includes information on a range of topics such as:
The Benefits of Art in Healthcare
Types of Healthcare Venues Seeking Art
What Kind of Art is Suitable for The Healthcare Market – Detailed Criteria
Several Art Consultants That Supply Art for The Healthcare Industry & Their Artist Selection Process
How to Submit Your Art for Healthcare
What is Evidence-Based Design (EBD) and who was behind it?
What is LEED and why is it important for you to know about it?
Information About Art Consultants Seeking Art and How to Contact Them
About Art & Healthcare Non-Profit Organizations That Use Art and Artists
About Selected Artists who Sell their Art in this Industry
Over 100 Non-Profit Organizations with Art Programs
Related books, publications and more
---

Comments About The E-Book

"What a treasure! This e-book is a wealth of information. Renée has done all the research, saving me endless amounts of time searching for art professionals and organizations in the healthcare industry to submit my work to. I had no idea there were so many sources interested in artwork! "Sell Your Art In The Healthcare Market" is definitely worth much more than $18!" ~ Ann Cheeks
"Much to read and many links/websites to visit. What an awesome resource! I'll be referring to the material for some time to come." ~ Aniko Doman
"I read your e-book "Sell Your Art in Healthcare" today and learned a lot! I'm embarrassed to say that I did not know what EBD was. I also learned about preferred colors, subject matter and age groups. All very pertinent and useful when presenting. Then, wow, what an amazing resource this book is! You have supplied the perfect amount of detail for every art consultant/group and made it very easy to go to their application process. Thank you so much for this invaluable information. I will start my 'plan of attack' tomorrow by categorizing my work to suit specific areas, then dive in! I'm in awe and admiration of all that you provide for artists." ~ Yvette Lodge

"My background is in cognitive science and the research about how to affect the way people think and learn for the positive. Your e-book is a great resource for finding all of the newest research on art and healthcare." ~ Eva Marie Restel

"I just read through the whole book and very much enjoyed it. It is very thorough, well laid out, and easy to read. I am sure it is helping many artists who are interested in this area for their artwork."
~ Nancy Reyner

Cost: This non-refundable e-Book is currently only $18.
Pay by using easy and safe PayPal. PayPal will offer you the option to Log In or Pay with Debit or Credit Card to Manhattan Arts International. Please note: Since this is a digital file all sales are final. Thank you!
Link to Download Your e-Book: After you pay for the e-book, you will receive two separate confirmation emails with a link to download the PDF file. Please add info@manhattanarts.com and renee@manhattanarts.com to your email address book to avoid having these important emails go to your spam folder.
Important: We highly recommend that after you download the PDF file that you save it on your computer.
Any Questions about Your Order?
Send me an email to renee@manhattanarts.com