It is an honor to present this interview with artist Keith Morant with advice to artists. He shares his philosophy, inspiration and sage advice to artists. His award-winning mixed media paintings have roots in his life-long self-defined "obsession" with drawing and painting which he has enhanced with classical training, a masterful handling of his medium, and continuous innovation. I feel honored to know him. This interview is part of the ongoing series "Advice From Artists To Artists".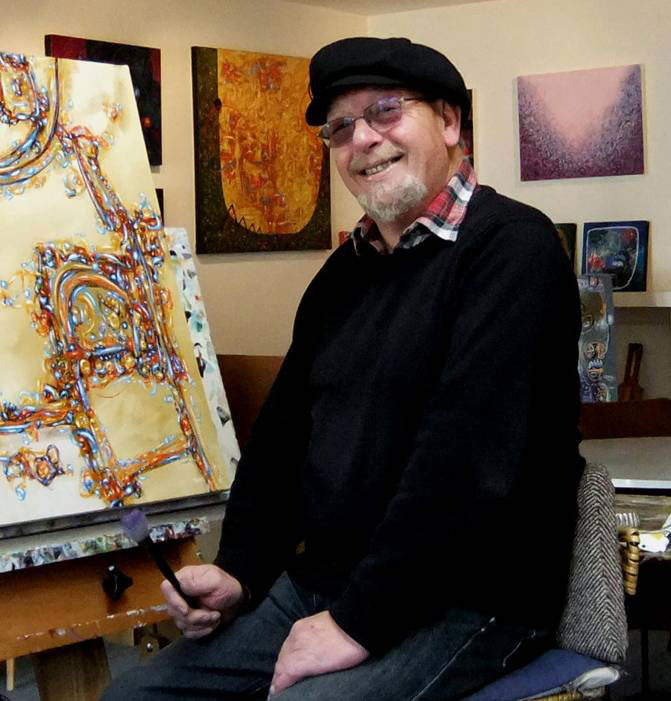 About Keith Morant
Born in England Keith Morant currently lives in Christchurch, New Zealand. He has exhibited in numerous galleries and art centers in many major cities throughout the world, including the Ateneo Museum, Madrid. He has received innumerable distinguished awards including the 'Palm International Art' award, Leipzig, Germany. He is the recipient of the "Peoples Choice Award" at the International exhibition 'Little Treasures' in Bologna, Italy. He was honored at the Premio San Valentino International Art Exhibition with first prize, "President of the Republic's Medal". He won the Second Place Cash Award in "The Healing Power of ART" 2015 juried competition and an Award of Excellence in the "Hot Topics – Bold Expressions" juried exhibition — both from Manhattan Arts International.
RP: Keith, how do you define "success" for yourself as an artist?
KM: For me, success lies in the truth of my expression and the courage to continue my work. In art there are two kinds of audience worth considering; the audience of approval and the audience of acceptance. When art meets with approval it means that it is liked because it conforms to contemporary ideas of what art should be. When art becomes accepted it indicates the recognition of its importance as a unique universal statement. For me the latter audience is the only one worth playing to – no matter how long it takes them to arrive at my theatre.
RP: How do you describe your creative process?
KM: My creative process is a continual psychological and emotional necessity that emanates from a deep inner compulsion. I have been painting since childhood and I have learned well that the reasoning behind much of the creative conflict that took place in earlier paintings was based on the opposition between conscious decision-making and intuitive responses. It is only now, after years of continuous effort, that I realize and accept that my intuition must find expression over and above my intellect. This is the dichotomy fundamental to all creative temperaments. It is the battleground of all that is schizoid in art.
RP: If you mentored younger artists who are beginning their art careers what most important piece of advice would you offer them?
KM: First, I would ask them to sign their name. I would then ask them why they did not write their name properly in the lettering that they had been taught. Naturally, they would inform me that this was their signature. As the sign of their nature I would then remind them of its importance as documentary evidence of their presence. I would then explain that all art is primarily a signature. The objective here is to expose young minds to the true value of their individual uniqueness. I believe this to be the best lead-in to a definition of art.
RP: What is your favorite art marketing tool or practice that works best for you in reaching your audience?
KM: Actually, I do not have a favourite art marketing tool. While it is important that my images get out there and communicate, essentially, marketing is neither the intention nor purpose behind my work. I enjoy staging exhibitions and putting paintings up on social media in the hope of connecting with other souls who may appreciate my efforts. As an uncompromising abstractionist, my prime wish is to stimulate and nourish others. I have been very lucky in that my audience has evolved through private collectors. I can honestly say that the only tool I ever need is good and trustworthy connections – like you.
RP: What philosophical belief do you have that has been most helpful in guiding your artistic journey?
KM: Once it was the task of art to supply an answer; today its function is to inspire the question. It is well to remember that art, apart from being the highest record of human existence and progress in the physical sense, is simultaneously the most sensitive and emotive of all human ambition. It is my belief that such aspirations are more potent today than ever before. If the artist's projections are to be an accompaniment to the sciences and technologies of our times, then he or she must work on levels that are uncompromising in their emotional and psychological approach.
RP: What career accomplishment are you most proud of and why?
KM: My first reaction to this question is to say that I do not consider my life in art as a career. I suppose vocation would be nearer the mark but even that is not conclusive. Of course, there is a certain satisfaction in receiving international art awards but any true sense of accomplishment is in the communication of genuine stimulation and joy through my work. For me, the greatest sense of pride lately has come from the knowledge that my work has been bequeathed as a family heirloom or donated to a museum.
RP: Where can we see your art, currently and in the future?
KM: While I have held many exhibitions worldwide, at the age of seventy three, I now concentrate more on my practice and have slowed down on the physical displaying of my work. Apart from my websites, my work is also exposed through social media. Many of my paintings sell to private collectors, some of whom go back many years. Having said that, next year will see my wife and I in London and Italy. I have been offered an Artist's Residency in Venice for the month of April where I will be working and exhibiting. So – watch this space!
RP: Keith, for my final question: What is your favorite article here on www.renee-phillips.com and why?
KM: For more than twenty years you have been a tremendous guide and presenter of art and artists and I cannot begin to list the virtues of your achievements that so many have benefited from. Personally, I feel that one of the most important documents to come from you is the well researched warning to artists in 'Beware of Vanity Galleries'. In today's cutthroat world of power, money and ego-driven profiteering, this has been the only exposé of its type. I keep it on file and share it readily as a warning to young unsuspecting artists who are so easily tempted by the false promise of shortcuts to artistic success.
Visit Keith Morant's website at http://www.keithmorant.com
PLEASE SHARE
by