Whether you're a beginning artist or advanced in your art career, and whatever your current style and medium happens to be, there are many opportunities for artists to get exposure, awards and other benefits to add to your resume and achievements. You can choose from situations offered by a range of sponsors — from brick and mortar galleries and alternative venues to online gallery websites. I hope you'll find the opportunity that is suited for your art and career listed among those listed here. Please check back every week as opportunities are usually posted on Mondays. Better yet – Subscribe to my free email newsletter so you won't miss out on any upcoming articles and resources.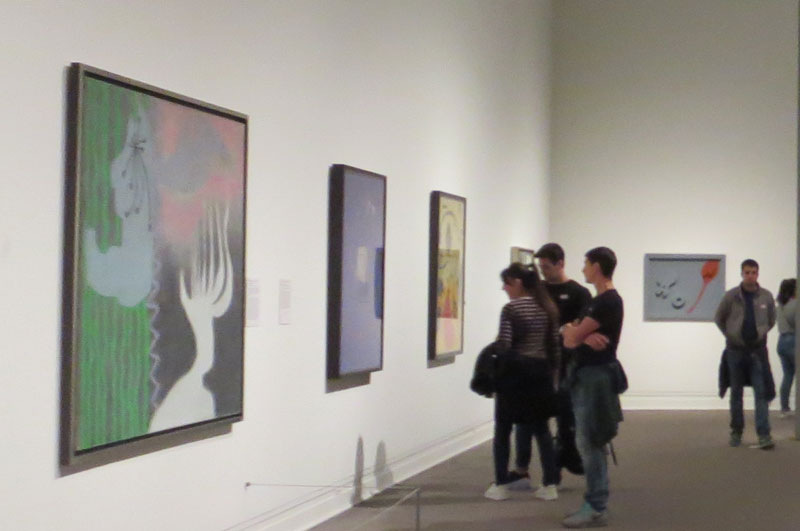 Art Created With Matisse Painting Products
Jerry's Artarama, an art supply company, presents an exciting series of FREE to enter art contests for fine artists. Winning artists get exposure on its website, are featured in a Jerry's Artarama Catalog, and prizes that include Jerry's eGift Cards. You need to be a customer of Jerry's Artarama, however there is no fee to submit your entries. A current call for artists is for art created with Matisse painting products. Prizes include $2,500 in Jerry's eGift Cards. Each contestant may enter 1 piece of artwork, created in 2016, using any combination of Matisse products listed on the Jerry's Artarama website. Matisse painting products are created by an Australian company Derivan, whose founders had a vision "to make available to artists worldwide a premium paint, whilst remaining environmentally and socially responsible."
Entry deadline: December 31, 2016
Visit website for details.
Printmaking: Landmark Arts Gallery
"Beyond Printmaking" 5 is a national art competition and exhibition organized by the Landmark Arts Gallery and the Printmaking Area at the Texas Tech University School of Art, Lubbock, Texas,  in conjunction with the BP5 Symposium, spring 2017. Entry fee: $40 for up to three entries, $5 each for up to two additional entries. Juror: Patricia Villalobos Echeverría, an artist who has received numerous grants including a Creative Heights Residency Fellowship from the Heinz Endowment and was a fellow at the MacDowell Arts Colony. The exhibition will run from March 25-April 23, 2017 with its opening during the Beyond Printmaking Symposium.
Entry deadline November 30, 2016
Visit website for details.
All Mediums: Artsy Shark Featured Artist
Apply now to be a Featured Artist on the Artsy Shark website, where you will have the opportunity to present your portfolio, describe your inspiration, technique, goals and accomplishments. If you are selected as one of the 48 Featured Artists you will have the chance to share your portfolio, artist's statement, list your website and reach thousands of new potential buyers. Once you have been featured, your page becomes part of the permanent Featured Artists Gallery on this site, where you will join the ranks of over 800 amazing artists.  The jury fee is $20.
Entry deadline is November 18, 2016.
Visit website for details.
Photography: "Dynamic Landscape"
The Black Box Gallery in Portland, Oregon is dedicated to the exhibition of contemporary photography and offers opportunities for emerging and established photographers. It is currently seeking dynamic compositions of sky, weather, light, land, textures, tones, patterns and atmospheres for "Camera Work: Dynamic Landscape", an exhibition that will examine contemporary landscape photography and the evolving mystery of the natural world. The exhibition will run January 1-20, 2017, and will present 24 photographs selected by the juror Jennifer Trail. There will be an exhibition at the physical gallery and an additional 30 photographs will be selected for its online gallery.
Entry deadline December 7, 2016.
Visit website for details.
All Mediums: "New Beginnings" Online Exhibition
Manhattan Arts International is an organization that has been promoting artists from around the world, working in all styles and mediums on its online gallery since 1999. It is known for promoting artistic excellence in its theme exhibitions. Its "New Beginnings" online exhibition will run from December 27, 2016 – February 27, 2017, juried by Renee Phillips, Director of Manhattan Arts International. All interpretations of this theme are being considered in all styles and mediums.  Entry fee is $30 for 1-3 entries, each additional entry is $10.
Entry deadline is December 11, 2016.
Visit website for details.
PLEASE SHARE
by