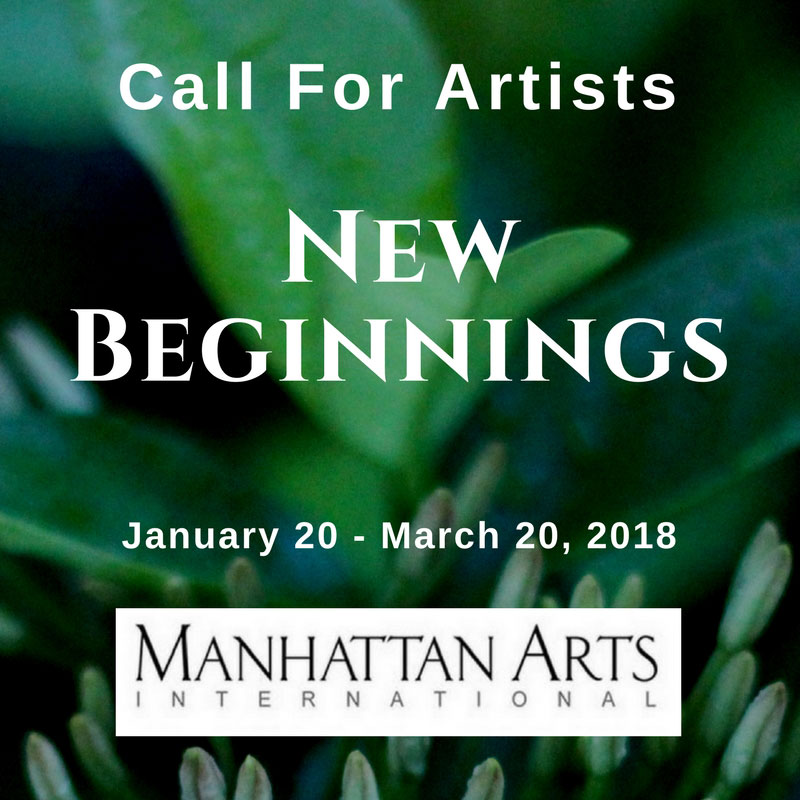 Every year I curate a "New Beginnings" online exhibition for Manhattan Arts International. This year, it will begin on January 20, 2018. I'm delighted to announce that, in addition to selecting 50 artists for this exhibition, I'll be offering artists who enter the competition an opportunity to win art coaching sessions.
One artist will be selected to receive two 60-minute art marketing phone consultations with career advice to take their career to the next level. To learn more about what I offer in my consultations visit this page.
My criteria: For this award I'm looking for an artist who demonstrates originality and superior technical prowess in their medium and style, has a cohesive signature style, but is under-recognized. An artist who I can help I can help achieve their creative, career and financial goals.
50 Artists in the Exhibition: I'll be curating this exhibition and selecting 50 artists to have one of their works of art exhibited for two months on the website at https://www.manhattanarts.com. We're inviting artists from around the world to submit their images. All subjects, styles, sizes and mediums are welcome.
Several Additional Awards: In addition to the coaching award, there will be widespread publicity and other consultation awards presented by guest jurors and myself.
Widespread Publicity: As always, there will be widespread promotion for the "New Beginnings" online exhibition. It will be publicized across our social media networks, announced in the Manhattan Arts International weekly subscription-based e-newsletter, promoted on The Healing Power of ART & ARTISTS blog and also on this website and Artweek.com in addition to several other venues. Artweek alone attracts 280,000 visitors each month
About "New Beginnings" Theme: The goal will be to show a wide variety of styles and media and artistic interpretations — feelings, ideas and topics  related to "New Beginnings" — that occur in nature and the human experience. I will be seeking artists who show originality, mastery of their media, and reflect the theme through their art and artist's statements.
Reduced Entry Fee for Early Entries: Another good reason to enter is the entry fee is only $20 for 1-3 entries if you submit your entries before November 10th. After that date it will be $30 for 1-3 entries.
For more information visit manhattanarts.com/call-for-artists-new-beginnings
PLEASE SHARE
by