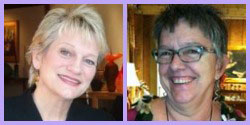 This article was written by Carolyn Edlund and Mckenna Hallett, creators of the Artsy Shark Guide to Email Marketing For Artists.

Many artists have the same burning question: How do I make more sales? They know its hard work to find potential customers.
Exhibiting at art fairs and festivals, holding open studio events, and staying current with social media are just a few ways that take time and energy in an effort to gain exposure and spread the word about your artwork.
But what happens once you've met someone who loves your art? While it can happen, it's rare that a sale is made on the first meeting or contact. That person could easily walk away from your booth, or click away from your website, never to return. You are then officially "out-of-sight, out-of-mind" as they say. Don't let that happen!
The secret to cultivating art sales is to stay in touch with people who admire your work. In most cases, they must see your artwork over and over, come to know who you are, and trust you before they will commit to a purchase and pull out their wallet.
Emails are More Effective than Facebook and Twitter Combined!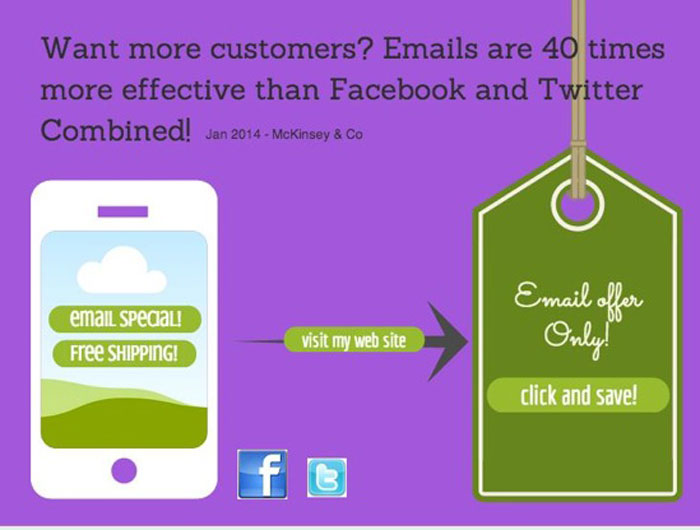 What's the best and most effective way to stay in touch? Hands down, it's email marketing. Regular monthly contact through email to your list keeps your art in front of those very people you want to reach.
And what's best is that they have agreed to receive your mailings. They gave you permission to send them emails and look forward to hearing from you, so you're not "spamming" or interrupting them.
After you make a sale of your art, it is even more important to continue to keep those customers on your monthly email list to gain repeat sales. It's always easier to sell to people who are already collectors. They appreciate your work and have committed to buy. And, they are more likely to tell others about you, too. This "word of mouth" referral is a great way to earn even more customers and happens with a click on a button in an email.
If you are serious about making sales and repeat sales, there are a number of Email Service Providers you can use to get started, such as Constant Contact, i-contact, AWeber or Mail Chimp.
It's important to underline: You need to use an email service to have access to the vital and professional format they provide: beautiful templates, automatically formatted for embedding photos or videos, and the added bonus of knowing who opens your emails and who clicks on your links to visit your website, blog, or even your shopping cart.
This cannot be done in personal accounts like Gmail or Outlook.
Email Marketing Success E-Course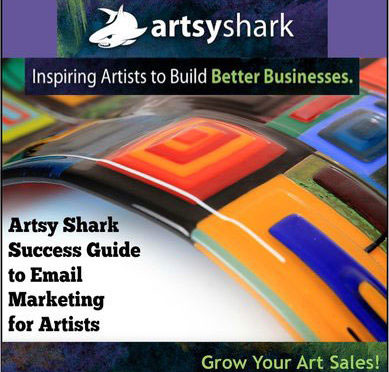 We are offering readers and supporters of Renee Phillips a $10 discount from the regular price of $47. Simply use the coupon code RENEE at checkout. You will be able to download the digital e-course and get started immediately!
We're totally sold on email marketing. We trust email marketing, not only because it works for us, but because email marketing is 40 times more effective at gaining customers (google that phrase!) than Facebook and Twitter combined. With that thought in mind, we literally wrote the book for artists on the subject.
Whatever level you're at with email marketing, you will truly benefit from our e-course, The Artsy Shark Guide to Email Marketing for Artists.
We specifically designed the course to help any artists who are new at email marketing as well as those with experience. It's getting lots of thumbs up!
About The Authors
Carolyn Edlund is the founder of Artsy Shark, which publishes business articles about art and features individual artists. She is also the founder of the Artsy Shark Gallery. Carolyn is the Executive Director of the Arts Business Institute, speaking on art business subjects in workshops around the country. Her background includes running a production studio and repping for art publishers.
Mckenna Hallett has over 50 years experience in both retail and wholesale sales, and is an email marketing expert and consultant. In 2007, she founded My Golden Words, which assists entrepreneurs with copywriting and marketing. In addition, she runs a highly successful business designing and selling handmade wearable art jewelry.
SHARE THIS ARTICLE WITH OTHERS!
by