Laura den Hertog is an extremely talented artist born in Montreal, Canada to Dutch parents who held all forms of creativity in high esteem. After being trained as an illustrator and designer, she pursued her passion for fine art painting. Her art work has been shown in numerous exhibitions across the U.S., Canada and the U.K. and featured in many publications. Please visit her website at  lauradenhertog.com.

A while after Laura den Hertog purchased my e-book "How to Create Successful Art Events" I received the most amazing email from her in which she wrote: "This is my HUGE thank you for inspiring and informing my recent art event. The 'Thrive Art Project' art event was a huge success in large part because of what I learned from your e-Book."  Well, as you can imagine I was thrilled to know this and asked her to provide details so I could share them with you. You'll find a few of the amazing things she did to make her event a rewarding experience in her article below. And, please check out my e-book to find out how you can create successful art events. ~ Renée Phillips
About The Thrive Art Project "Gratitude" Event
By Laura den Hertog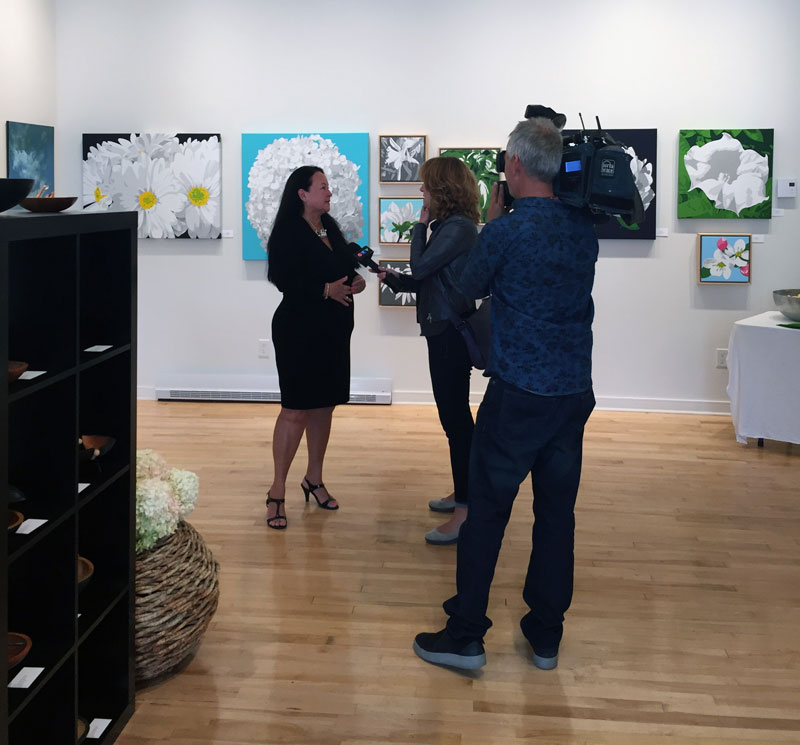 Renée, you asked me to report back with pictures and a description of the event. Here are some of  the ideas we used to launch our event, a week-long group show of 4 women artists in Montreal, Canada.
The Theme
"Gratitude: Art Inspired by Gifts from the Earth"
Our event was the week of Canadian Thanksgiving, both the art and artists fit the theme perfectly.
Thank You Gifts for Our Guests
A packet of flower seeds collected from my property and presented in craft paper bags printed with my art company logo and the flower type. They chose from 3 kinds of seed. DIY and low cost. The packets were presented in an antique Dutch tulip bulb tray. People were surprised and delighted!
Collaboration
We created a private event for the American Women's Club of Montreal on our first day in the gallery. We had partnered with them a month or so earlier by donating art to be auctioned for charity. It introduced our work to the membership and allowed us propose the private art event for them.
My best friend happens to be an awesome salesperson who loves art, so we partnered with her for the show. In exchange for a 25% commission on sales, she became our representative. It meant that all the artists did not have to worry about trying to make sales, we could just relax and leave it to the expert.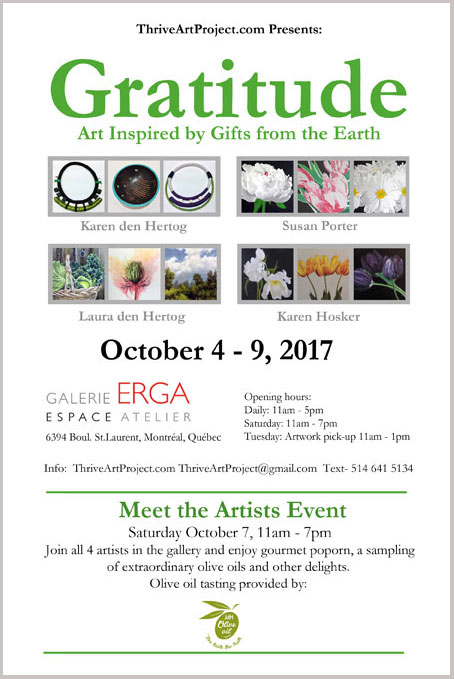 Promotion
Instead of the same old vernissage, we decided to do an all day event on a Saturday for the public to attend. We simply called it a "Meet the Artists" event.
We sent out invitations via regular mail, email and used social media.
We also left our event postcards with concierges at downtown hotels. Montreal is a big city full of tourists!
I contacted local art dealers and invited them as well.
We left our postcards with local businesses in the neighbourhood of the gallery.
Special Highlights and Unique Features
We arranged for an olive oil tasting by an importer of extraordinary olive oils. People could taste some of the world's healthiest olive oils. She gave out her business cards and free samples.
We served guests from our gourmet popcorn bar and encouraged them to try one of the 6 flavours we created. Popcorn was served into craft paper lunch bags, sprinkled with flavoured powder, folded and shaken. We had a big paper bag to collect used bags so it could all be composted later. The popcorn bar was very inexpensive to do and people really enjoyed it.
We served cranberry juice blended with soda water. It was served from a large bowl with a floating frozen ring of fresh cranberries. The juice reflected the Gratitude/Thanksgiving theme, was refreshing and appreciated by all.
Network TV Coverage
Well, the most exciting thing that happened was that Montreal's network TV news heard about our show and sent a reporter and cameraman. They did promo/teasers about our show and then a full story the night before our public event.
Our rep/salesperson did the on camera talking after I took the reporter through the show, introduced her to the artists and their work etc. The reporter completely understood the theme, and loved the work so her story on us was just perfect. Talk about gratitude!
Some More ideas
Instead of the usual guestbook, I set out a sketchbook, a tin with pencils, and a rotary pencil sharpener. The pages had columns pencilled in and hand written headers for: name, email and comments.
Music was low key jazz played from Spotify on my iPad and a sound bar computer speaker.
All in all it was a stellar event with great attendance.
You may also want to read "Ideas to Help You Create Successful Art Events".
Learn about the "How to Create Successful Art Events" e-Book.
Visit Laura den Hertog's website at lauradenhertog.com
Visit Thrive Art Project's website at thriveartproject.com
PLEASE SHARE
by