Every fall ARTnews magazine publishes a special edition of the World's Top 200 Collectors. Readers can learn about the top art collectors in the world and what they collect.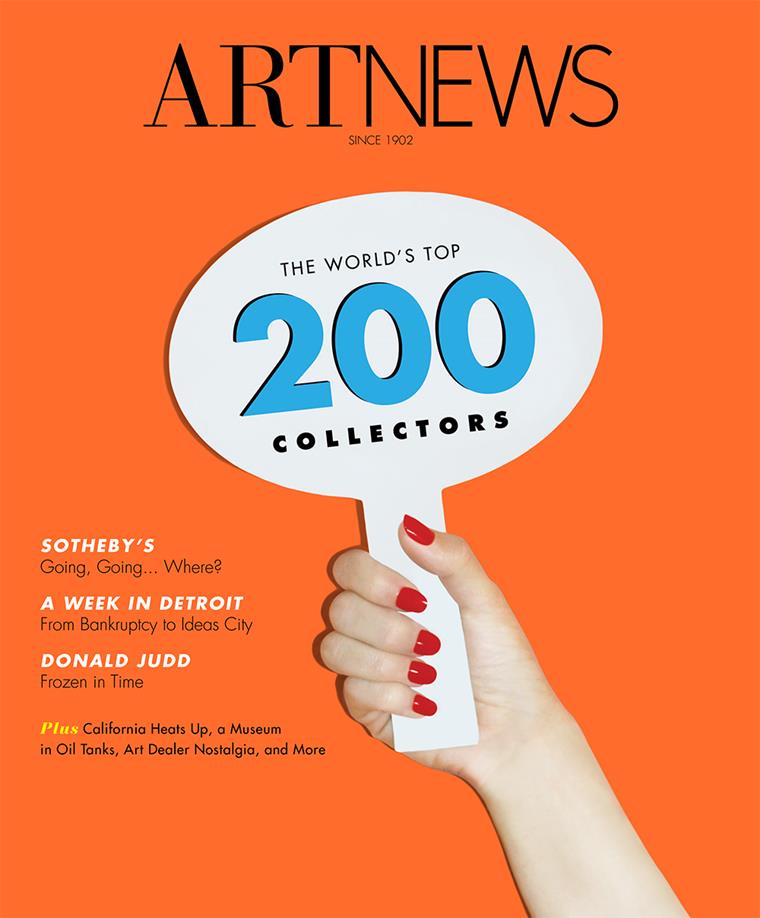 About ARTnews Magazine
Founded in 1902, by Milton Esterow, ARTnews is the oldest and most widely circulated art magazine in the world. The current editor-in-chief is Sarah Douglas who was previously the culture editor at the New York Observer.
ARTnews is one of the few original art magazines still remaining in print format. It readership of 180,000 in 124 countries includes collectors, dealers, historians, artists, museum directors, curators, connoisseurs, and enthusiasts. After being a monthly magazine for decades it is currently printed four times a year. You'll find the articles on the art, people, issues, trends, and events shaping the international art world to be among the best available.
On its website ARTnews showcases brief biographies and some quotes of these 200 collectors from around the world. If you're curious to know about the billionaires who invest a sizeable amount of their wealth to art you'll find this information interesting and insightful.
You might learn what motivates them to buy art, what they focus on in their collections, and you will also learn how they earned their wealth.
I recommend you purchase a copy of the Fall issue and subscribe to the magazine to keep it as a valuable reference. In the meantime here are a few snippets about the collectors that I culled from the ARTnews website,  Forbes magazine and Wikipedia.
Janine and J. Tomilson Hill
J. Tomilson Hill is vice chairman of the private equity firm the Blackstone Group. For many years he and his wife, Janine, have been building their art collection that combines contemporary art with older art. It comprises works by such artists as Christopher Wool, Duccio, Lucio Fontana, Sarah Crowner and Peter Paul Rubens. ARTnews describes Hill as "passionate, committed, serious, voracious — the kind of collector who sticks around even when the market cools off." In 2017 they plan to share their collection with the public with the launch of a museum — The Hill Art Foundation — in the Chelsea art district of New York, NY.
Francesca von Habsburg
Archduchess Francesca von Habsburg is an art collector and curator who is married to Karl Habsburg-Lothringen, head of the House of Habsburg-Lorraine. They live in Habsburg, Vienna. After attending college for two years she worked as an actress, singer and model. She is the curator at her father's museum the Thyssen-Bornemisza Museum of Art, an exhibition space located in Vienna's Augarten Park. In 2002, she founded the organization Thyssen-Bornemisza Art Contemporary. She has built up her own art collection with several hundred pieces of contemporary video and digital art.
Susan and Michael Hort
Susan and Michael Hort are two of the top collectors in the world who reside in New York and New Jersey. The couple has been collecting for 30 years. They focus on "collecting in depth and supporting young artists." Their apartment in NYC showcases hundreds of contemporary paintings, sculptures, video installations and photographs by such artists as Richard Prince, Marlene Dumas, Lisa Yuskavage, Cindy Sherman and John Currin. The work on display is a small sample of their collection that contains well over 3,000 works.
Alison and Peter Klein
Alison and Peter Klein are from Eberdingen-Nussdorf, Germany. They have amassed their fortune in real estate. Their art collection contains more than 1,400 works of contemporary photography, painting, and aboriginal art. Their motto is "Buy what you love." Klein believes it is important to display and impart art so for many years he have exhibited art in the halls of his company and he makes his contemporary art collection available in a non-urban location for all to enjoy and study.
Joseph Lau
Joseph Lau is a real estate mogul from a Hong Kong. He owns three-quarters of Chinese Estates Holdings. A collector for over 30 years he became recognized for buying an Andy Warhol "Mao" painting for $17.4 million.
Find the 200 Top Collectors and read about them here: http://www.artnews.com/top200year/2016/
PLEASE SHARE!
by