If you follow me here you know I'm always encouraging artists to build an email list and send e-newsletters to enhance follower loyalty, build your brand, and increase your art sales. What prevents most artists from doing it is they dread the thought of writing. So, when I received Susan McLaughlin's awesome e-newsletter today I was over the moon!  With her permission I am delighted to share it with you.
If you're like me, you'll love her compelling paintings and be transfixed and entertained by her e-newsletter.  She shows off her superb artistic talent, writing skills, knowledge, and sense of humor in an informative and clever style. She promotes her next exhibition, includes the notorious art dealer Larry Gagosian, and even teaches us a new word "palimpsest".
As I wrote in a reply to a comment (see below) I normally recommend you keep your e-newsletters short and concise. This longer than most e-news by Susan McLaughlin is an exception to the rule. My advice to you is try to adopt some of Susan's attributes in your next writing project. Don't forget to visit her website www.susanmclaughlinart.com for many more surprises!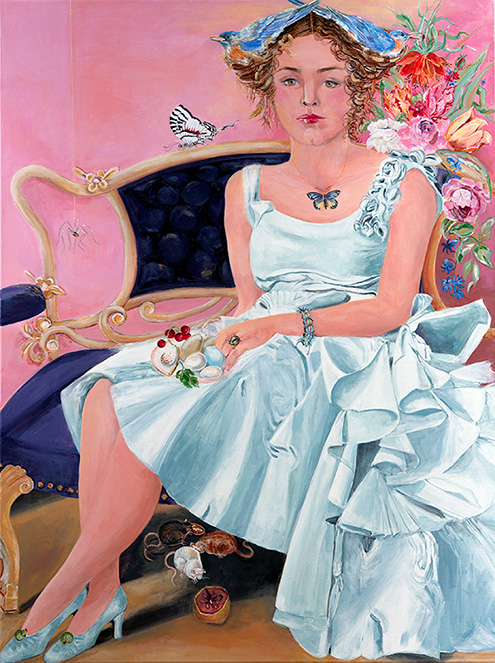 E-Newsletter Written by Susan McLaughlin
Please come to my first show of this summer, "Out of the Blue". My work will be shown starting July 5th together with my friend Jeanne Eleck's, an accomplished encaustic painter, in the AIR Gallery at Avance Day Spa, 32 Church Hill Road, Newtown, CT. The opening reception will take place on Sunday, July 9, from 4:00 to 6:00 pm. The exhibit has been thoughtfully curated by AIR's Rosemary Rau.
Jeanne and I will be showing 24 paintings which not only came from out of the blue but are also predominantly blue in color. Rosemary picked up on the synchronicity of our work and the fact that although we are painting realistically, we both are influenced by the paint itself – its splashes, and shapes – as we work our paintings and allow the paint to guide us to the finished piece. We both also love the surprise reappearance in our paintings of underlying images which we had effaced to make room for later images but of which traces remain.
There actually is a word for this — palimpsest. Although it is usually applied to manuscripts, the concept applies as well to an altered image bearing visible traces of its earlier form. Due to the serendipity of the paint and the palimpsest, we both may start out with one idea but end up with something quite different.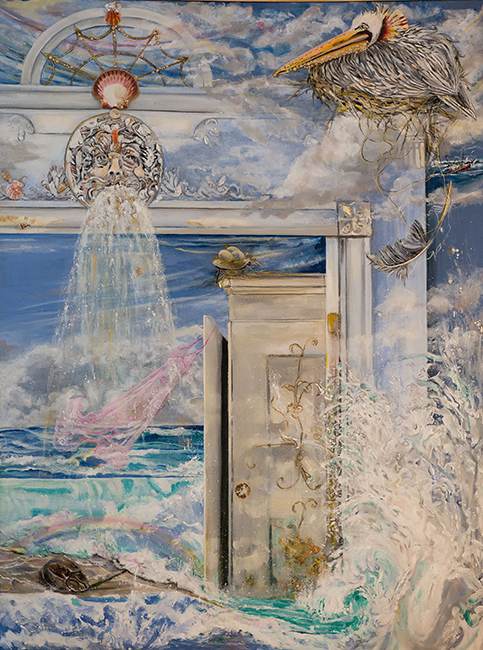 And since we are talking "blue" and "serendipity," I have to mention Pablo Picasso's Periodo Azul from 1901 through 1904, during which he painted essentially monochromatic paintings in shades of blue and blue/green, only occasionally warmed by other colors.
Speaking of things that happen "out of the blue," I have to be prepared if, by fortuitous coincidence, I were to have the opportunity to ride in an elevator with Larry Gagosian, the owner of the world-famous Gagosian Gallery. In order to be prepared, I have written, memorized and rehearsed my ten-second elevator pitch so that it will effortlessly roll off my tongue. Here is what I would say:
"Hello, Mr. Gagosian, My name is Susan McLaughlin. I'm a romantic painter at heart and a surrealist by hand. My work explores the harmony between humanity and nature."
I've timed it and this would only take five seconds. So if the greatest art dealer in the world gives me the slightest encouragement (a nod will do), I'll smoothly segue into the nonverbal portion of my presentation. I'll pull up my T-shirt to reveal my current painting, Cathedral of Bones, which I have had tattooed on my chest for just such an occasion.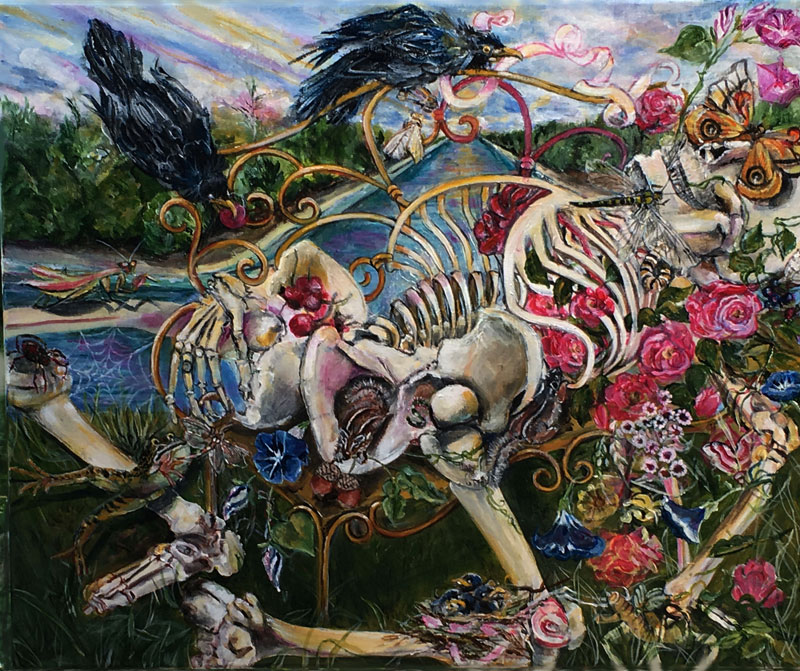 I'm hoping that, suitably impressed, Larry (by this time we'd be on a first-name basis) invites me, out of the blue, to have lunch with him. As we sip our Blue Curacao liqueurs, he can ask me to expand on my elevator pitch, which is all the opening I need to tell him:
"As a narrative painter, I am an explorer, uncovering, recording and rearranging the beauty of the natural world, as well as the beauty of human beings. I combine elements of reality and fantasy in ways that shed a new light on the interrelationships between humans and the natural world. Sometimes the division is clear; on other occasions the two worlds melt into one. This symbiosis makes the finished work even more compelling than either of its constituents alone."
If my new admirer asks, "Can I see Cathedral of Bones again?" I'll say, "Certainly. All you have to do is come to the opening of Out of the Blue at Avance on July 9."
And you, dear reader, are invited to see it, too, just not the version on my chest! I only show that one once in a blue moon.
At the end of the e-newsletter Susan invites her reader to view the stories behind the art in this exhibit at her blog Depingo Ergo Sum.
UPDATE July 14: After this post was published Susan McLaughlin sent me an email and wrote: "After your post on this website with my newsletter my website's page views for the week went up 3,500 percent."

Visit Susan McLaughlin's website at susanmclaughlinart.com.
PLEASE SHARE!
by