Once upon a time having an artist website that featured your artwork and resume was enough to make yourself recognized on the Internet. Now, if you want to attract a wider audience you need to add more art marketing components to your website.
An art blog is one of those essential website components.  As a powerful promotional tool, it helps artists get the attention of prospective art buyers and promotes engagement.
On its own a website is static, while an art blog provides new content that encourages visitors to return often. Furthermore, Google shares your ever changing material which leads to higher SEO for blog writers. Read my article "The Benefits of Having An Art Blog".
Also read "Topic Ideas for Art Blog Posts".
Most artists I know are confused about how to get started with an art blog and they're missing out on valuable benefits. In this article, I share some simple steps to writing art blog posts. With these tips the process should be much easier for you to take the plunge.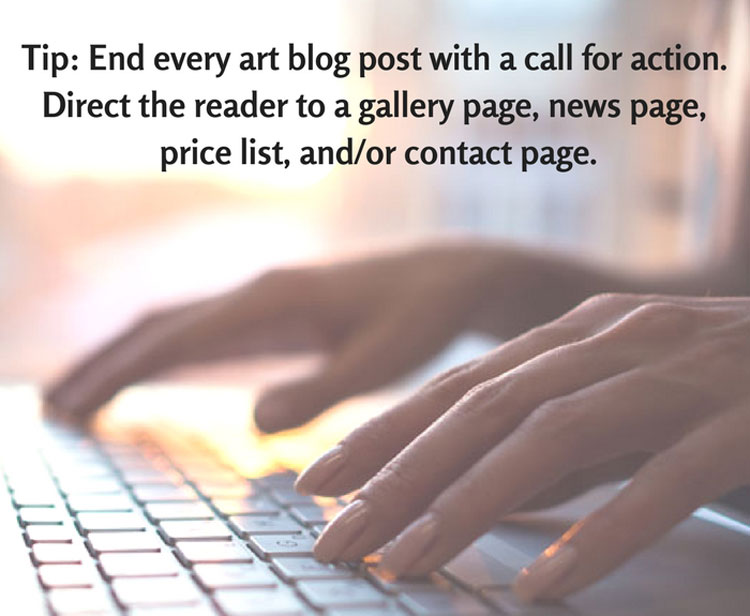 Make The Commitment
Set up an art blog that resides on your website, in order to keep visitors on your site and a click away from your gallery. Then decide how frequently you'll be writing. I suggest starting no less than once a month. Mark the dates on your calendar and make the commitment to begin and continue.
Ignite The Spark of Inspiration
A few days before your posting date, plant the seed in your mind about your post. Then allow your subconscious to generate a flow of subjects. Some of the best ideas for your posts may come to you when you're working in your studio, communing with nature, taking a shower or in your dreams.
Write the ideas as they come to you in a journal. Also refer to you collection of favorite artists' quotes and art books. They can also provide a treasure trove of inspiration. It may help to visit the best samples of other artists' blogs but stop if you become intimidated or distracted.

Create The Mood
The day you write your first draft, create a distraction-free environment. Mute your cell phone and social media notifications. Begin only when you feel alert, positive and relaxed. For me, classical music often sets the right mood.
Select The Tools
Choose the task management system that you'll use to type your blog draft, such as Scrivener, Evernote, or Microsoft Word. Then, set a timer to approximately 20-30 minutes before you start to write your first draft. This will help you stay focused and manage time. As you become more experienced the time you need and amount of drafts will change.
Begin The Process
Select the artwork that will accompany and inspire the article. Type a headline that is compelling and descriptive to keep you on track. Realize you can always change it later after you finish the article. Start writing the draft as fast as you can without judging, criticizing or editing.
Think About Your Reader
Whenever you write a post visualize your ideal audience. Imagine that you're having a conversation with your art buyers. Then ask yourself: What are the most frequently asked questions you receive from your followers? What would you like them to know about you and your art?
As you write in response to these questions, let your unique personality shine. Show your passion and enthusiasm for being a creative individual and your style and medium.
How to Manage Your Content
• Write a lead paragraph that grabs the reader's attention.
• Keep each paragraph to 2-3 sentences or 3-4 lines.
• Add a space in between paragraphs.
• Use bullet points to emphasize ideas (as I have done in this section).
• Strive for around 500 words or more if you want better SEO.
• Insert subheadings to separate different sections.
• Avoid boring content, excessive personal information, and technical jargon.
• Add keywords and tags in the designated areas.
• Use internal hyperlinks to refer to previously written blog posts that relate to ideas.
• Don't ignore this step! End every art blog post with a call for action. Direct the reader to a gallery page, news page, price list, and/or contact page.
Tips on How to Edit The Article
• Set your article aside overnight before the final editing process.
• Decide if the title needs to be changed. Does it inspire the reader's curiosity and interest?
• Tighten up lengthy sentences and redundant statements.
• Proof read to correct any typographical and grammatical errors.
• Ask a friend with good writing skills to proof read it or consider getting an addon like Grammarly or WhiteSmoke. I also know artists who have used virtual assistants on Fiverr.com.
• When satisfied, schedule the post or hit the publish button.
• Share the link to your post on social media.
• Reward yourself for a job well done!
Give It A Try!
Creating blog posts may take you outside your comfort zone at first but with practice it will get easier. After a while consider writing more than once a month. The more frequently you write posts and share you'll notice an increase in traffic on your website and subscribers, and enjoy other benefits in your art career.
Encourage Visitors to Get Involved
As you become more experienced continue to challenge yourself to grow and expand as a blog writer. Encourage visitors to write comments and questions. They may provide ideas for future blog posts and make your task easier. Give the process time to develop and don't give up.
You May Also Want to Read
"The Benefits of Having An Art Blog".
"Topic Ideas for Art Blog Posts".
Need Help?
I can help you with creating topics, outlines, writing and editing your blog post. Please consider my writing services.
Do Want More Articles Like This About Writing Blog Posts?
If you have any questions about writing art blog posts that you want me to answer in please write them in the comments below.
PLEASE SHARE
by