Are you upset that you aren't receiving as many exhibitions, subscribers, sales, commissions, students and clients as you would like? If not, your art website may be at fault. In this article I offer a questionnaire that will help you evaluate the performance of your art website. The questions are based on the most frequent mistakes I see on artists' websites.
You want to treat every visitor to your website and your blog as you would every guest that enters your home. Every decision you make should be to make sure the are treated to convenience, comfort, easy navigation and entertainment. From the moment a visitor lands on your home page in a split second they learn a lot about you and decide in a few seconds if they want to spend time with you or go to another website that's more enjoyable.
Examine your art website with these questions in mind.
I hope you pass the test!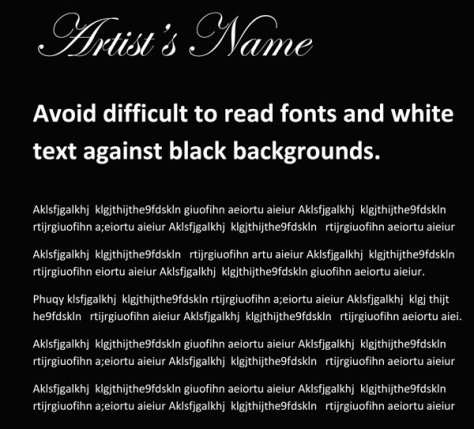 First Impression
Is the font and logo you have chosen for your name easy to read at a quick glance and memorable? My rule is keep it simple! No need to get fancy.
Is your artist website uncluttered and easy to navigate?
Colors, Text and Links
Is everything up to date — including this year's copyright date, your resume, and artist's statement?
Do you place white text against dark backgrounds? That's not only out of style but it forces your visitor to suffer and strain to read large blocks of text, like your artist's statement and biography.  The eyes take some time to adjust to the light writing and dark background and the visitor usually skips this or jumps off. The majority of professional designed websites use dark text against a light colored background for very good reason. Take the advice from the pros.
Another thing to avoid is colored text against backgrounds, that are almost in the same tonal range, which makes it almost impossible to read! For instance, lavender type on a purple background! Yes, I've see artists do this!
Do you use CAPITAL LETTERS FOR THE BODY TEXT ON YOUR WEBSITE OR BLOG? This is a mistake many artists make on their websites as well as in emails. When you do this it is the equivalent to shouting.
Function
Have you tested all the outbound links recently to see if they are still valid?
Is your website functioning properly? Run regular tests on different devices.
Images
Does the same work of art appear on your home page without changes? Surprise visitors with a new image every time they visit or provide a slider.
When you click on the thumbnail image of your art work does the correct image enlarge?
Are your images properly photographed? Avoid the most common mistakes made: blurred images, incorrect resolutions, improperly cropped images.
Do your images include detailed captions? Are the titles of your works the same on every page they appear? (On a visit to an artist's site I saw the same painting in different places on the website with three different titles. Imagine how confusing that is for the potential buyer!
Content
Have you checked all facts and spelling before posting your Artist's Biography and Resume? That includes correct titles of exhibitions, galleries, names of jurors, and titles of the awards you have received.
Is your art website missing your artist's biography, an artist's resume/cv, and an artist's statement? You should have all three on your website. That's of course if you have some career credentials. If you're a new artist at the beginning of your career a simple Artist's Biography will suffice. Check out my writing services. Go here to read some writing samples.
Do you have a contact page on your website? It should include your city, state and country, and your email address so interested buyers can contact you quickly to discuss purchasing your art.
Do you place a clear short description of yourself and your artwork on your home page below your name? This statement should immediately separate you from every other artist on the Internet.
Did you remove all outdated "New" and "Upcoming" announcements on your site and blog and replace the content?
Addons
Do you have disturbing popups on your site? Are you allowing fancy plugins to cause havoc for visitors and slow down the loading time? Avoid overloading your site with too many visual distractions and moving parts.
IMPORTANT UPDATE, AUG. 2017:
Google has announced that as of January 10th 2017, they will be penalizing sites that have intrusive interstitials or pop-ups. They say "pages where content is not easily accessible to a user on the transition from the mobile search results may not rank as highly".
Do you have music on your website? Personally, I don't care for this. It's distracting and not everyone has the same taste in music.
Did you pass the test?
I hope you passed this test. If not please make any adjustments to improve your art website. All it takes is a few extra minutes to take your website from an unpleasant experience to one that visitors will return often and become art buyers.
You may also want to read
How to Get Started With Your New Art Website
Add a Praise Page to Your Art Website
Create an F.A.Q. Page on Your Art Website
Tools For Maintaining Your Art Website
How to Improve Your Art Website Visitor's Experience
Do You Need Help?
If you want me to personally visit your website and give you my feedback please check out my consulting services.
HELP FELLOW ARTISTS. SHARE THIS ARTICLE WITH THEM.
by