You can have the best art on the planet, but unless you apply positive and proactive beliefs and action steps you may not achieve your career goals. Many of the obstacles we face can be attributed to our own self-sabotaging behavior. So, here are 10 ways to avoid art career sabotage.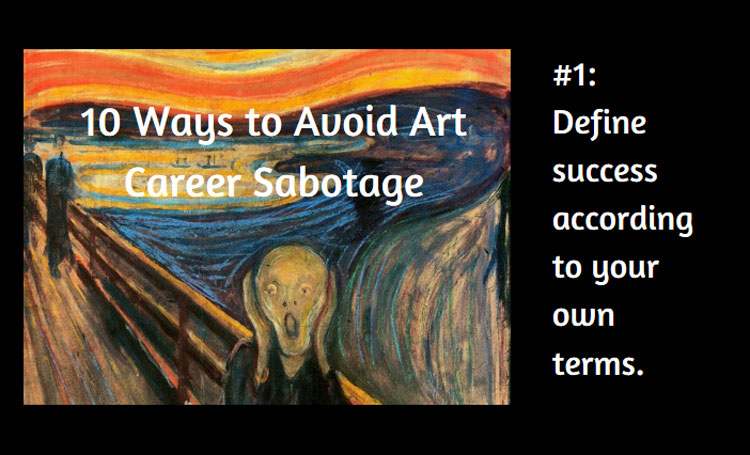 This article doesn't cover all of the pitfalls we should be avoiding. The original article I wrote includes more than 30 points which I'll save for future posts.
Every one of the 10 points ends with a link to a related article where you can delve into the topic further.
1. Define success according to your own terms.
The path to success begins with a clear and articulate understanding of what success means to you. It shouldn't be influenced by your parents, teachers, other artists, dealers, or other so called "experts", unless it resonates with you. It should consist of your well-balanced goals and core values and reevaluated periodically as you and your art career evolve. Read Interview with Artist Nancy Reyner on the Topic of Success.
2. Be proactive, not passive.
We cannot expect positive results to come from inactivity and inertia. Instead of waiting for the golden email to arrive, the phone to ring or the fairy god mother to knock on your door, make it happen. Pick up the phone, send the email, make the connection on social media, go to the gallery opening with the intentions of networking. Don't want to go out but want to connect with others? Start an art blog. Read The Benefits of Having An Art Blog.
3. Embrace technology.
The Information Age is moving at lightning speed and has so much to offer. Unless you jump on the train and move forward you'll find yourself further and further behind. There are no excuses today to avoid learning new skills that can greatly improve your art marketing performance. Make Youtube, podcasts, social media, your website and blog your allies. Ignite the flame of a desire to learn. Read The Art of Self-Education in The Information Age.
4. Join the human race.
If you are like most artists you spend a lot of time alone. You need balance. A healthy, successful art career depends on social interaction, camaraderie, and collaboration. You need to continuously build professional relationships. If you're not a "people person" at least strive to become a gregarious introvert. Read Successful Artists Know Relationships Are Key to Growing Your Art Career.
5. Spend time wisely.
Time is more precious than money. We can always find ways to improve our time management skills. Set priorities every day and periodically ask yourself if you are spending your time wisely with every activity you choose. Establish priorities and use "to do" lists and other devices that will keep you on track. Read 10 Time-Saving Tips For Busy Artists.
6. Be an authentic leader, not a blind follower.
Be an innovator and exercise your creative vision in all aspects of your art career. Think outside the box. Be a pioneer in an area that you feel adamant about and create your legacy with your own handprint for future generations. When we choose to follow others blindly we deny ourselves of the best innate judgment and inner wisdom. Read Art Pioneers Who Are Changing The World.
7. Represent yourself in the highest quality standards.
Refuse to permit anything that represents you to be anything but superior. That includes having the best quality artwork, website, jpegs, written materials, correspondence, and application forms. Scrutinize everything you prepare before you send it out into the world or it will reflect badly on your identity. Read How to Write Your Artist's Biography.
8. Make time to make art — no matter what.
Successful artists don't procrastinate on creativity. They make creating art a priority. If they don't have the perfect studio now they use their kitchen table, corner of a room, an attic or garage their creative space. They live their lives with complete and full creative self-expression. Avoid making excuses for not making art. If you need some stimulation read Have You Lost Your Creative Motivation? How to Restore It!
9. Create a plan.
Take the time to develop a road map for your art career success. Learn how to create an art business plan, financial plan and production plan. Get your materials organized for easy access. Set up an easy to use bookkeeping system and keep financial records up to date. Otherwise you'll be doomed to fail. Read How to Create Your Art Business Plan.
10. Express gratitude.
Begin and end your day with an attitude of gratitude and as often as you can throughout the day. Express your appreciation to everyone who helps you along the path to success. Take special care to show how much you value your art buyers, galleries, fans, and followers. You may enjoy reading How Smart Artists Treat Their Art Buyers.
Success is easy to attain when we follow the basic rules that have worked for the most admired achievers. You may also want to read The 8 C's in Art Career Success.
PLEASE SHARE
by