Helping an artist create an art business plan is one of the most rewarding things to do as an art career coach. I feel as though I am giving them a magic wand to ensure their career success.
The idea of creating your art business plan may seem intimidating at first. However, in this article you'll see how the process can be approached step-by-step.
View yourself as the CEO of your own artistic enterprise. When you create your art business plan you'll experience a sense of gratification, knowing you're on your way to attaining your fullest potential. You'll gain financial and personal power.
Creating your Art Business Plan is an exercise that takes only a few hours to assemble and it will supply years of stability and security. You know the expression, if you fail to plan you'll plan to fail. That is so true.
Here a just a few of the many personal and professional rewards you will achieve:
1. You will truly understand your authenticity and unique artistic vision
2. You will become clear about your greatest strengths and capabilities
3. You will have a plan with priorities to achieve freedom and prosperity
4. You will have control over your future rather than leaving it to chance
5. You will build a road map to avoid getting lost and distracted
6. You will automatically develop more self-confidence
7. You will minimize the sting of rejection
8. You'll be able to work smarter, not harder
Here Are the Four Components
Your Art Business Plan consists of your creative, business and financial activities. The business plan consists of four parts: business statement; production plan; financial plan; and marketing plan.
The Business Statement
This describes your business goals. It includes what you plan to sell and any additional sources of income such as private teaching and merchandising.
The Production Plan
This is about how you plan to produce the art, how long it will take, plus required facilities, equipment, art supplies and hired help. Add office equipment, supplies and business services, such as legal and accounting fees.
The Financial Plan
This important component encompasses the amount of money you expect to earn and the amount needed to begin or expand your business. As a rule, your operating expenses should be less than twenty percent of your income. That should be your ideal goal.
The Marketing Plan
This part describes your market, your customers and your competition. It explains the unique features of your art or art service and benefits to the buyer. It includes where you plan to advertise, what marketing materials you will generate to reach your prospective buyers, and investments you will make to expand your markets.
You Can Do It!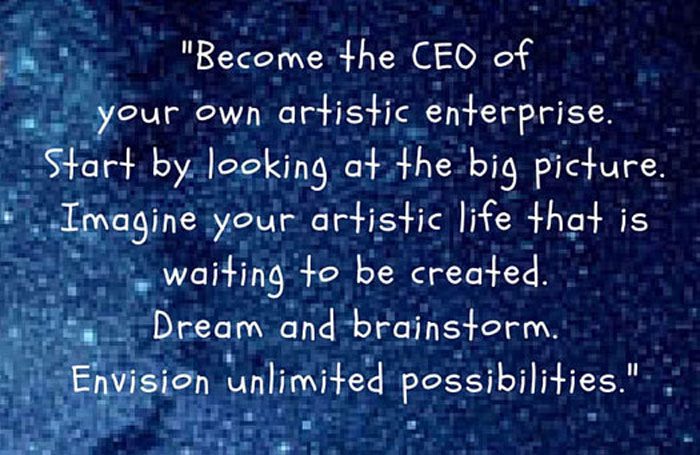 Now that you have an overview of why you need your art business plan and what it is comprised of, you can start the process. Over the three decades that I have been an artist's career coach I have seen first hand how when artists commit themselves to focusing on this part of their art careers extraordinary things begin to develop. If you need some help I'd be delighted to get you started and take you through the steps. Click here to find out how to arrange a consultation.
HELP OTHER ARTISTS BY SHARING THIS ARTICLE
by