In social media I posed the question: "Do you give a lot of thought to your titles?" I received a huge response to my question.  What do you think? How important are titles of artwork? Would Edvard Munch's "The Scream" be any less memorable with a different title?
This article includes my professional opinion followed by responses from nine art professionals. Please tell me what you think about the subject in a comment below the article.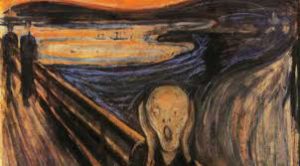 As a writer, curator and art marketing consultant I am an advocate of artists using titles for many different reasons. I'm pleased that the majority of artists I know prefer to use titles and put a lot of thought into giving titles to individual pieces as well as their series.
This article was originally written in 2014 and was revised in 2016.
Why I Prefer Titles
As a juror of theme related art exhibitions I like them because they add to the purpose of the show. As an arts writer the titles artists give their art works informs me about what lurks inside the artist's creative mind and what inspires them. A title offers another key to open the door to an artist's intention and unique expression.
As a career coach I view titles as powerful promotional tools. Many times I observed how titles influenced indecisive buyers. And, when visiting an artist's website or exhibition, it is easier to recall "Blue Moon" than "Series 1X, No. 14".  Furthermore, I consider numbers  to be more cerebral and I realize that is probably the artist's intention. Personally, I like descriptive words that conjure emotional reactions.
The art of naming titles of individual works of art and titles of series may be one of the most underused art marketing/sales tools. From an art business person's perspective, it's part of the artist's branding message.
Do Titles of Art Matter?
Comments from Artists
Elaine Alibrandi (elainealibrandi.net) wrote, "I put a lot of thought into my titles, and I think that titles can be very evocative. If I'm looking at a work of art and the title is "Untitled," I feel a bit let down. It's not that I can't interpret art personally; it's that I don't have any insight into what the artist was thinking when he or she created the work."
Artist Victoria Pendragon (victoriapendragon.com)  shared, "As a hybrid beast, part-writer, bigger part artist, you can bet that titles are important to me and I love to hear, as I heard yesterday when I received an enthusiastic phone call from someone about my latest work, "…and I love the titles!" Victoria offers another point: "I post my pieces on FaceBook and I find that those with more 'descriptive' titles tend to generate more conversation. "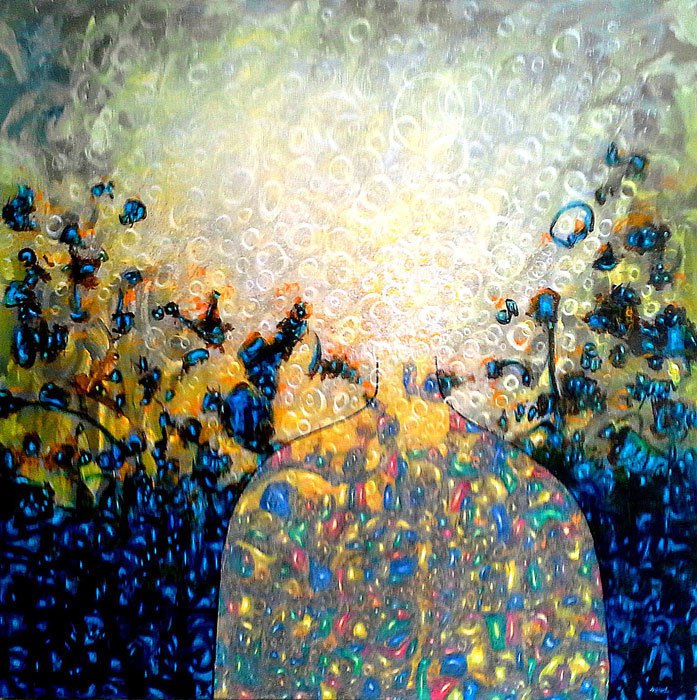 Artist Keith Morant (www.keithmorant.com/), stated, "This is a very interesting topic with me and I tend to agree with you in that titles are an important part of an artwork. However, when putting a name to a painting myself, I try not to be too specific. Usually with me, the title comes as the work evolves. Sometimes a title will be as abstract as the work itself e.g. 'Neuressence', an unknown word that comes out of my activity and neural activity in the creation."
Elliot Appel (elliotpaints.com) offered this great idea in a comment that you can also see below: "Sometimes I like to pick a small, hidden, insignificant part of the painting and make that the title. People may look closer at the painting to find the significance of the title."
Terri Lloyd (terrilloyd.net) stated, "Titles, to me, are extremely important. They are the "You Are Here" mark on the map of what it is I/the artist is attempting to say or have the viewer experience. I can understand an "Untitled #" series if the statement is clearly communicated about what the artist is exploring. But in my own case, one really needs the title to point the viewer in the right direction."
Gail Green,  founder and principle owner of Gail Green Interiors (gailgreeninteriors.com), wrote on the LinkedIn thread, "Titles capture the essence of the picture or story. To me, it's where poetic license is issued to the creator to be witty, pithy, and clever."
Charlotte Shroyer (charlotteshroyer.com) stated, "Viewers of my work say over and over again: 'The titles add to the mystery of the work.' I like to include a bit of mystery in the painting and the title so that viewers think about their personal perception of the piece. Titles often just appear as I paint as do the people on my canvases — a wonderful part of the creative process that emanates from deep within."
Janet Burgos (janetbrugosart.wordpress.com) responded to this discussion I started in another group on LinkedIn. "I think titles provide a clue (to those who need it) as to the subject matter. I have no problem with a viewer seeing something very different than what I intended. I also find it a lot more stimulating to have something to go on even if you don't agree on it. I enjoy titling both visual art and written work. My vote is for titles. (I find untitled #1 thru untitled #20 dull.) On the other hand when I look at a piece of art, the title is the last thing I look at."
Susan Marx (www.susanmarxartist.com) also commented on the thread: "I don't think a painting should need a title to explain the painting. I would love to call all my paintings "untitled" and let the viewer see what he/she sees, without the need for words so that it is a solely visual experience. But since I cannot do that since the paintings need to be identified, I usually choose formal titles or the place where I painted them."
Michael Amrose (michaelamrose.com) is a photographer who uses numbers instead of words for his titles.   "As an abstract photographer, I use color, shapes, form, textures and movement to resonate with the viewer on a deep, unconscious and emotional level. Using a descriptive title, however, creates a narrative or story line that causes the viewer to consciously process the photograph. The descriptive title objectifies the viewer's perception or interpretation of the image. As such, I am guiding the viewer to think rather than allowing the viewer to feel."
Just because an artist chooses not to provide a title on their art work doesn't mean they are ignoring the viewer. Perhaps they want to step out of our way and let us enjoy the visual, emotional, and intellectual journey without any interference.
Why Jackson Pollock Used Numbers Instead of Words
Many artists, like Michael, especially those who work in a series, prefer to use numbers. Jackson Pollock gave his pictures conventional titles but changed to numbers. He commented: "…look passively and try to receive what the painting has to offer and not bring a subject matter or preconceived idea of what they are to be looking for." Pollock's wife, Lee Krasner, said Pollock "used to give his pictures conventional titles… but now he simply numbers them. Numbers are neutral. They make people look at a picture for what it is – pure painting."
After all, you may ask, is it the artist's responsibility to take us by the hand and give us word clues? Not to mention, trying to pick their titles can be as intimidating and time consuming as having to write their artist's statements.
Furthermore, I think the wrong titles may actually produce negative results.  I've seen many inappropriate, lackluster and confusing titles, haven't you?
Perhaps William Shakespeare said it best: "A rose by any other name would smell as sweet". The names of things do not affect what they really are in essence, however they may affect what they mean to us and what they say about the artist. As one who advises artists to use all the marketing and promotional tools they can it is important how they title their art.
Whether artists use words, phrases or numbers — they are making decisions about how they choose to communicate with the viewer. And, at the end of the day it is their choice to make.
Please tell me what you think about the subject of titles in a comment below.
Do you have trouble giving titles to your art, overall body of work or series of works? I can help you do that along with a consultation to help you with art marketing and promotion. Learn more here.
SHARE THIS ARTICLE WITH FELLOW ARTISTS!
by