Reach Your Fullest Potential!
In phone consultations and coaching sessions I help all Artists, from beginners to advanced, in all styles and mediums reach their creative, career and financial goals.
I also offer writing services for artists so, if you're looking for help with your Artist's Biography, Artist's Statement and an Art Review visit this page.
What You Can Expect to Receive From Me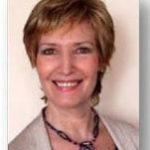 As your career consultant and coach I know how to evaluate your strengths and unique attributes as an artist. Realizing every artist's situation is different, I offer advice based on on your goals, priorities and career level. Generally, you can expect to discuss such topics as:
• Feedback about your art portfolio and website in general
• Editorial advice about your  artist's statement and artist's biography
• Determine the best marketing strategies for you
• How to increase sales directly to art buyers
* Pricing – how to establish prices and raise the value of your art
• How and when to approach galleries and art consultants
• How to develop influential professional relationships
• Improve your Social Media experience
• Generate widespread publicity and recognition
• Any other areas you want advice on or questions you have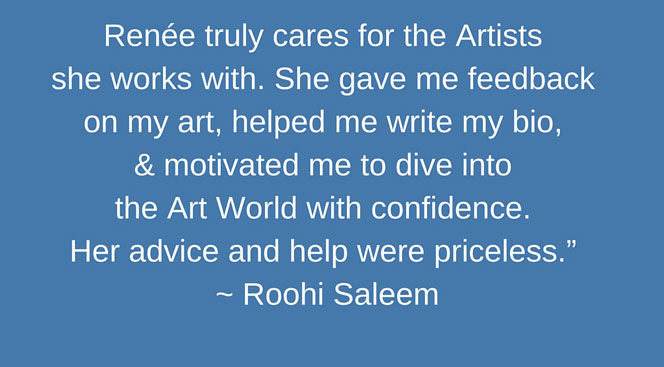 My Qualifications
I have an in-depth knowledge of the art business, having served as an art marketing consultant, mentor, curator, arts writer and arts advocate for 30 years. I'm the author of several art business books, have presented talks in many leading art institutions, and have curated more than 60 exhibitions. I studied art at the Art Students League and other NYC art schools. I am a member of the International Association of Art Critics. I was founder and editor-in-chief of a major NYC art magazine for 17 years. I am also the founder, director and curator of Manhattan Arts International and The Healing Power of ART & ARTISTS.    Read my longer bio here. Read What Artists Say About Me.
Current Rates
One Regular Session: 60-minute phone consultation: $250 by check or $265 by PayPal (where you can also pay using any major credit card).
Save Money by Scheduling 3 Sessions: Save 20% by scheduling three 60 minute sessions in advance. Rates: $600 by check and $650 by PayPal. You'll also receive one bonus 30 minute session.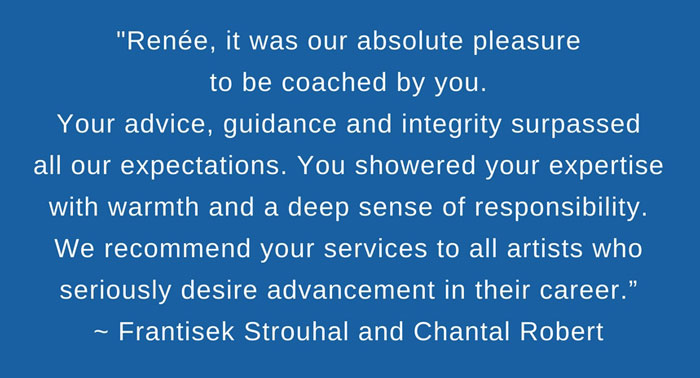 How to Arrange A Consultation or Coaching Sessions With Me
Please note: At this time I am only working with artists  who live in the U.S. and Canada.
Send me an email renee@manhattanarts.com and write "Consultation" in the subject of the email. Describe in about 50 words or less what you need help with. Let me know how you learned about me. In the email supply a link to your web site. Please do not send any attachments. Let me know if you want a single consultation or 3 coaching sessions.
Please note: I'm currently receiving a high volume of requests. I will try my best to reply to your email within 4-5 business days.
I'll visit your website and I'll let you know if think I'm the right person to help you reach your objectives and how to proceed from there.
My Preparation Before the Consultation
Before our consultation I will ask you to provide a brief description of 3 goals that you hope to gain through my professional guidance and a list of 4 questions. Prior to the consultation I spend a substantial amount of time visiting your website, so I can prepare constructive feedback and strategies.
You may prepay for our consultation using either PayPal (which accepts all major credit and debit cards) or sending a check. I'll provide details about each in our email correspondence.
Thank you! I look forward to receiving an email from you soon and help you take your career to the next level!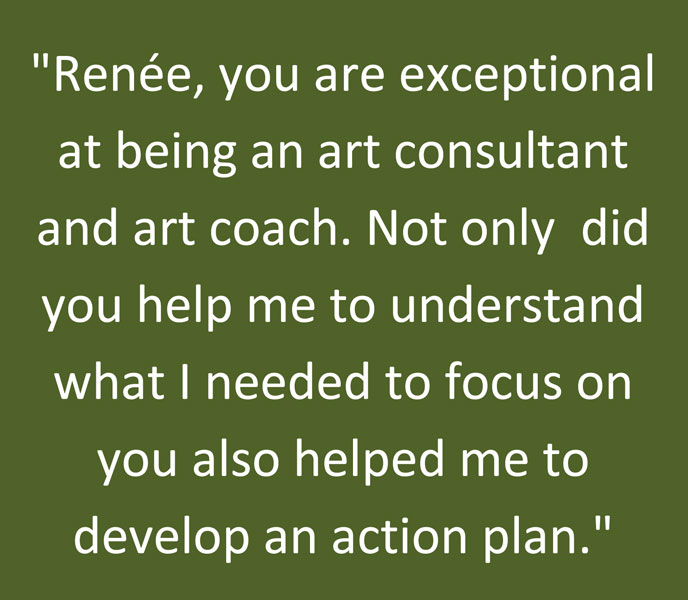 A Few Comments From Artists
"Renée Phillips is not only incredibly knowledgeable in her field of expertise, she is also life changing in the direction of my art career. She helped me establish my creative goals, career goals and financial goals and expanded the horizon in all directions of what is possible for me as an artist. She truly cares for the growth of each artist in a realistic, objective and achievable way. Renée is a superb mentor!" ~ Denisa Prochazka
"I worked with Renée Phillips for three coaching sessions. It was great to have Renée review my website, social media, e-news, correspondence and goals. She had incredibly helpful suggestions. Each session I walked away with a practical to-do list that I could see would help me toward my goal of creating a sustainable full-time artistic career. She was generous with information and I could tell she really thought about my work, goals and me when suggesting potential avenues for me to explore. Probably the most important piece I gained was the "people power list" which I'm putting in to action now. I would highly recommend Renee as a coach. She was easy to work with and kept me moving, which is exactly what I wanted and needed." ~ Melissa Dorn Richards
"Thank you for your discussion concerning my artwork during New York Foundation For The Arts "Doctor's Hours". After our meeting I am even more eager to work on getting my artwork into galleries. You gave me direction and ideas for making a professional presentation, places to send my work to, and validation that my work is cohesive enough to start contacting galleries." ~ Nisha D.
"Renée's infectious enthusiasm and wise, caring guidance have given me a greater sense of clarity in both the creative and marketing aspects of my business. My husband and friends have commented on how much more focused and happy I am since working with Renee. A more inspiring coach would be hard to find!" ~ Ellen Joseph
"Renée, it was our absolute pleasure to be coached by you. Your advice, guidance and integrity surpassed all our expectations. You showered your expertise with warmth and a deep sense of responsibility. We recommend your services to all artists who seriously desire advancement in their career." ~ Frantisek Strouhal and Chantal Robert
Read more comments from artists.
**********************************************************
I Also Offer Writing Services For Artists
If you're looking for my writing services for your Artist's Biography, Artist's Statement and an Art Review visit this page.