Peter N. Van Giesen www.peternvangiesen.com is inspired by "The Eternal Aura of Nature", for him, the act of creating art is "a mystical process, a spiritual work, a gift to be shared." I am delighted to share an interview with Peter Van Giesen with advice for artists.  His artwork reaches out and beckons the viewer to enter a realm of tranquility and reverence for nature. The sage advice he offers here will motivate you to print this article and paste it on your wall.
About Peter N. Van Giesen
Peter N. Van Giesen grew up in Ontario and completed university degrees in Psychology & Religion in British Columbia where he currently resides. He is an active member of the Federation of Canadian Artists and has had many exhibitions including those at The Art Gallery of Greater Victoria, 4 Art Studio Exhibit Gallery, and the Community Arts Council Gallery. He has served the past three years as the curator and is a participating artist in "Coastal Seven Encore" at Coast Harbourside Marina and Hotel.
His art is found in corporate collection, and in private collections in Canada, United States and the United Kingdom. He is a member of The Healing Power of ART & ARTISTS online gallery.
RP: Peter, how do you define success?
My definition of success as an artist has at least two dimensions, namely, internal personal growth, and secondly, enhanced interpersonal relationships. Internal success comes when I breathe deeply and carve out regular intervals of time to exercise my creativity. While sometimes inspiration comes easily, at other times I have to dig deeply. The more I dig, the more my soul is nurtured. As my soul is enriched the resulting artworks inspire others to join my artistic journey through the acquisition of artworks that in turn nurtures them.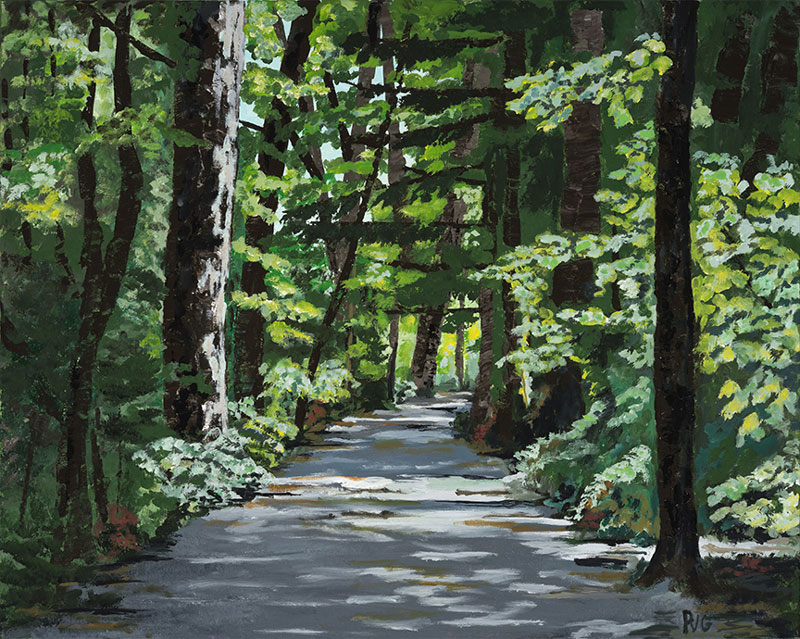 RP: Your art transports the viewer to a place of serenity and stillness. What philosophical belief guides you as an artist?
One philosophical belief that energizes my creativity is encapsulated within a quote by RUMI, "You are not a drop in the ocean but the entire majestic ocean in one drop." Indeed a change of perspective can change everything. The sense that I'm a microcosm of the eternal Essence empowers me. While I have a strong sense of individuality, wellbeing emerges when I act in communion with the natural world.
RP: What inspires you to create art?
The wonder of the forest seduces me. Trees are the recorders of history and are harmonized with each other and with their environment. When in a forest ecosystem I sense being merged with the divine interconnectedness. My spirit is renewed by even a short walk in the woods. I love including the aura of trees in my paintings as a reminder that it is good medicine to get out into the natural world.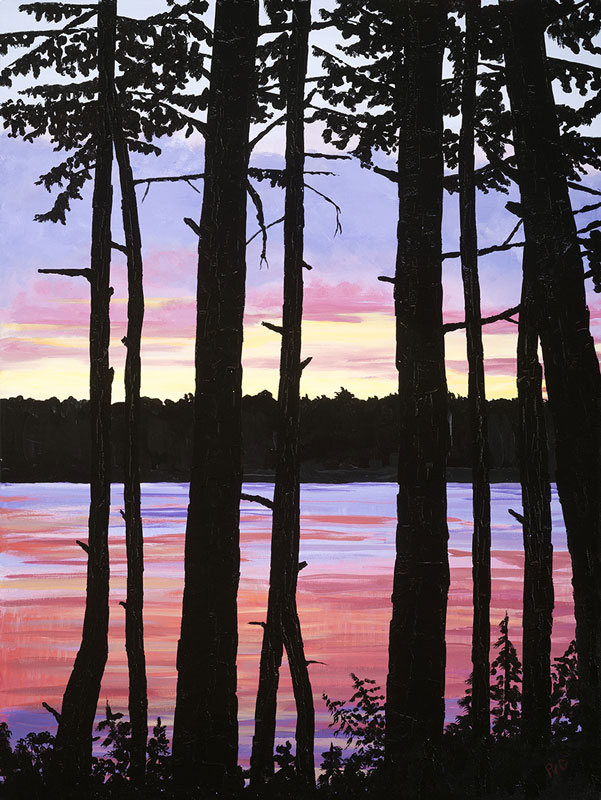 RP: What advice would you like to offer artists?
1. First and foremost to create from the heart (don't worry about "finding your voice" as it's there to the degree you "let go". Art is the window of the soul).
2. Don't hold back creativity.
3. Work hard and have disciple to create with regularity.
4. Take both praise and criticism lightly.
5. Find a mentor.
6. Learn the essential elements of running an art business even if not planning to run one.
7. Get help when you need it.
8. Join local, national and international arts organizations.
9. Be generous and always full of gratitude.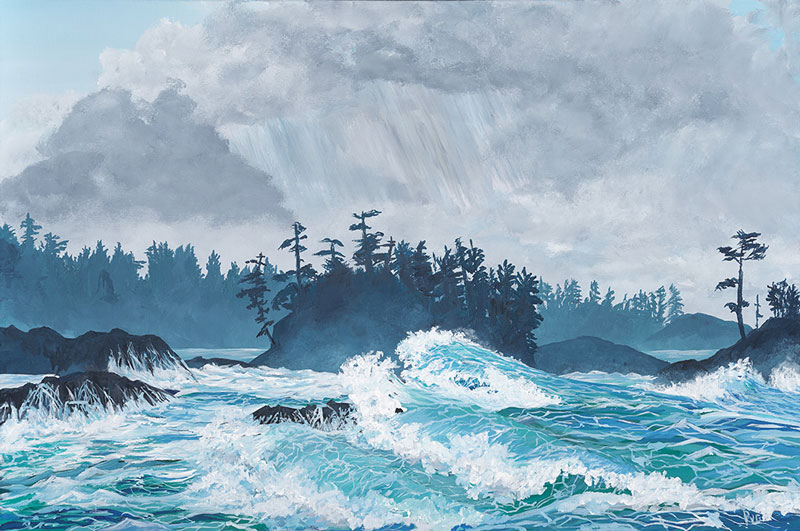 RP: That's excellent advice. Every artist should print your 9 points, hang them on their studio wall, and put them to memory. Peter, what is the most productive art marketing step you take to sell your art?
Being highly adaptive and responsive are absolutes. I am very intentional about getting my artwork out before an ever increasing audience. If a certain method works I repeat and if it doesn't work then I try something different. I am always pleased to meet new art lovers. Taking the effort to have professional website with a shopping cart is essential. Spending funds to advertise is an equally important. Using social media I currently focus on Facebook, Instagram, Twitter and Goggle + as well as building a mail list.
RP: Do you have any favorite articles on on this website?
The articles here are an amazing gift to all artists. I have two favorites: 10 More Time-Saving Tips For Artists (#1: Be totally focused) and 10 Ways to Avoid Art Career Sabotage. (#1: 1. Define success according to your own terms.)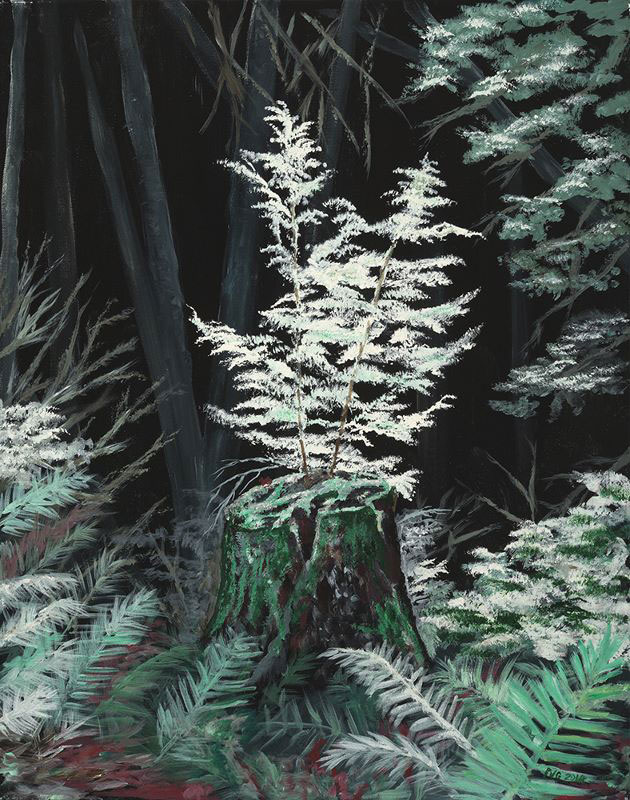 RP: For the many of us who want to see your art in person, do you have any upcoming exhibitions?
My upcoming local exhibitions include being Artist in Residence at Coast Harbourside Marina and Hotel for the month for May, 2017 and renting a commercial gallery space for July and August 2017 downtown Victoria, British Columbia. I will curate as well as participate in a group show at the Coast Hotel from November 2017 through April 2018. I will participate in select online, and group exhibitions including the online gallery at www.healing-power-of-art.org
RP: Thank you for being a member of The Healing Power of ART & ARTISTS and for doing this interview. What are your goals for 2017?
My goals for 2017 include producing 52 new artworks with a target of selling approximately 30 pieces. I plan to write a weekly blog focusing on each artwork and to use a variety of marketing strategies to attract art collectors.
Thank you Peter!
Visit Peter Van Giesen's website www.peternvangiesen.com
Join Peter Van Giesen on Social Media
Facebook: www.facebook.com/peternvangiesen
Twitter: www.twitter.com/peternvg
LinkedIn: https://ca.linkedin.com/in/peter-van-giesen-05803820
Instagram: www.instagram.com/peter_van_giesen
PLEASE SHARE & PLEASE COMMENT
by