Stop Struggling Now!
If you're like most artists you don't enjoy writing about your art and career credentials. The writing process can be extremely challenging if you haven't had the professional guidance and experience.
My specialty, for more than 30 years, has been writing about art and artists and I love doing it. Artists use my customized written materials for their promotional purposes on their websites, gallery proposals, grant submissions, social media profiles, blog posts, press releases, exhibition catalogues and artists' books.
In addition to writing promotional materials I also offer career consultations with advice on how to improve your artist's biography and artist's statements.
On this page you'll find informationa bout my writing credentials, current rates, where to see my writing samples and  comments I received from satisfied artist clients.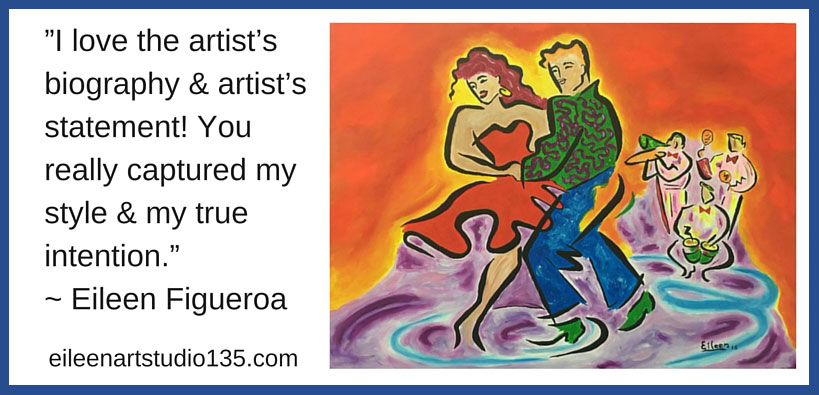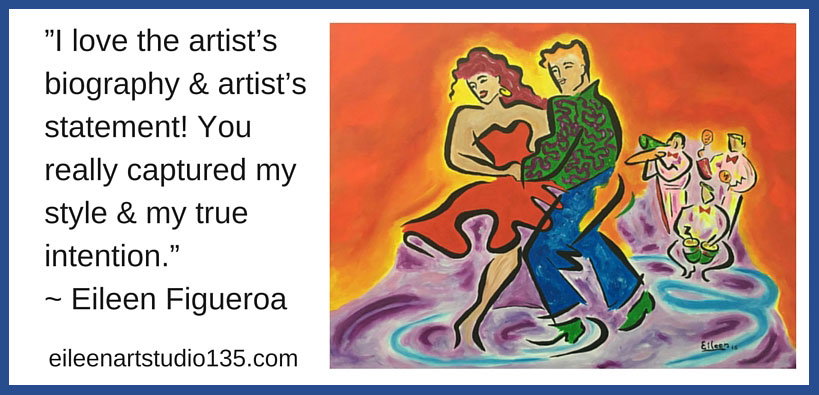 Some of My Credentials
I served as the editor in chief of Manhattan Arts International art magazine for 17 years. I am a member of the International Association of Art Critics.  I'm an author of several books and have written about art and artists for www.manhattanarts.com, Professional Artist magazine, Luxe Beat magazine and many artists' websites in all mediums and styles for 30 years. Read my complete bio.
Current Rates
Artist's Biography – approximately 300 words: $300 by check or $325 by PayPal.
Requirements: If you want me to write about your art it is important for me to be able to view your current artwork on your website and have access to your up to date biography and/or resume/cv.
Editing Services: Sometimes you may only need to have your biography edited. I will supply a fee depending upon how long it will take me.
********************************************************************
**********************************************************
How to Arrange for My Writing Services
Send me an email renee@manhattanarts.com and write "Writing Services" in the subject of the email.
Describe in about 50 words or less what you need help with. Please supply a link to your web site.
Do not send any attachments at this time. They will not be opened.
Please also let me know how you learned about me!
You will receive a reply from me within 3-4 business days.
I look forward to receiving an email from you soon and writing about you and your art!
**********************************************************************************************
Comments from Satisfied Artists

"I was blown away by the extent to which Renée studied all there is to know about my work, by her grasp of my vision, and her extraordinary language and insight."
~ Eleanor Gilpatrick
"I am in awe of your work! You have great writing ability. You really depicted me as a real professional artist. I am so grateful for you, for writing this spectacular Artist's Biography and Essay and for being an inspiration and mentor to me."
~ Beth Younger
"The biographical art essay you wrote is beyond perfect and I am so excited to use it in promoting my art. Your writing is a visual painting! I have to say no one writes as fantastic as you do."~ Bren Sibilsky
"I am very pleased with the way you wrote my Artist's Biography. I now have a product that is comparable to other professional artists. Your words are very powerful and awe-inspiring. I appreciate your inputs for breaking the paragraphs down to be used for other specifics as well."
~ Lee Tisch Bialczak
"Your ability to concisely, accurately and enthusiastically write about my art makes it a very important element in any marketing and promotional efforts" ~ Arthur Jacob
"I love how you wrote this bio. I am so happy that I met you and outsourcing this task has taken a
weight off my shoulders. Thank you." ~ Joanne Brown
"Renée, it is largely due to your article that I've made so many sales and gotten such great publicity." ~ Linda S. Watson
"Renée, the response to your article in my social network has been awesome. A Minneapolis magazine is going to do a story on me and my art work after they saw my post on Facebook."
~ Philip Noyed
"Renée gave me feedback on my art, helped me write my artist's biography, and motivated me to dive into the Art World with confidence."
~ Roohi Saleem