Are you selling as much art as you want to? One way of making sure your sales continue to grow is to first determine who your ideal customers are. Simply, your subject matter and the unique characteristics of your art will provide the road map to your ideal audience. The secret sauce is selling your art to your niche market.
As a career consultant I help artists define their ideal customers and show them how to reach them to keep increasing sales on an ongoing basis. This article explains what a niche market is and includes examples of those successfully selling artist clients and some of the strategies they use.
What Is A "Niche" Market?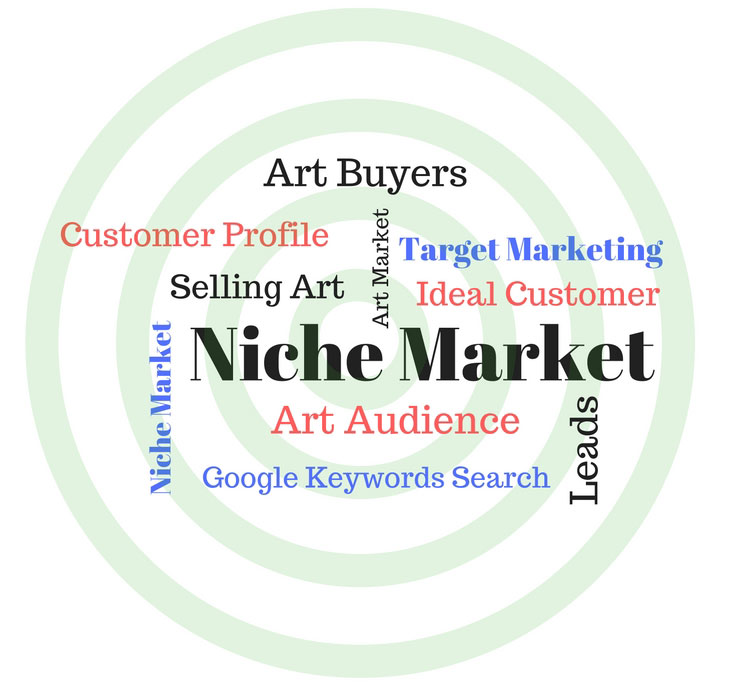 Merriam Webster defines a niche as "the situation in which a business's products or services can succeed by being sold to a particular kind or group of people". A niche market is the subset of the market on which a specific product is focused.
As you can imagine, once you define the unique characteristics of your artwork and define your art customer profile you will find a wide range of avenues where your potential art buyers can be found. You can approach like-minded individuals, groups and businesses that will be most receptive to your art.
This strategy, referred to "niche marketing" is used by the most affluent galleries and artists.  Here are a few examples of smart artists who know who their ideal customers are and they take proactive steps to reach them.
Nautical Art
David's work has a nautical theme so he approached galleries that specialize in nautical artwork. They can usually be found around the coastlines. He also exhibits and sells his work in and to marinas, seafood businesses and restaurants. To increase his sales he finds leads in yachting magazines. He also joins discussion groups in social media that are involved in this industry. His art can also be seen on boat industry blogs.
He has a special series of paintings devoted to Nantucket, RI scenes, which is a subset of his niche. He sells these paintings through many tourist shops and from his website online store.
Large Abstract Paintings
Milenka creates large, colorful, abstract paintings. They have a huge appeal due to her outstanding use of color and composition. Her market venues are hotel lobbies, restaurants and other public spaces in addition to private homes. In addition to direct sales she creates commissioned art work by collaborating with high end furniture stores, interior designers, corporate art consultants, healthcare industry art buyers, and architects.
She attends the trade shows attended in large numbers by interior designers and networks freely by distributing her promotional materials.
She displays in situ pictures of her art on her website to encourage sales.
Children's Portraits
John specializes in children's portraits. He taps into the children's market through manufacturers and retail stores of children's toys and clothing. With the help of google.com keyword searches he has found buyers through children's book publishers, private and public schools, day care centers and orphanages with exhibition and business proposals.
His marketing activities range from giving art demonstrations in toy stores to donating a portrait at an annual fund-raiser for an orphanage.
He also places cooperative ads with a local children's clothing store.
Cultural Themes
Maria is a California artist whose paintings pay homage to the laborers of Latin America. She selected the most popular four images to create prints and devised a color flier welcoming inquiries from dealers and buyers.
She procured a target market list from the biographical directory Who's Who in the Latin American Community to whom she mailed the fliers with order forms. She also promotes her art in Latino groups on Facebook and Linkedin. These marketing plans have led to several university and museum exhibitions and hundreds of sales.
Botanical Subjects
Roseanne creates still life and floral art in mixed media. Her market leads include botanical associations, horticulturists, floral designers, flower clubs, flower shops, flower seed distributors and catalogues in addition to the local and national chapters of interior design organizations. She maintains her own incredible garden and invites groups from garden clubs to visit her home. The tour of her garden is accompanied by an indoor display of her artwork which always attracts sales.
She also donates proceeds from the sale of her art to a botanical organization which has attracted a lot of publicity and helped her build a global reputation.
How can you start targeting your art markets and sell more art? What are the unique characteristics of your art work? Who is your ideal customer? How can you reach them?
Let Me Help You Reach Your Niche Market!
Helping artists expand their art sales is one of my favorite services. Please check out my consultation services.
PLEASE SHARE
by