If you're like most artists I know, the task of writing your Artist's Statement feels like torture. You may question, why doesn't the work speak for itself? But, you've probably also learned that throughout your art career you will be frequently asked to provide one. A well-written Artist's Statement is essential if you want to take your art business further. It is one of the most powerful art marketing tools you will have.
This article contains excerpts from my e-Book "How to Write Your Artist's Statement". It is a detailed 80+ page resource that contains step-by-step guidance, many examples of varying lengths for many different uses, plus tips and exercises to guide your through the process, and more.
In the meantime, I hope you enjoy reading the following statements written by famous artists. They have influenced multitudes of artists and art enthusiasts and perhaps their words might resonate with you. They may comfort you to know they also probably suffered from writer's block when writing about their art.
Wassily Kandinsky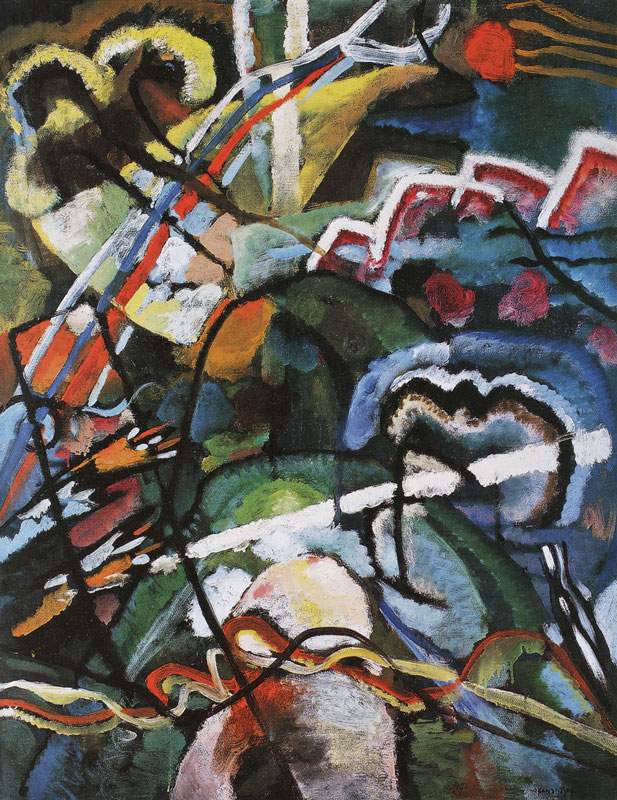 "I let myself go. I thought little of the houses and trees, but applied colour stripes and spots to the canvas… Within me sounded the memory of early evening in Moscow – before my eyes was the strong, colour-saturated scale of the Munich light and atmosphere, which thundered deeply in the shadows."
Georgia O'Keeffe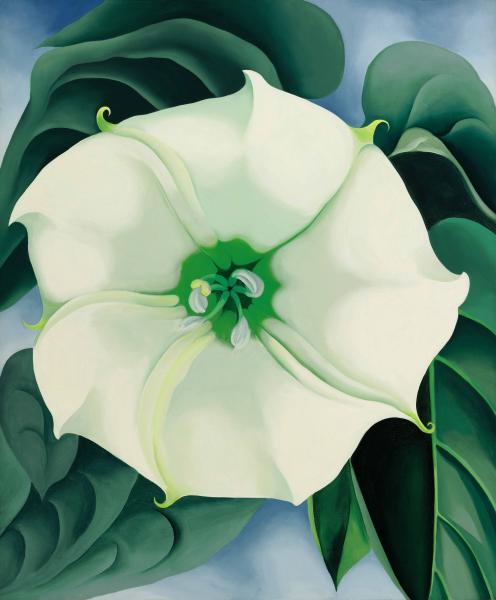 "When you take a flower in your hand and really look at it, it's your world for the moment. I want to give that world to someone else… Nobody really sees a flower – really – it is so small – we haven't time – and to see takes time… So I said to myself – I'll paint what I see – what the flower is to me but I'll paint it big and they will be surprised into taking time to look at it."
Henri Matisse
"I don't paint things; I paint only the differences between things… I do not literally paint that table, but the emotion it produces upon me. What I dream of is an art of balance, of purity and serenity devoid of troubling or depressing subject matter – a soothing, calming influence on the mind, rather like a good armchair which provides relaxation from physical fatigue."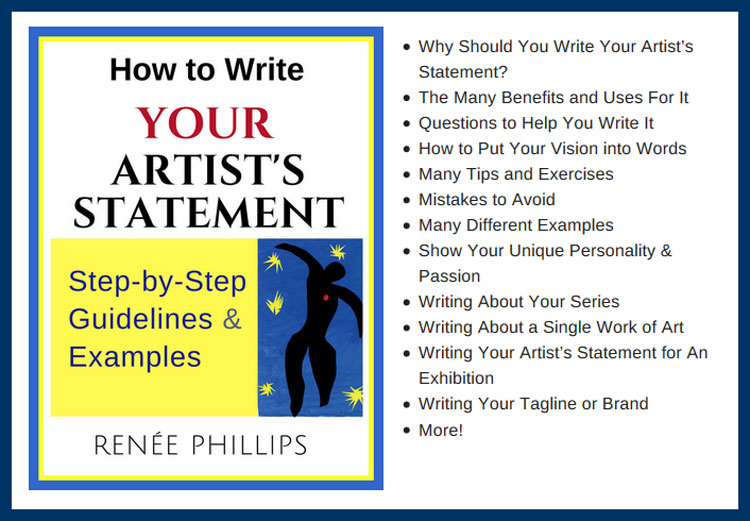 How to Write Your Artist's Statement ebook is available to download.
Find out how to get your copy.
************************************************
Louise Bourgeois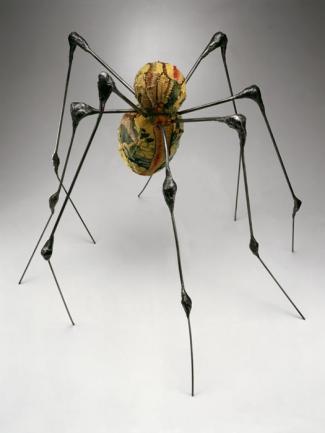 "I've drawn my whole life. My parents were in the tapestry restoration business, and as a young girl, I would draw in the missing parts of the tapestry that needed to be re-woven. My ability to draw made me indispensable to my parents.
I came from a family of repairers. The spider is a repairer. If you bash into the web of a spider, she doesn't get mad. She weaves and repairs it. 'The Spider' is an ode to my mother. She was my best friend. Like a spider, my mother was a weaver. . . Like spiders, my mother was very clever. Spiders are friendly presences that eat mosquitoes. So, spiders are helpful and protective, just like my mother."
Grandma Moses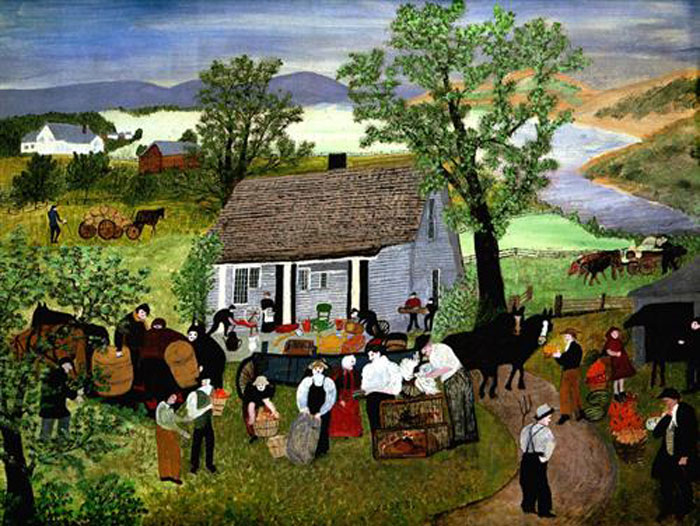 "I paint from the top down. From the sky, then the mountains, then the hills, then the houses, then the cattle, and then the people. I look out the window sometimes to seek the color of the shadows and the different greens in the trees, but when I get ready to paint I just close my eyes and imagine a scene. I'll get an inspiration and start painting; then I'll forget everything, everything except how things used to be and how to paint it so people will know how we used to live."
Jackson Pollock
"I want to express my feelings rather than illustrate them. It doesn't matter how the paint is put on, as long as something is said. On the floor I am more at ease. I feel nearer, more part of the painting, since this way I can walk around it, work from the four sides and literally be in the painting. When I'm painting, I'm not aware of what I'm doing. It's only after a get acquainted period that I see what I've been about. I've no fears about making changes for the painting has a life of its own."
Alice Aycock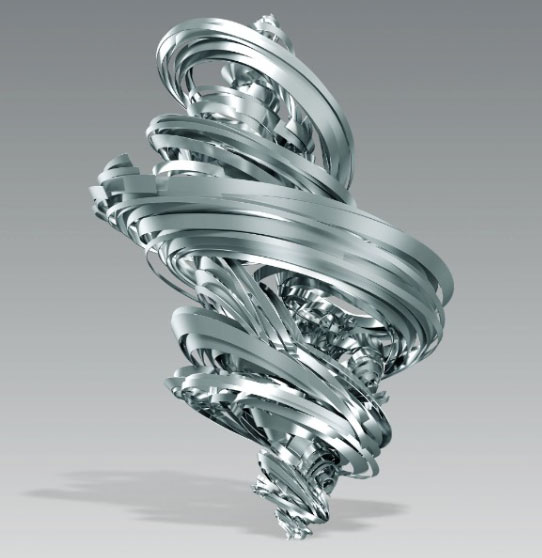 "I tried to visualize the movement of wind energy as it flowed up and down the Avenue creating random whirlpools, touching down here and there and sometimes forming dynamic three-dimensional massing of forms. One of the works, in particular, references the expressive quality of wind through drapery and the chaotic beauty of fluid/flow dynamics. As much as the sculptures are obviously placed on the mall, I wanted the work to have a random, haphazard quality – in some cases, piling up on itself, in others spinning off into the air." (Source: Press release announcing Alice Aycock's public art installation, received from Marlborough Gallery, New York, NY) ~ Alice Aycock www.aaycock.com
Edward Hopper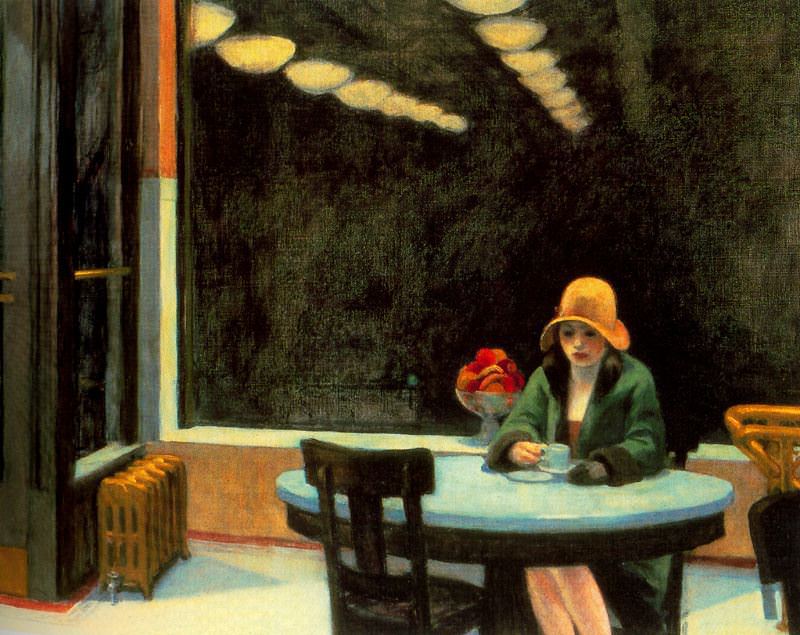 "It's to paint directly on the canvas without any funny business, as it were, and I use almost pure turpentine to start with, adding oil as I go along until the medium becomes pure oil. I use as little oil as I can possibly help, and that's my method."
He also said, "If I could say it in words there would be no reason to paint."
Berte Marisot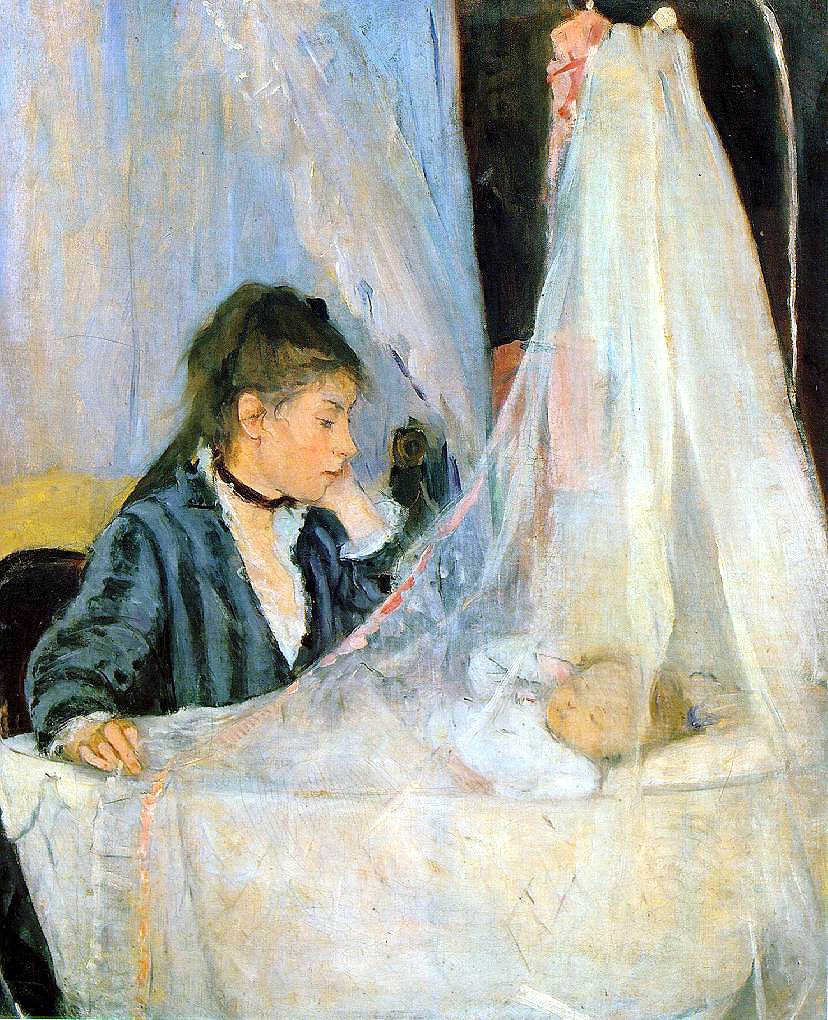 "It is important to express oneself… provided the feelings are real and are taken from your own experience… My ambition is limited to capturing something transient and yet, this ambition is excessive."
Leonardo da Vinci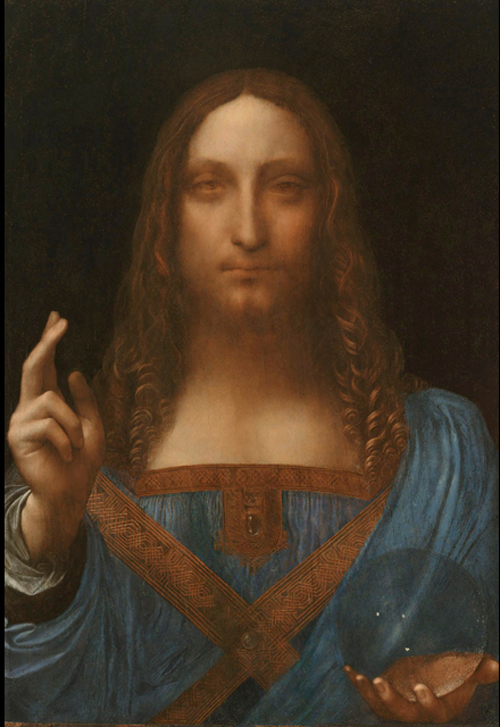 "The beginnings and ends of shadow lie between the light and darkness and may be infinitely diminished and infinitely increased. Shadow is the means by which bodies display their form. The forms of bodies could not be understood in detail but for shadow."
He also said "Where the spirit does not work with the hand, there is no art."
Andy Warhol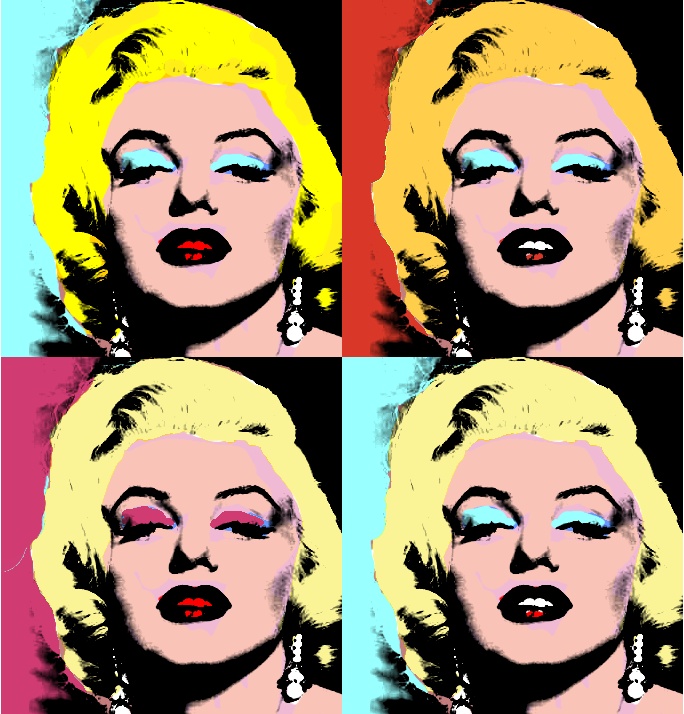 "I long for the old days of Marilyn Monroe and Audrey Hepburn, stars who had real glamour and mystique. We only knew so much about their lives; the rest was a mystery… My fascination with letting images repeat and repeat – or in film's case 'run on' – manifests my belief that we spend much of our lives seeing without observing."
*********************************************************************************************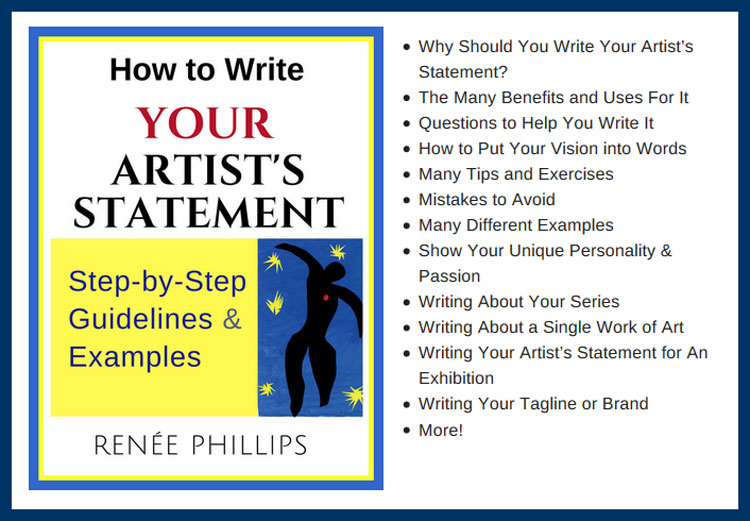 My e-Book "How to Write Your Artist's Statement". It is a detailed 80+ page resource that contains step-by-step guidance, many examples of varying lengths for many different uses, plus tips and exercises to guide your through the process, and more. Find out more about how to order "How to Write Your Artist's Statement".
Do You Need Personalized Help?
If you're having trouble writing your Artist's Statement helping artists write them is one of my favorite things to do. Please check out my writing services.
PLEASE SHARE!
by