We all tend to focus on the many positive benefits derived from creating art, but how often do we consider how toxic the materials are that we are using? What about the possibility that they may lead to any number of serious illnesses? Have you ever wondered, are your  art materials making you sick? This article sheds light on the subject, cites some dangerous chemicals you should avoid, and offers steps you can take to avoid harming yourself.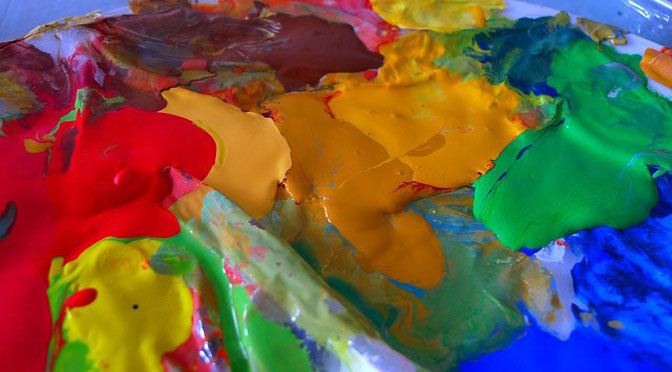 Unfortunately, for artists in the past, their studios were not as safe as they are today. We know that Rubens, Renoir and Dufy suffered from rheumatoid arthritis. Paul Klee was plagued by scleroderma. Both of these illnesses are linked to the toxic heavy metals, like cadmiums, found in the paints they used to enhance the brightness of their colors.
Today, artists are more educated about the materials they use and there is much more information readily available on the subject of safety. We can rely on several studies, books, as well as laws enforced upon art material manufacturers. However, we would be naive to believe the problem has completely disappeared.
What About Lead?
Artists are often unaware that the materials they use contain toxic ingredients, including those that are not permitted in other types of consumer products. For instance, lead has been banned from wall paint but is still used in artist paints and inks. Lead paint is banned in certain countries, however, and is in debate as to whether it should be removed entirely from artist materials.
Higher Risks for Chronic Illnesses Among Artists
Did you know, in 1980's, The National Cancer Institute conducted two studies and studied the deaths of 1,598 artists and found that among many other chronic illnesses, they found higher risks for urinary bladder cancer, leukemia, and arteriosclerotic heart disease among painters?
Even less severe and often neglected symptoms such as chronic depression, frequent colds or flu-like symptoms, low back pain, and headaches may signal low-level poisoning due to artists materials.
Dangers of Inhaling Toxic Fumes
Just a few related causes of toxicity are from use of plastic resins in cast resin sculpture; such solvents as hexane, benzene, and toluene in graphic arts materials; metal fumes from welding; and heavy metals and carcinogens, which are inhaled during airbrushing of watercolors, acrylics, and oil paints.
Read ASTM Labeling
Most hazardous materials in the art and craft industry have federal regulations on the labeling, requiring the material to undergo testing for hazardous ingredients and to be labeled as such.
All fine art materials are required by law to conform to American Society for Testing and Materials (ASTM) D-4236 which is a labeling standard confirming if the product is at all hazardous.
Those warnings are on the label as well. In addition, many companies conform to ACMI labeling carrying information about whether they are non-toxic or cautionary.
If used properly and disposed of properly, heavy metals and toxic ingredients can be managed well in the artist studio.
What You Can Do To Protect Yourself – 10 Steps
1. Read labels before you make a purchase.
2. Buy art materials manufactured by companies that use safe standards.
3. Avoid the use of hazardous toxic materials.
4. Use ventilation.
5. Do not eat and drink around art supplies that emit fumes.
6. Encourage art material manufacturers to cease selling toxic materials.
7. Boycott manufacturers that knowingly sell toxic materials.
8. Use safety equipment, including respirators, gloves and goggles.
9. Read MSDS (Material Safety Data Sheet) on products that might be unfamiliar. Most companies will supply these via their websites or customer service numbers.
10. Substitute the toxic materials you use and "go green" as much as possible.. Consider the dangerous effects these materials have on the environment.
Resources for Further Reading
Art and Creative Materials Institute: http://www.acminet.org
American Society for Testing and Materials (ASTM): http://www.astm.org/
HELP OTHER ARTISTS BY SHARING THIS ARTICLE ON SOCIAL MEDIA
by