Imagine your art on permanent display in a lobby or conference room of a corporation. Getting your art into corporate art collections is a big career boost. It brings money and prestige and builds your reputation. Many businesses today are recognized for their valuable art collections and are extremely influential in the world of art and business.  In this article you'll find out what the corporate criteria is, how corporations purchase art, how to make contact, how to start if you are new to this, and more.
Corporate Criteria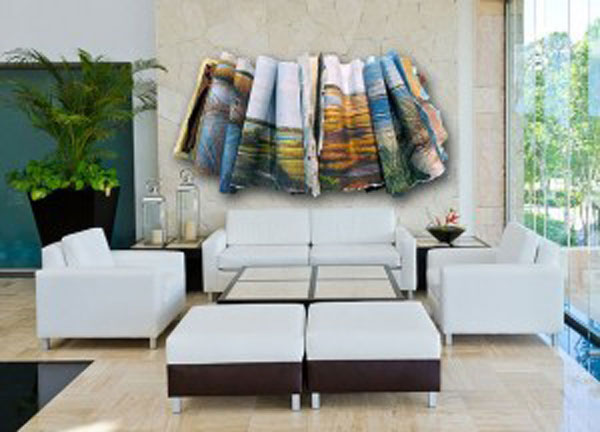 A corporation's interest in art is most often to build a collection of work that adheres to the highest standards, while it also must consider the needs and style of its own corporate personality.
Consider this: Your work may be very suitable for corporate collections if it addresses two or more of the following needs: Does it reflect and enhance the corporate image of the company? Does it decorate the walls and improve the working environment and productivity? Does it fulfill the percent-for-law requirements? Does it qualify as a sound investment? Is it pleasing to the eye? Does it boost morale?
In addition to providing these assets to the corporation, the purchase of the art must appease the stockholders, who often look askance at buying art as an unnecessary expense. The art must satisfy the employees who might prefer that the money be spent on salary hikes. In particular, corporations that are cutting out jobs do not want to appear as if they're spending too much money on art.
How Corporations Buy Art
Corporations use one of two methods for developing their collections. They either have inside personnel that buy art directly from artists and galleries, or they hire outside corporate art consultant firms that specialize in providing art for companies from their relationships with several artists.
It's easy to learn about the artistic preferences of companies. A visit to their spaces and websites will clearly inform you about their tastes. Their brochures and advertisements will communicate their brand. Interviews with the business owners and CEOs will tell you about the kind of image they want to project.
How to Make Contact
Don't be timid about contacting corporations directly. Obtain information online or in a phone call. Find out about the company's policy about collecting art. Ask for the name of the art director, art consultant, public relations manager or corporate communications director. Inquire into the nature of the existing art program and the appropriate way to make one's work known. Ask the individual in charge about what types of materials are required for the evaluation and specifically what kind of art they're looking for.
You may need to simply supply a link to your website or mail a CD or thumb drive of representative images with your bio and price list. So, please make sure the images on your website or jpgs do justice to the work and are shown to their best advantage.
Finding Corporate Prospects
When seeking prospective business buyers it's easy to find leads. Look for new companies that are moving into your neighborhood. Contact companies that already own your work to find out if they are expanding in size or building new offices. Contact architects and interior designers who have new corporate clients. Ask your artist friends who have sold their art to corporations how they did it. Research your connections on LinkedIn, Facebook, Twitter, etc.
Prospects can also be found in general and special interest publications, luxury and travel magazines and art publications, just to name a few.
Selling through Corporate Art Consultants
It makes a lot of sense to sell your art through one or more corporate art consultants since they have several corporate clients. After you establish a working relationship with one or more art consultants it will insure you of a steady stream of income as well as future commissioned projects.
To find corporate art consultants geographically google "corporate art consultants (city, state)" to locate a plethora of these companies and their websites. You'll quickly find out what types of clients they serve, their services, and pictures of artwork installed in their clients' venues.
For example, a google search will lead you to Art Matters "Corporate Art Specialists" located in Washington DC. A quick visit to their website will inform you that "ArtMatters represents hundreds of local and national artists in a wide variety of mediums. They state: "Our focus and strength is finding artwork whose color, imagery and scale are appropriate for commercial spaces; creating an attractive and inspiring work environment for our clients." Their website features several pictures of installations from projects they've done. There is even an Artist Submission Guidelines section on their contact page.
Making the Right Match
When approaching corporations and corporate art consultants, you should be prepared with the benefits your art will have on the work environment and how it will enhance the company's mission. The same way you would know which special qualities of your work appeal to individuals, you will determine the types of businesses that would respond favorably to your work.
Taking Your First Step
If you're new to this process consider first steps. Consider approaching small businesses in your area where you are a customer or client such as a law or accounting firm. Many artists take in their corporate sales are through friends and relatives who place their artwork in their places of business through sales or gifts.
When your work enters a business collection don't forget to include it on your résumé under "Selected Collections" as this will attract more interest from individual buyers as well as businesses.
Tip from Artist Meg Black
Meg Black http://megblack.com is an artist who paints using fibrous pulp. As one of a handful of artists working in this exciting medium, she is something of a pioneer, internationally recognized by galleries and collectors alike. Her art is in many corporate collections. She offers this good advice: "Write up a contract to submit to the Art Consultant that states your terms such as payment schedule, payment fee and who is expected to pay the delivery costs."
Don't Give Up
Don't be easily discouraged. At first, you might have to start small. As an example, I know a successful artist who began selling her limited edition prints to companies. Gradually, the corporate executives and employees expressed an interest in seeing her originals. She is now selling her paintings to them and no longer depends on the prints for financial support.
I wish you great success and many corporate sales!
HELP A FELLOW ARTIST ~ PLEASE SHARE THIS ARTICLE
by