Those of you who follow me know I work nearly 24 hours a day in front of my computer, either coaching artists, reading and writing articles, visiting artists' websites, curating exhibitions from online submissions, and posting on social media. And, I also work on other creative projects.
I used to suffer from inadequate lighting that caused eyestrain, blurred vision, and headaches until I discovered OttLite, a manufacturer of innovative LED lights with many different styles to choose from.
With my OttLites many tasks are much more pleasurable and comfortable. In this article I share the benefits of having an OttLite. Now, you can get the best lighting for your art projects and time you spend working at your computer and other activities.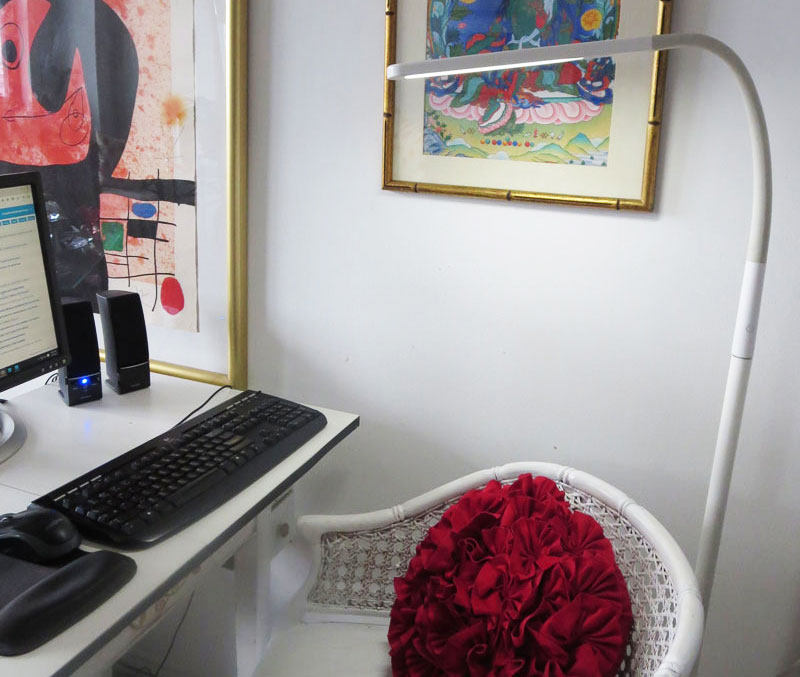 My Natural Daylight LED Flex Floor Lamp
As you can see this is sleek and takes up hardly any space. The base, less than 2" high, slides neatly under my elevated bookcase.  This light is multi-functional. Since it has flexible neck that has many positions, I can adjust it to illuminate my desk area or a painting on a wall or sculpture. This is a wonderful feature when I'm entertaining guests in my apartment. The dimming feature offers the opportunity to either brightly spotlight an object or create a soft ambiance.
The 12-1/2″ shade and rubberized flexible neck allows me to direct light wherever I need it. The touch activated controls makes it easy to adjust the brightness levels and the smart memory feature remembers my last brightness setting.
This lamp is available in either white or black and it's sleek modern design matches any décor. I also love the freedom of working day and night without suffering from the heat that other lights radiate. As you can imagine, in the summer this is a huge benefit.
OttLite Offers Natural Lighting Day and Night
Have you ever suffered from working on a painting in your studio through the night and awakened the next day disappointed to see the colors inaccurately represented in the natural light of day? How many hours have you wasted making color corrections to your paintings and other art projects? If you're only available time to create art is at night or don't have available natural light where you work this could be a major problem.
My OttLite gives me accurate natural light at all times. It's available in white (my choice) or black. The OttLite LED  features 3 color modes (warm light, cool light and natural daylight) to brighten my work area.
I can use the Warm Light during the day when I want to increase the sunlight coming in while working on my computer. The Cool Light option is great for when I want to see fine details. The Natural Daylight option, my favorite, is perfect for when I need to see colors accurately when I'm working on a painting project. It is similar to mid-day sunlight.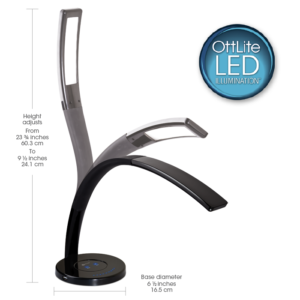 Long Life
The super bright natural daylight LED OttLites are rated to last up 40,000 hours. The diffuser provides smooth, uniform illumination. The smart dimming feature remembers your last brightness setting for each color mode. It provides a maximum of 500 lumens. (Lumen is a measure of the total quantity of visible light emitted by a source.)
Flexible and Versatile Lighting Options
I can twist and flex the LED Cobra Desk Lamp  to easily direct light over my work area, no matter how wide it is. The illuminated control panel lets me adjust the brightness.
And, like many of the OttLite styles, it also comes with a built-in USB port where you can fully charge your tablet, smartphone and more. How cool is that?
Do you have an OttLite? Leave a comment about which style you have and what you love about it.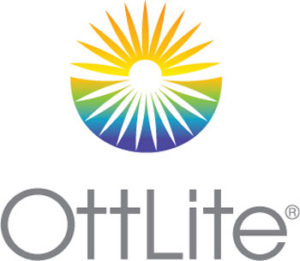 Learn more about OttLite and the many styles you have to choose from at www.ottlite.com
Follow Ottlite on Pinterest pinterest.com/ottlite/whats-under-your-ottlite/
Facebook facebook.com/OttLite
Twitter twitter.com/OttLite
SHARE THIS WONDERFUL LIGHTING SOLUTION WITH OTHERS
by