Art organizations are essential, especially when you're looking for a fast track to build your art career. Organizations that offer their members exhibition opportunities and networking are priceless, especially when it is difficult for most artists to receive gallery representation. Whatever your style, medium or career level, there are art organizations to fit your needs. In this article I offer several valuable art organizations for artists in the United States that have been in existence for decades.
As you will find out when you visit their websites, each art organization is different in its overall mission, structure, activities and membership benefits. When you choose the organization you are interested in, I suggest you follow them on social media and subscribe to their email newsletters to get current updates about their activities. You may also want to read Organizations that Advance The Status of Women Artists.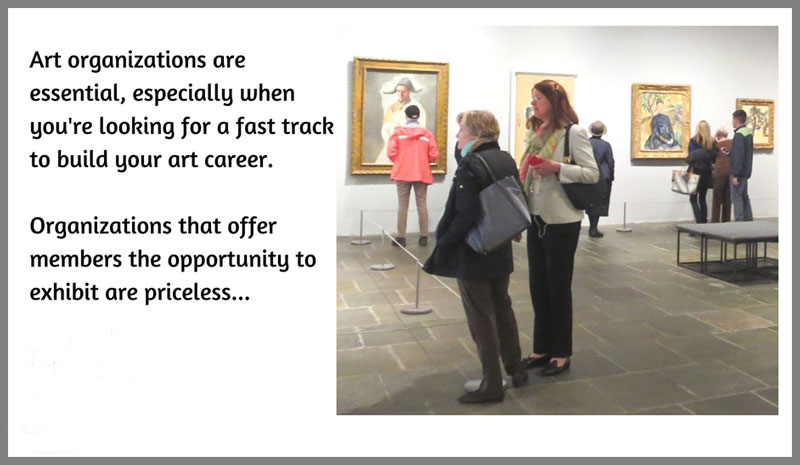 American Society of Contemporary Artists
The American Society of Contemporary Artists is a national not-for-profit exhibiting art organization of approximately 70 professional painters, sculptors, and printmakers. Works range from traditional representation to the completely non-figurative. Artists of excellence are carefully selected on merit by a revolving jury of their peers. ASCA members have exhibited in group and solo shows in the United States and abroad, gaining considerable distinction and recognition. Members participate in public lectures, art demonstrations, art education, and the presentation of awards that serve to encourage the development of others within the art community. When applying for membership, allow a 2-3 month response time.
Visit http://ASCAartists.org/
American Watercolor Society
The American Watercolor Society is a nonprofit membership organization that began in 1866 to promote the art of watercolor painting in America. Each year the Society holds a juried exhibition of watercolors from artists throughout the world. They are now accepting entries for the AWS 150th Anniversary International Exhibition that will be held in New York, NY, April 3-22, 2017. This Annual Exhibition is open to all artists working in water soluble media which includes watercolor, acrylic, casein, gouache and egg tempera on paper. Canvas is not accepted.
Visit www.AmericanWatercolorSociety.org
Colored Pencil Society of America
The Colored Pencil Society of America (CPSA) was founded in 1990 as a nonprofit organization dedicated to artists working with colored pencil. With about 1600 members worldwide and over 25 district chapters in the U.S., CPSA provides opportunities for colored pencil artists to network. The Society provides two opportunities annually for colored pencil artists to exhibit their work. Both exhibitions offer cash awards and are juried in order to promote the highest aesthetic standards. One is an exhibition that takes place in a different city every year. The second opportunity is an online exhibition titled "Explore This!".
Visit www.CPSA.org
Glass Art Society
The Glass Art Society is an international nonprofit organization founded in 1971 whose purpose is to encourage excellence, to advance education, to promote the appreciation and development of the glass arts, and to support the worldwide community of artists who work with glass. The Society strives to stimulate communication among artists, educators, students, collectors, gallery and museum personnel, art critics, manufacturers, and all others interested in and involved with the production, technology and aesthetics of glass.  Application for membership is open to anyone interested in glass. Membership includes a profile on website and an image gallery.
Visit www.GlassArt.org
International Print Center of New York
IPCNY was established in Chelsea in September 2000 as the first and only nonprofit institution devoted solely to the exhibition and understanding of fine art prints. IPCNY fosters a climate for the enjoyment, examination and serious study of artists' prints from the old master to the contemporary. It offers exhibition opportunities for contemporary artists through its "New Prints Program" which inaugurated the comprehensive program of exhibitions embracing all time periods and cultures. Launched in 2000 with Hard Pressed at AXA Gallery it continues today through its international and thematic exhibitions series.
Visit http://www.ipcny.org
National Sculpture Society
National Sculpture Society (NSS), founded in 1893, promotes excellence in sculpture that is inspired by the natural world. It publishes Sculpture Review magazine and NSS SculptureNews, and provides scholarships, grants, exhibitions and competitions. It presents the Sculpture Celebration Conference that features programs such as panel discussions, demonstrations, information sessions, studio tours, and awards presentations. These educational programs are just a few of the ways NSS serves as a link between the public, sculptors, educators, and collectors.
Visit www.NationalSculpture.org
Pastel Society of America
Founded in 1972, The Pastel Society of America (PSA) is the oldest pastel society in America. It is largely responsible for the current renaissance of pastels in American art. The society's annual exhibitions at The National Arts Club in New York, NY are the premier event for pastel artists in this country and abroad. PSA encourages artistic advancement through prestigious awards distributed during its annual exhibitions. Pastelists showing technical acumen and creative use of pastel techniques are awarded prizes for their achievements. Members winning three cumulative awards are named PSA Master Pastelists. Each year one noted artist is elected into PSA's Hall of Fame.
Visit http://PastelSocietyofAmerica.org
The Salmagundi Club
The Salmagundi Club was founded in 1871, and is one of the oldest art organizations in the U.S. The Club offers artist members the opportunity to exhibit their work in four to six exhibitions a year. That includes the Spring and Fall Auction Exhibitions in which members' paintings are auctioned off for the mutual benefit of the artist and the Club. In the spirit of camaraderie, it brings together members with similar interests. It also provides members with access to the Club's extensive art library. Member dues are often paid for by proceed earned from sales of artwork. All applications are submitted to the Admissions Committee for consideration, and the work of candidates for artist membership is also reviewed by the Art Committee. Application forms are available in the front office at 47 Fifth Avenue, New York, NY, 10003 by writing, or calling the office secretary at (212) 255-7740.
Visit http://www.salmagundi.org
PLEASE SHARE
by