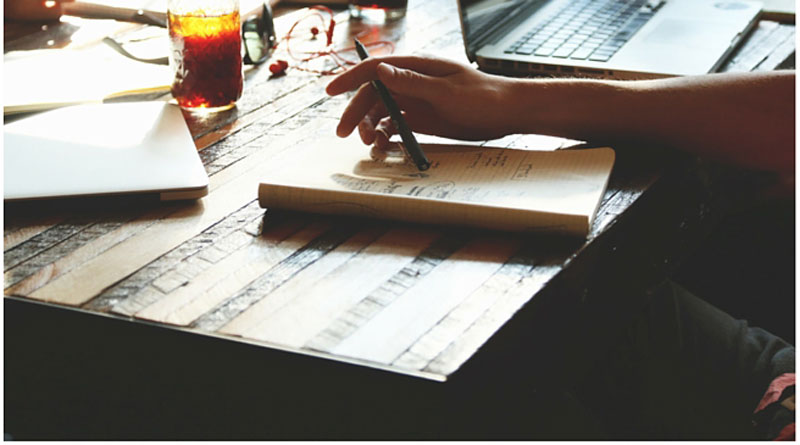 Your Artist's Biography is essential for viewers of your art who want to know more about you. It helps them to understand what makes you unique and tells them about the journey you took to get to where you are now as an artist.
On the practical side, your Artist's Biography provides prospective buyers, gallery owners, curators, grant givers and writers knowledge about you. They want to know about your career accomplishments before they decide to invest in your art and promote you.
What Is The Artist's Biography?
The Artist's Biography serves to provide the reader with a story about you as an artist and learn about your career credentials.
It contains much of the same information as a résumé, however, a résumé or CV is written in a listing format and a biography is written in an editorial style.
Your Artist's Biography may contain a brief description of your art work however it is also not the same as an Artist's Statement, which your write entirely to express creative inspiration, materials, style and artistic vision.
Why do you need to write Your Artist's Biography?
 You need a well-written artist's biography to…
Promote your art on your website and blog on the "About the Artist" page.
Create your profile on your social media platforms.
Provide material in your cover letter to a gallery or other art official.
Give to a publicity outlet — art editor, feature story editor or radio or TV host.
Add to your your exhibition press release.
Serve as an integral part of a brochure or catalogue.
Add to your proposal for a grant, lecture, workshop or panel discussion.
What Do You Include in Your Biography?
What are the unique attributes of your art?
Where have you previously lived and where do you currently live?
When, where, and/or why did you begin to take interest in art?
Did you study art in school, or were you self-taught?
Did you go to college or art school? Where? What did you study?
Did you receive any press coverage?
What is the title of the magazine/newspaper or blog and the writer's name?
Have you been interviewed on TV or radio?
What is the title of the show and person who interviewed you?
What exhibitions did you participate in?
What is the name of the exhibition location and title of exhibition?
Was it a juried or invitational exhibition? What is the name of the juror?
Is your art in any important public collections? Which ones?
What awards and honors have you earned?
Have you served in other art art related capacities,  such as being a curator, art writer, or an artists' advocate?
More Quick Tips
On your website limit your Artist's Biography to approximately 250 words or less.
Avoid writing about intimate experiences that are not related to your career or artistic vision.
Avoid the use of jargon, colloquialism, and esoteric language that will alienate most potential buyers.
Create different versions of your Artist's Biography to use for different purposes.
Download "How to Write Your Artist's Biography"
I wrote "How to Write Your Artist's Biography" e-Book to help you take the stress out of this writing project. The e-Book has been recently expanded and revised. It will help you write Your Artist's Biography in a simple step-by-step manner. Many samples to follow. Click on image to learn about it and how to order it.
Do You Need Personalized Help in Writing Your Bio?
If you have a difficult time writing your artist's biography click here to find out how I can help you and even write it for you.
SHARE THIS ARTICLE WITH FELLOW ARTISTS!
by