If you're an artist who doesn't know how to properly write your Artist's Statement you're not alone. When artists contact me for a consultation that's one of the first projects on their wish list for me to help them with. In this article I provide 28 guidelines to walk you through the process of writing your Artist's Statement. I also include the benefits you derive from having one.
Why You Need Your Artist's Statement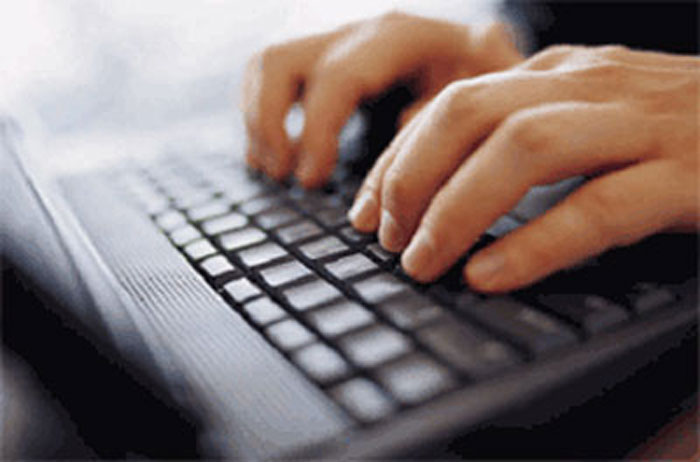 A well-written Artist's Statement is essential for any serious professional artist. It is one of the most powerful art marketing tools you will have.
There are many benefits to having a well-written Artist's Statement. The Artist's Statement offers you the opportunity to explain your creative process and inspiration. It is a verbal expression of how you paint, draw, sculpt, or produce your art in your chosen medium.
An Artist's Statement will serve as a useful tool on its own, and it will also enhance your verbal communication about your art. When you are crystal clear about your creative inspiration you will be more convincing when you explain your work to a dealer, grant giver, writer, and prospective buyer.
People who are attracted to your work will want to know more about the artist behind it. The Artist's Statement offers you the position to share your story, rather than leave it open to incorrect interpretation or confusion by others.
The Artist's Statement helps you sell more art. Selling requires reaching out to prospective buyers. As your viewers learn more about you by reading your artist's statement they will become more engaged with your work and their desire to purchase it will grow.
So, there are very practical purposes for the Artist's Statement. Here are some guidelines and excerpts from my e-Book "How to Write Your Artist's Statement."
28 Tips and Guidelines to Help You Write Your Artist's Statement
1. It is important to find your own voice and not to copy that of another artist.
2. Write the Artist's Statement in the first person, for example: "I am an abstract artist…")
3. For general purposes aim for an Artist's Statement that is to 100-200 words.
4. Customize your Artist's Statement for the individual(s) and/or audience that will be reading it. For example, an Artist's Statement that you write to a grant foundation will be more complex than the one you post on your website to a general audience. The one you write for an editor of a art magazine will be different than the one you send to a general readership newspaper.
5. Explain the motivation behind your process.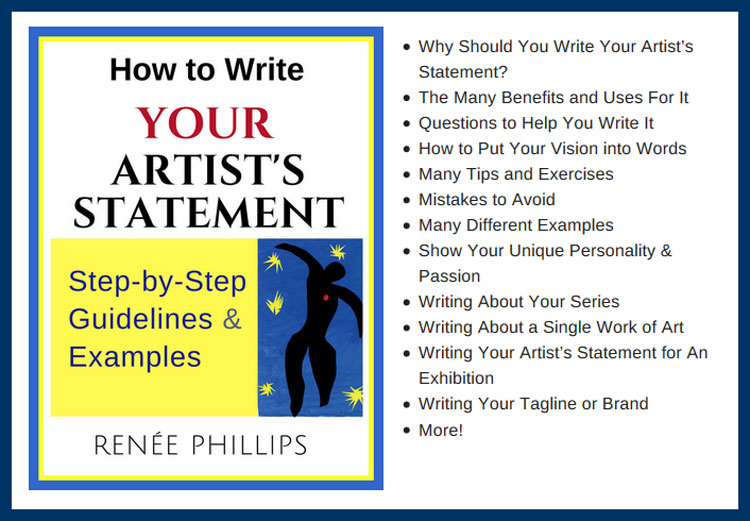 6. Explain how your work develops and evolves during the creative process.
7. Describe your medium and your style.
8. Relate your technique and style to your medium and your vision and philosophy.
9. Use "picture words" to express your art.
10. Avoid self-doubt statements such as "I try to…"
11. Choose words and phrases that are understood internationally. What may be understood to Americans may have a different connotation to a European or Asian audience.
12. Discuss the way(s) in which your work, medium, technique or vision is unique.
13. If you work in series, explain how they are connected – if they are.
14. If you work in series but they are dissimilar write a different artist's statement for each series of work.
15. Write honestly and avoid writing in a tone that speaks down to your reader.
16. Avoid grandiose, esoteric and egotistical expressions.
17. Avoid simplification.
18. Avoid being overly technical.
19. View this writing project as an opportunity to define the critical conversation you want to engage through your art.
20. Avoid repetition.
21. Vary sentence structure and length.
22. Adjust the length of your sentence to relate to the complexity of the idea.
23. After you write your artist's statement, try it out on someone who is not involved in the art world to make sure it is written clearly for different types of people, not just artists.
24. Check your spelling and grammar. Don't rely only on automatic spell check. Ask someone who is good with grammar proofread it for you to check for misspelled words and typographical errors.
25. If you find the task extremely difficult, don't hesitate to obtain some coaching or editing help from a professional art writer.
26. To help you get started keep a journal to record your ideas, before, during and after a creative session in the studio.
27. Never copy another artist's statement, however, read them for style, insight and inspiration.
28. Avoid the temptation to rely on using quotations of a famous (deceased) artist or philosopher as part of your Artist's Statement. Instead, find your own words to express the same or similar idea.
More  Related Articles
Mistakes to Avoid When Writing Your Artist's Statement
Fun Techniques to Help Your Write Your Artist's Statement
Art and Artist's Statements – Quotes by Famous Artists
How to Craft Your Elevator Speech As An Artist
******************************************************************************
Order "How to Write Your Artist's Statement"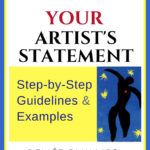 This article contains excerpts from "How to Write Your Artist's Statement", an e-Book I wrote with easy step-by-step guidelines to help artists with this challenging task. It also includes dozens of sample artist's statements written by and about different artists who create art in different styles and mediums.
This comprehensive e-Book is offered as a PDF file that you can download. Learn more about it.
*****************************************************************************
Need personalized help?
If you need feedback on your existing Artist's Statement or help writing and editing one please contact me. I would be delighted to help you. I also write Artist's Biographies and Art Reviews.
PLEASE HELP ANOTHER ARTIST BY SHARING THIS ARTICLE
by