Based on many research studies healthcare experts agree that positive art has a healing impact on patients and art in healthcare is a big industry that is growing rapidly. As our life span increases the medical field is expanding to a wide variety of venues that need art — from hospitals to outpatient clinics. This rings a call for you as an artist to consider selling your art in this field. In this article I share some resources for artists interested in the healthcare art market. They will help you broaden your possibilities to excel in selling. The article includes excerpts from my comprehensive e-Book Sell Your Art in The Healthcare Art Market, which contains many more resources and vital information.
Just think about the many opportunities for your art. Venues that are integrating art into their overall design — general hospitals, senior residences, acute care hospitals, surgery centers, medical office buildings, physicians' offices, rehabilitation centers, military hospitals, to name a few.
Experts who have been conducting extensive research over decades have concluded there are definite kinds of art, subject matter, colors and the like, proven to have the most positive benefits. If you are an artist who is interested in catering to this market it is important for you to know about these resources and visit their websites to learn more.
American Academy of Healthcare Interior Designers – Place to Find Leads!

An important resource for you is the American Academy of Healthcare Interior Designers. A leading membership organization of Certified Healthcare Interior Designers, these members are considered to be qualified "to ensure the health, safety, and welfare of patients, residents, and staff in hospitals, clinics, and residential care facilities."
Henry Domke – Photographer – Successful Role Model!

Henry Domke creates exquisite, awe-inspiring nature art for hospitals. He is one of the most successful artists in this market niche. He states, "Much of my art is based on the native plants and animals that I find in 'my backyard.' I've also found inspiration farther afield in coastal landscapes, mountainous terrains, desert scenes, and seashells."
In 2003 he started Henry Domke Fine Art, when "I saw a need for better and more appropriate art for hospitals and medical facilities." Interestingly, Domke had been a family practice physician and was also studying at the University of Missouri-Columbia's graduate program in Fine Art. He has become a renowned artist and expert in the field of art in healthcare.
On his website you'll find his extraordinary healing art, installations, and many articles on the topic.
"Art in Healthcare is An Integral Part of The Design Plan" – An Informative Article!

Barbara Markoff is the owner of Artrageous!  in San Diego, California, an industry leader in the field of art consultation. Her diverse clientele includes many members of the healthcare industry. She wrote a very informative article "Art in Healthcare is An Integral Part of The Design Plan". In it she cites the many benefits of art in public spaces and states, "Public artwork serves many functions in healthcare facilities. Strategically placed artwork helps soothe and welcome patients and visitors. It also assists with wayfinding. Artwork helps clarify the boundaries of public and non-public areas of hospitals."
---
Want More Information, Resources and Inspiration?
Download my comprehensive e-Book Sell Your Art in The Healthcare Art Market.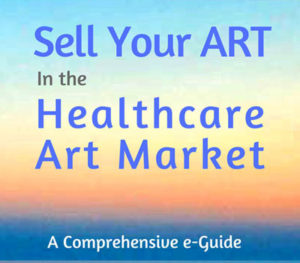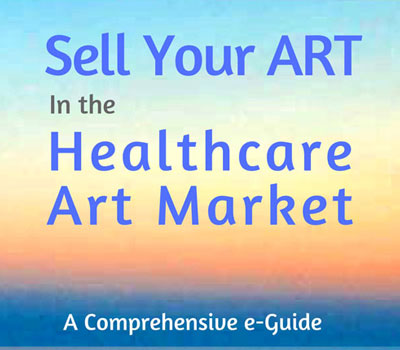 A few of the many things you'll find in these e-Book:
* The Benefits of Art in Healthcare
* Types of Healthcare Venues Seeking Art
* What Kind of Art is Suitable for The Healthcare Art Market
* How to Submit Your Art for Healthcare
* Selected Art Consultants That Supply Art for Healthcare & their Artist Selection Process
* Where To Find Art Consultants Seeking Art
* Much more…
---
MORE RESOURCES
The Center for Health Design – Expand Your Knowledge!

This organization, The Center for Health Design, started in 1993 as a team of advanced thinkers with an idea of creating healthcare facilities to promote healthier environments for patients as well as the staff. Since that time their vision has become a movement. The organization "advances best practices and empowers healthcare leaders with quality research that demonstrates the value of design to improve health outcomes, patient experience of care, and provider/staff satisfaction and performance. Through design research, education, and advocacy, we're leading the way in transforming hospitals, clinics, wellness centers, doctor's offices, and residential care facilities for a safer, healthier tomorrow."
U.K. Gallery Rental Supports Art in Hospitals – Inspirational Program!

The Menier Gallery in the U.K. hosts a full program of exhibitions & events. The Menier Gallery is managed by the registered charity Paintings in Hospitals. In order to fund the efforts of Paintings in Hospitals, the gallery rents its space out for events and exhibitions. All money raised from renting the gallery for exhibitions and events supports the charity. Paintings in Hospitals states: "We do more than simply put paintings in hospitals. We strongly believe that art has an important role to play in the healing process. Our research is contributing to the growing body of evidence that art improves wellbeing, and we are continually evaluating the impact and reach of our work."
Arts in Medicine – Inspirational Program!

The Arts in Medicine (AIM) program at Shands Hospital in Gainesville, Florida, was co-created in 1990 by John Graham-Pole, M.D. and Mary Rockwood Lane, Ph.D. R.N.
AIM's goal is to connect health care givers, artists, patients, their families, students and the whole community and bring the arts into the mainstream of restoring bodily, mental and spiritual health
AIM is committed to using the arts to improve the hospital setting from a sterile and impersonal setting to one of "color and inspiration."
PLEASE SHARE
by