If you're an artist who doesn't know how to properly write your Artist's Statement you're not alone. When artists contact me for a consultation that's one of the first projects on their wish list for me to help them with. In another article I wrote How to Write your Artist's Statement that  includes 28 guidelines to walk you through the process. In this article I mention some of the most common mistakes to avoid when writing your Artist's Statement.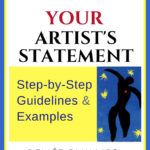 This article contains excerpts from my e-Book "How To Write Your Artist's Statement".
• Avoid misspelled words and grammatical errors.
• Avoid being pompous, overly technical and complicated. The reader of your statement is often a person who didn't get a degree in art history or has never tried to do what you are doing as an artist.
• Avoid superficial statements, such as "I paint because I have to" or "I pour my soul into each piece."
• Avoid uncertainty and self-doubt statements such as "I have been trying to…" or "I've never been able to…" and replace those words with a more positive approach such as, "My purpose is…" or "I achieve…" or "My desire is to…"
• Avoid grandiose expressions, such as: "My art heals humanity" or "I receive my messages from God". These statements may be very true to you but they may be meaningless to others and might turn them away.
• Avoid the repetition of words, phrases and concepts. Expand your choice of synonyms. Refer to a thesaurus: thesaurus.com
• Avoid forcing to write when you aren't in the proper frame of mind.
• Avoid the use of jargon and clichés.
• Avoid beginning every sentence with "I".
Want To Get More Comprehensive Step-By-Step Advice?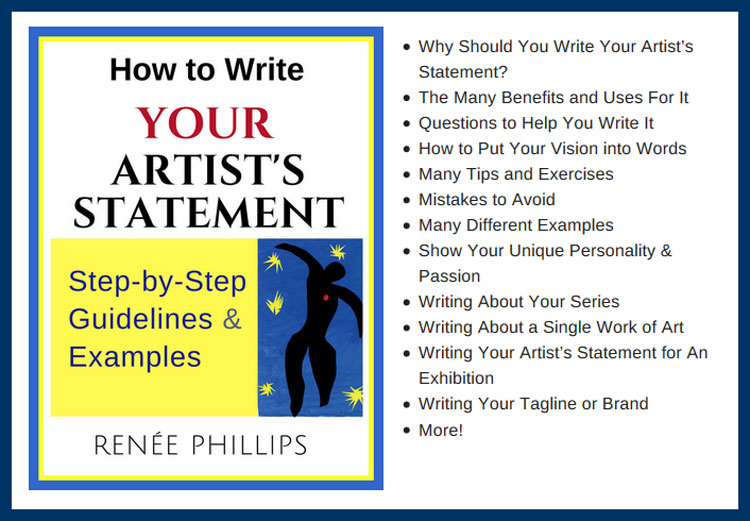 You'll find many more mistakes to avoid and 80+ pages of tips, step-by-step guidance, many examples of Artist's Statements written in different lengths and for different applications. Also included are artist's statements of major artists who work in different styles and mediums.
Find out more about "How To Write Your Artist's Statement" e-Book.
PLEASE SHARE
by