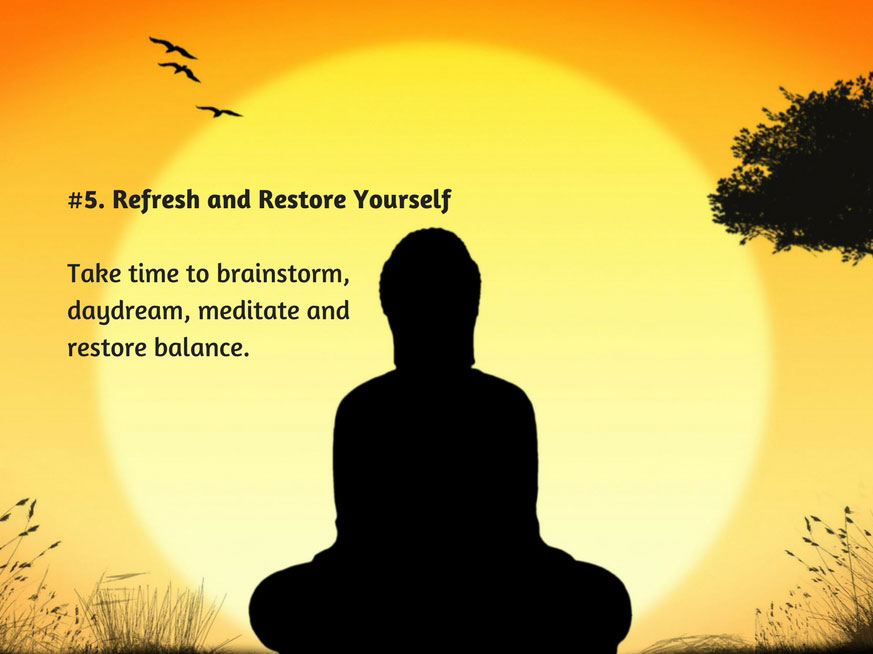 If you're a sensitive, creative person who is good at fulfilling other people's needs and forget to pay attention to our own, in time you may become less creative and lose confidence and motivation.  It's not healthy to neglect your personal needs. Here are 12 ways to nurture your inner artist.
1. Acknowledge Your Talents, Skills and Strengths
Most of the time when I begin coaching an artist they usually do not see themselves the way I do. I notice their many talents, skills, strengths, and attributes. When I ask them what makes them and their art unique (an exercise that is part of how to create your art business plan) most artists underestimate their positive qualities and focus on their inadequacies.
Today, begin writing a list of all of your best qualities, unique talents and skills. Ask loved ones and friends to add to the list. Keep the list as an ongoing project for a week or two. Keep this list in plain sight and read it every day. Remember, a positive self-image is necessary for a healthy creative life and energy.
2. Keep a Closed Door to Your Private Studio — Literally and Figuratively
Your creative space should be your sacred space. Let others know when you need to be left alone to be your creative best or when you need to meet a deadline. Set guilt-free limitations on your excessive social and family demands. If necessary place a large "Do Not Disturb" sign outside the door!
3. Say "No" to Toxic People and Materials
Avoid saying "yes" when your heart and soul yearns to say "no". Refuse to tolerate the actions and criticism of toxic people.
Also avoid the use of toxic materials that will endanger your health. Artists are often unaware that the materials they use contain toxic ingredients, including those that are not permitted in other types of consumer products. For instance, lead has been banned from wall paint but is still used in artist paints and inks. Read Could Your Art Materials Be Making You Sick?
4. Eliminate Time Wasters
Treat your time as the valuable commodity that it is. Avoid watching negative news programs and excessive social media, text messaging, procrastination, searching for misplaced items and papers, and failing to create an organized work area and system. (See Tip #8.) It's better to focus on productive activities that will advance your career, such as writing your email newsletter or working on a blog post.
5. Refresh and Restore Yourself
Take time to brainstorm, daydream, meditate and restore balance. Practice energy enhancing activities — yoga, tai chi, meditation, restorative music, and positive affirmations.
When you have a busy day working on a project, set the timer several times throughout the day to remind yourself to get up from your work area, in order to exercise, stretch, eat something healthy, or go outside and commune with nature.
6. Stay True to Your Priorities
Do you fail to get your priorities completed? If so, periodically, throughout the day, ask yourself whether the activity you're doing is urgent or important. If neither, check your priority list and move on to something that is much more productive, positive and healthier.
7. Embrace Your Financial Value
Many artists I know undervalue their worth. My advice is, keep a log of your time spent in your studio and record time spent on each art work. When your art starts to sell you can determine how much you are earning per hour. (If an average painting sells for $1,000 and takes 20 hours to create your hourly rate is $50 an hour, not including other overhead costs, etc.) You should be able to project your earning potential and create a business and financial plan to bring it to fruition.
 8. Create A Comfortable, Uncluttered Work Space
Your work area should be free from visual and sound distractions. It should be a place where you feel your best and most focused.  Set up a designated place to store your art and business supplies. Use cabinets, shelving and the like. Once you have the storage in place, sort your art materials by medium.  Organize your documents and jpegs on your computer for easy access.
9. Begin Each Day with a Clear Mind
At the end of the work day, whether you've been in your studio or working at your desk, spend a few minutes cleaning up. File away papers, clean art materials, put back materials in their designated spaces and purge/trash/recycle all other materials.
Make your "to do" list the night before. That way, the next time you begin your work session you'll be ready to go with a clear mental and creative attitude.
10. Promote Yourself as the CEO of your Art Business
I've been giving this important advice for many years  and it is worth repeating: Promote yourself as the CEO of your business. Delegate the tedious tasks to others (see the next tip "Get An Intern"). Hire professionals who are experts in their fields and they will save you time and money. This is a necessary step in your career success.
11. Get An Assistant
Don't do everything yourself, especially those activities you dislike or don't want to learn. Find a high school or college intern to help you. Many students today have with special skills and knowledge in technology and social media. They can earn credit and experience in return for helping you. Contact the Career Placement department of your local college for referrals.
Or, check your neighborhood for retirees with business or administrative experience and time to spare. You may be doing them a favor by making them feel useful.
12. Consider Hiring a Coach
As your career coach, I can help you identify your unique strengths, and define your goals and priorities. Together we will formulate plans that help you focus on what matters most to you. I can help you reach your fullest potential. Learn more about how I can help you.
PLEASE SHARE
by