February is Black History Month, also known as African American History Month, making it a wonderful opportunity to be celebrating the accomplishments of African American artists. With great pleasure, I present a few of them here for inspiration. Read about the contributions of some leading African American Artists and how they changed the course of history. The world owes them a debt of gratitude for their artistic efforts and for raising awareness about the world which we cohabit through story telling and social activism.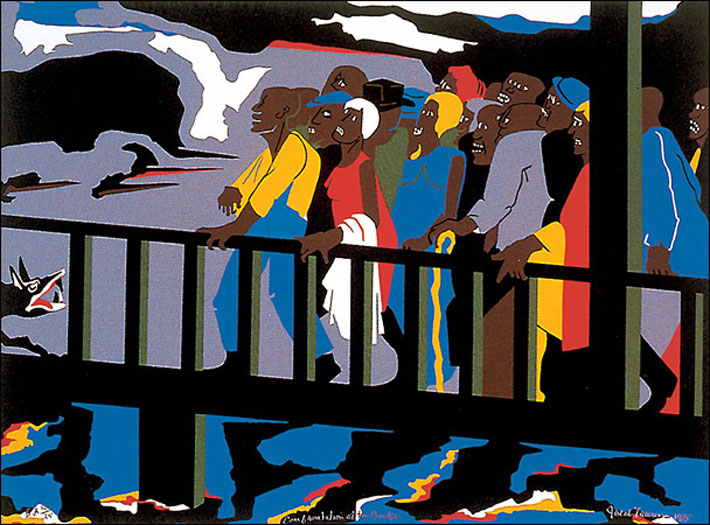 Please share the link to this article and continue to search to learn about the heritage and contributions of many more African-American artists.

Benny Andrews
Benny Andrews (1930-2006) was a figurative painter in the expressionist style who painted a diverse range of themes of suffering and injustice, including The Holocaust, Native American forced migrations, and most recently, Hurricane Katrina. As a social activist, he co-founded the Black Emergency Cultural Coalition (BECC) an organization that protested the 'Harlem on my Mind' exhibit at the Metropolitan Museum of Art in New York, in 1969.
Jean-Michel Basquiat
Jean-Michel Basquiat (1960-1988) helped to bring African American and Latino experiences into the elite art world through his graffiti works. His art focused on "suggestive dichotomies", such as wealth versus poverty, integration versus segregation, and inner versus outer experience. In the 1980s, he exhibited his neo-expressionist paintings in galleries and museums around the world. A retrospective of his art was held at the Whitney Museum of American Art in 1992.
Elizabeth Catlett
Elizabeth Catlett (1915-2012) was an African American printmaker and sculptor best known for her depictions of the African-American experience in the 20th century. Her subjects range from sensitive maternal images to confrontational symbols of Black Power, and portraits of Martin Luther King, Jr. Her work is a mixture of abstract and figurative in the Modernist tradition, with influence from African and Mexican art traditions. According to the artist, the main purpose of her work is to convey social messages rather than pure aesthetics.
Jacob Lawrence
Jacob Lawrence (1917-2000) was an African American painter, storyteller and educator, known for his portrayal of African American life. He referred to his style as "dynamic cubism". The New York Times recognized Lawrence as "One of America's leading modern figurative painters". The Seattle Art Museum offers the Gwendolyn Knight and Jacob Lawrence Fellowship, a $10,000 award to "individuals whose original work reflects the Lawrence's concern with artistic excellence, education, mentor ship and scholarship within the cultural contexts and value systems that informed their work and the work of other artists of color."
Faith Ringgold
Faith Ringgold (born 1930) has had an extremely diverse and broad artistic practice that includes many media such as painting, quilts, sculptures, performance art and children's books. She stated, "My ideas come from reflecting on my life and the lives of people I have known and have been in some way inspired by. The story quilts grew out of my need to tell stories, not with pictures or symbols alone, but with words. The Purple Quilt, panels of text from Alice Walker's "The Color Purple", reinforce portraits of characters found in the novel."
Augusta Savage
Augusta Savage (1892-1962) was a leading sculptor and artist of the Harlem Renaissance. She experienced racial discrimination by an art program's selection committee and worked for equal rights for African Americans in the arts. In 1934 she became the first African-American artist to be elected to the National Association of Women Painters and Sculptors. Her Savage Studio of Arts and Crafts, in Harlem was open to anyone who wanted to paint, draw, or sculpt. Her many young students included Jacob Lawrence.
Kara Walker
Kara Walker (Born 1969) is an African American contemporary painter, silhouettist, printmaker, installation artist and film-maker who explores race, gender, sexuality, violence and identity in her work. She is best known for her room-size tableaux of black cut-paper silhouettes. Walker lives in New York City and has taught extensively at Columbia University. At the age of 28 she received a MacArthur fellowship. In 2007, she was listed among Time Magazine's 100 Most Influential People in The World.
The History of Black American History Month
In 1915, historian Dr. Carter Godwin Woodson and his associate Jesse E. Moorland created the Association for the Study of Negro Life and History (now the Association for the Study of African American Life and History, or ASALH) to promote black history and recognize achievements of African-Americans.
Dr. Woodson chose the second week of February to commemorate black history because the birthdays of both President Abraham Lincoln and abolitionist Frederic Douglass are contained within that week.
In 1976, by decree, President Gerald Ford expanded the week into the month of February. He declared, "In celebrating Black History Month we can seize the opportunity to honor the too-often neglected accomplishments of black Americans in every area of endeavor throughout our history."
Where To Find More African American Artists
To find a list of many African American Artists and links to their Wikipedia pages visit https://en.wikipedia.org/wiki/List_of_African-American_visual_artists
The National Museum of African American History and Culture (NMAAHC), opened in September, 2017, in Washington, DC. "A museum that seeks to understand American history through the lens of the African American experience". Visit the museum's website at https://nmaahc.si.ed
1:54 Contemporary African Art Fair
The third "1:54 Contemporary African Art Fair" will be held in New York, from May 5 to May 7, with previews beginning May 3. 1:54. This fair aims to highlight African and African diaspora artists and will feature 19 galleries from the United States, Europe, and Africa.  It will take place at Pioneer Works in Red Hook, Brooklyn.
PLEASE SHARE AND COMMENT
by