This interview is part of the ongoing series "Advice To Artists From Artists" in which I interview established artists from around the world to gain their insight about the meaning of "success", their inspiration, and their advice to other artists. I am delighted to present this interview with internationally exhibited artist Matti Sirvio. He was born in Sotkamo, Finland and currently lives in Muscat, Oman. His dynamic paintings have been in numerous solo and group exhibitions including a recent show at Ghalya's Museum of Modern Art Muttrah, Muscat, Oman, "Art Takes Manhattan", and the Izmir Art Biennial, among other venues. He has served as a guest lecturer at the National Fine Arts College and the University of Sultan Qaboos University in Muscat, Oman.
For two decades Sirvio dedicated himself to humanitarian church work in Sweden and Hungary and among the Turkic nations in the former Soviet Union. The artist's world view is all encompassing and inclusive of many different sides of humanity which he reflects in his art.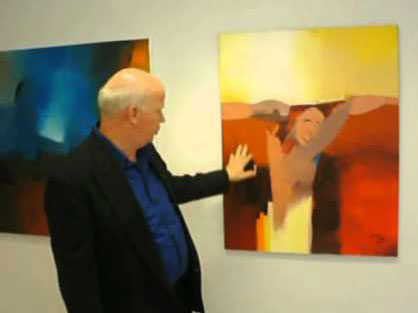 RP: Matti, how do you define "success" for yourself as an artist?
MS: I feel that I have succeeded, when people come to the opening of the exhibition and are talking about the paintings, not just socializing with one another. When I see somebody clued to one of the paintings, always turning back to eye that one particular picture, I feel like I have helped them to connect with something meaningful.
RP:  Please explain what inspires your paintings.
MS: I'm inspired by the humanity with all it's pains and joys. Whatever connects me with people, inspires me. It can be a line from a popular song, an event, the Bible (my favorite source for everything), a relationship, a value, conviction, priority, problem, life-style… They all are memories and thoughts that demand to be expressed and processed in a painting.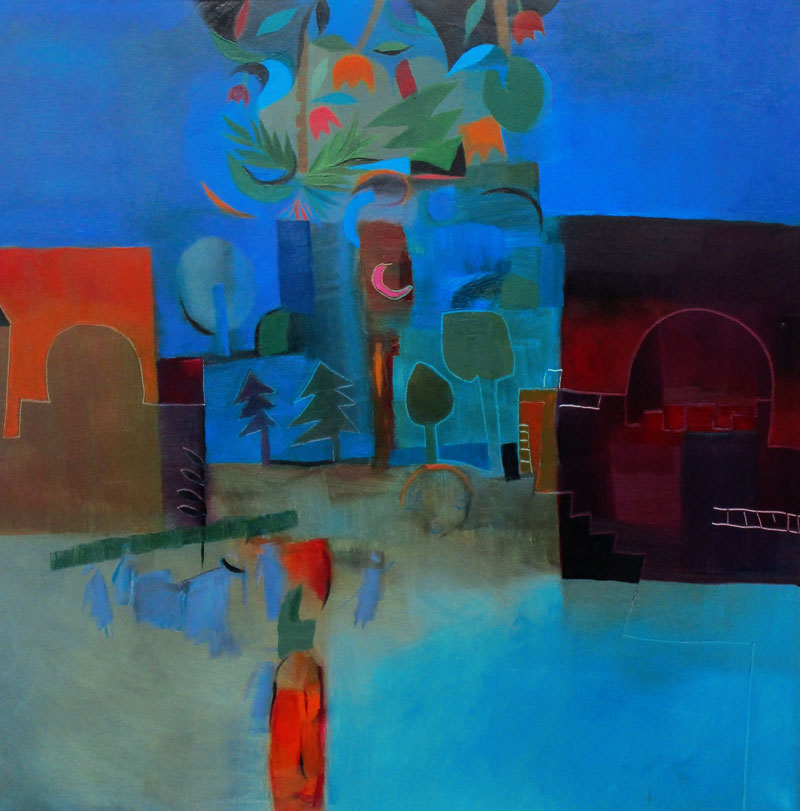 RP: I'm intrigued by your titles and use of symbolism. They provoke a myriad of interpretations. Could you please explain the motivation behind some of your paintings?
MS: The painting called Hollywood, Bollywood, "My Wood" was born in my mind after reading Morgan Forster's novel "My Wood", that challenges the superficiality of the materialistic life-style. It spoke to me, and it spoke with colors and composition. The painting called "Slow Train Coming" is inspired by Bob Dylan's song that paints a picture of the coming judgment. The painting "Over Ten Million Hopes of Resurrection" is an example of the artist reflecting on the surrounding society. This has been exhibited in Egypt where the over ten million Coptic population is struggling about their future in the most populated Arab country. Sometimes a picture is less threatening statement than a critical, political comment.
RP:  Your exhibitions throughout the world gives you the opportunity to reach many people from different cultures. What do you hope people universally receive from your paintings?
MS: I hope they receive new seed thoughts, new material for their spiritual journey. I want hope and encouragement to surround them. Like one of the names of my paintings says "Doing Their Best". Life is not easy, people are trying their best. Let's have more mercy on one another.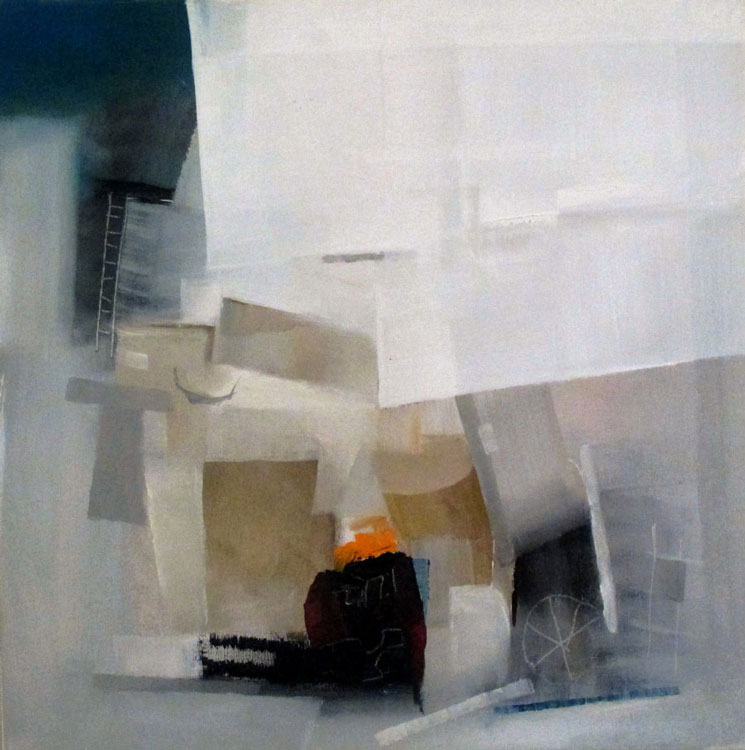 RP: If and when you mentor younger artists who are beginning their art careers, what most important piece of advice would you offer them?
MS: I think it's important to work a lot. You might have to paint one hundred paintings until finally some of your relatives and friends might think that you are interested in arts. One or two first paintings will not be able to get that message through.
Work hard, trying many things until you find your own style. Your own style will be the most important contribution that will distinguish you from all the mass production that is flooding the events and the art market.
I also think it's extremely important to see a lot of art, but to be honest about it. If you don't connect nor like it, don't force yourself into some standard art stereotypes.
Listen to people. Some of their comments are useful. Don't let anything discourage you.
RP: What philosophical belief do you have that has been most helpful in guiding your artistic journey?
MS: Whatever is in your own soul will ultimately force itself out to the canvas. With your paintings you are inviting thousands, even millions of people into your life. Be prepared to face the challenges of transparency and honesty. The canvas doesn't lie. It's your soul hanging on those walls.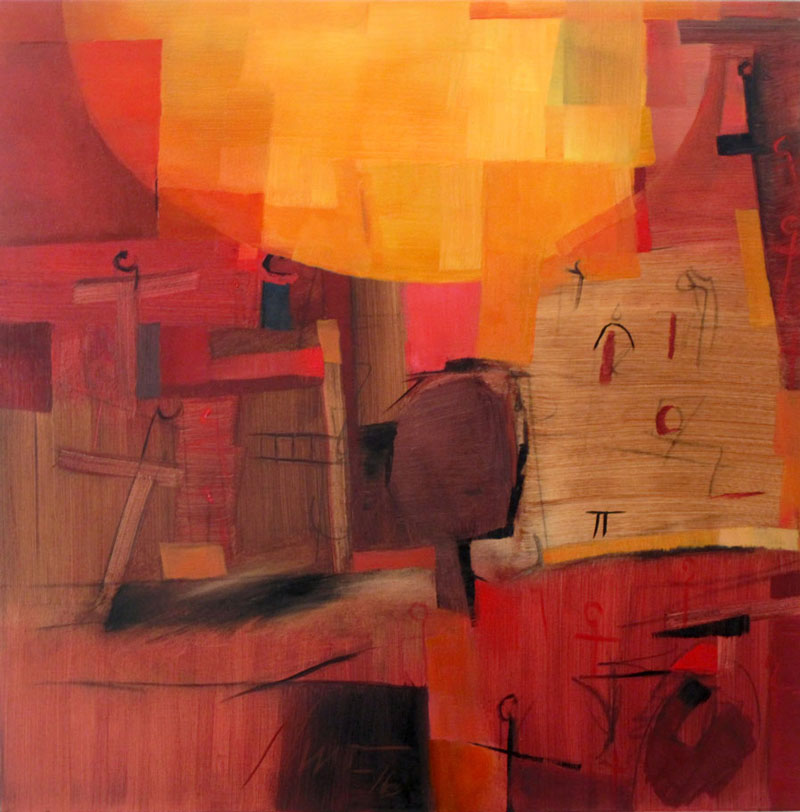 RP: What is your favorite article on www.renee-phillips.com and why?
MS: "How Smart Artists Treat Their Art Buyers". I like this article, even though I'm still struggling a lot about selling my art. I just have a strong conviction, that I should not do it myself, especially because I'm a hopeless business person. I always end up giving stuff to people free. I find the greatest pleasure in doing it.
RP: Do you have a favorite art marketing tool or practice that works best for you?
MS: My latest discovery is Instagram. In the Arab world, where I live, it's the most popular tool for social media. I love its simplicity and visuality. It's an excellent way for an artist to make his art known.
RP: Do you have any exhibitions planned for 2017? If so, where?
MS: Yes, I'm planning on having a solo show in Sicily, Palermo in March. I'm also participating in a couple of fairs and art biennials in the Gulf Area, in Dubai and in Bahrain. I'm also hoping to finalize an exhibition together with a perfume brand connecting the abstract art with scents.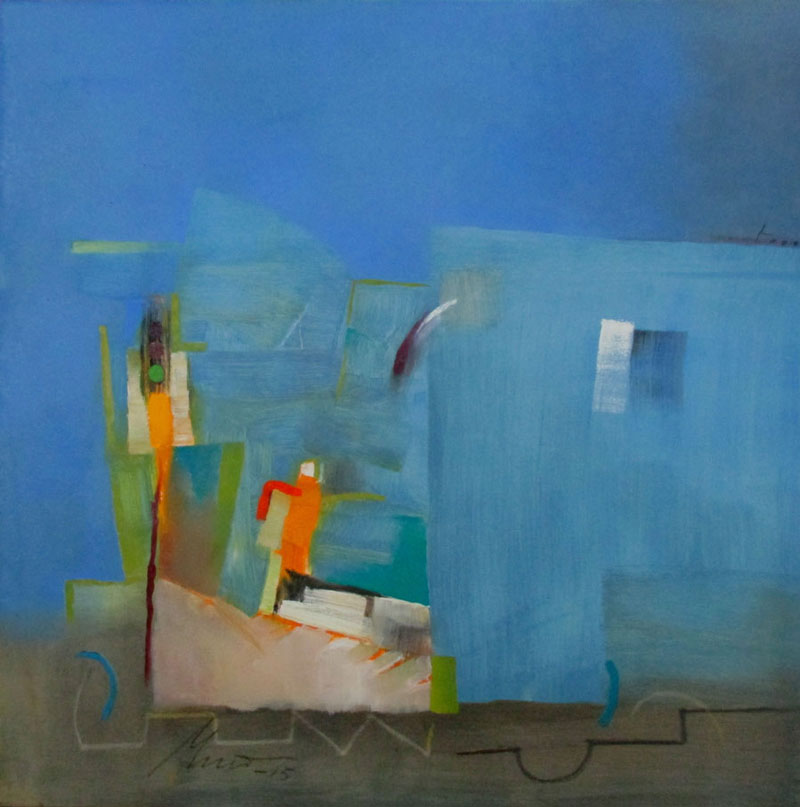 RP: What do you think are some of the misconceptions or faults about contemporary art?
MS: I like quality and I believe that a good piece of art is a luxury item, but I don't like the exclusiveness that has high jacked the art world. I guess, there's nothing I can do about it. The humanity is what it is, with its oddities and blessings. However, I like when somebody, who is nobody, brings out something beautiful (and I think that art is always connected with beauty) and captures the world's attention for a moment. I feel that demons have had too much authority, too long in the art world. This is one of the reasons why I started painting again. I just saw too much trash out there.
RP: How have you observed the healing impact your art has on others?
MS: Whenever someone finds their own issues in the painting it helps them to understand that they are not alone. I had a strong experience of this in Valbonne, France. My exhibition had a lot of paintings that were inspired by the refugees flooding through the Mediterranean Sea to Europe. I felt their pain and their struggles. A good friend of mine was doing voluntary work among the refugees and decided to bring them to the show. Seeing these homeless, friendless, hopeless people in front of my paintings healed many things in my soul, and hopefully helped them as well on their uncertain journey.
Visit Matti Sirvio's website http://mattisirvio.com/
PLEASE SHARE
by