Nancy Reyner nancyreyner.com, is a world renowned artist, instructor and author. Her three previous books, including her best-seller Acrylic Revolution, are filled with innovative and inspiring techniques to help artists bring new dimensions to their works of art. I refer to her books often and highly recommend them. So, when Nancy told me about her new art book, Create Perfect Paintings: An Artist's Guide to Visual Thinking I asked her to give us a sneak preview. She graciously complied and her publisher North Light Books is offering you a special discount! Make sure you find and use the special code toward the end of this post. You will be so glad you bought this book and the videos that will be offered at the same time.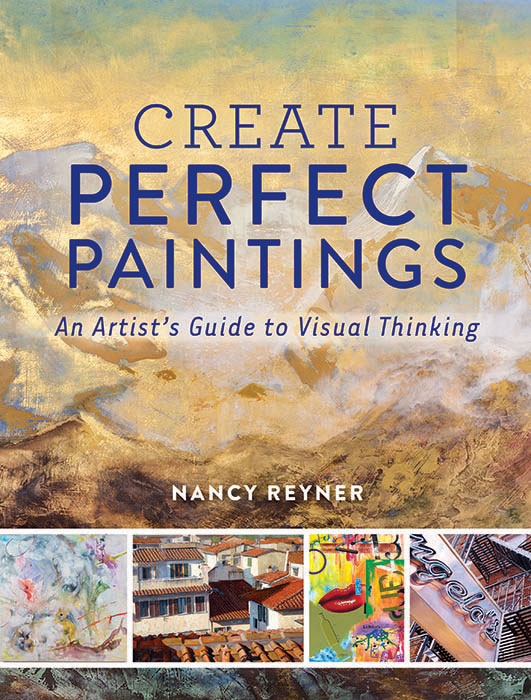 RP: Nancy, I'm so excited about your book Create Perfect Paintings. How is it different from your previous books and what inspired you to write it?
NR: The previous books were all about inventing, finding new techniques and new ideas. In all the years I have been teaching, though, I saw the biggest improvements when we covered how artists can best view their work to analyze their images. Also, the aim of the book was to make critique fun, not overly-serious or difficult.
Create Perfect Paintings presents my favorite ways to critique your own art. This is a method  I use myself. It helps me to do the best I can on each of my paintings. It's a great tool, so I'm glad to share it. I look forward to hearing comments from readers once the book comes out.
RP:  Is the book helpful to artists working in all mediums and levels of experience?
NR: It's mostly for painters, however, it can assist artists working in other disciplines, such as sculpture, video, photography and installation. It's about eye choreography and creating the best viewing experience for the work, so any visual artist can use it.
The examples in the book use paintings – but do cover a wide range of imagery, from old masters to contemporary. Any painting medium can benefit, such as oil, acrylic, watercolor, mixed media, etc. And for any level of experience. A professional painter, or beginner, it doesn't matter what level or what style, as these skills are about viewing your art to enhance what you are trying to say.
RP: Would you please offer an example or tool from your book that demonstrates how an artist can critique their art?
NR: One of my choice ways to view or analyze a painting is to break it up into quadrants. Let's say while you're painting you get stuck and feel like there may be an issue, but not sure what. Viewing your image in smaller isolated sections is a fast way to uncover hidden design issues. Let's take this painting of mine called "Bosque Lake", for example.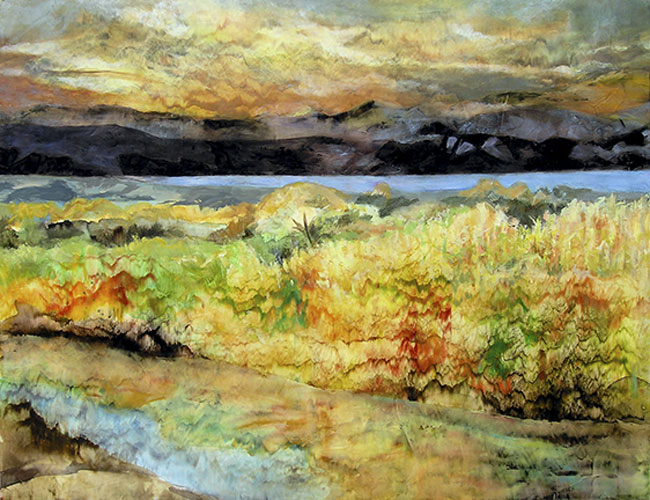 Imagine your painting divided into four separate and equal quadrants: upper left, upper right, lower left and lower right. Cover the painting entirely, using sheets of paper or cardboard in white (or a neutral color) except to reveal one of the quadrants.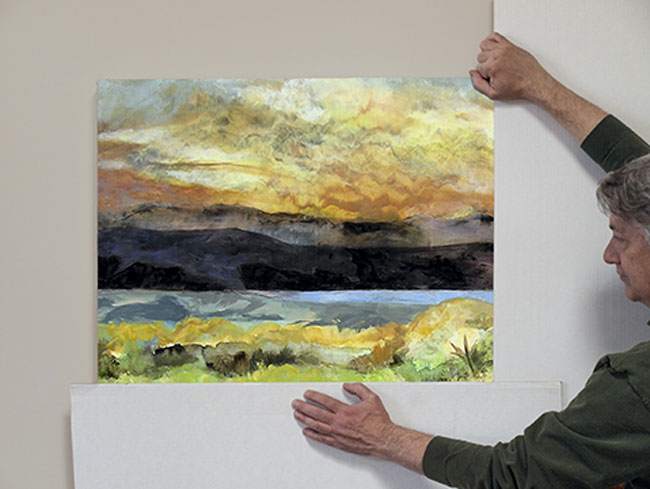 Here is the upper left quadrant isolated. When viewing each quadrant, notice if it can stand on its own, almost like a separate painting. Also notice if each quadrant has the same feeling as the rest, or is one very dynamic while the other too boring. When I try this process out on a painting I'm currently working on, any issues that might exist become more obvious.
RP: That's such a fun and amazing idea. Nancy, I understand you offer some extra  features in this book. What are they?
NR: There are many bonus chapters that cover issues for all artists, such as how to resolve creative blocks, optimal ways to use your right and left sides of the brain, clarify your artistic vision, prepare materials, display your work, and even that tricky notion of how to balance creating art with career.
RP: This book will help so many artists. When will the book be available and how can we purchase it?
NR: The release date is March 2017, but is available now to pre-order. It is sold at most retail bookstores and online book sites, such as Barnes & Noble, and Amazon.com.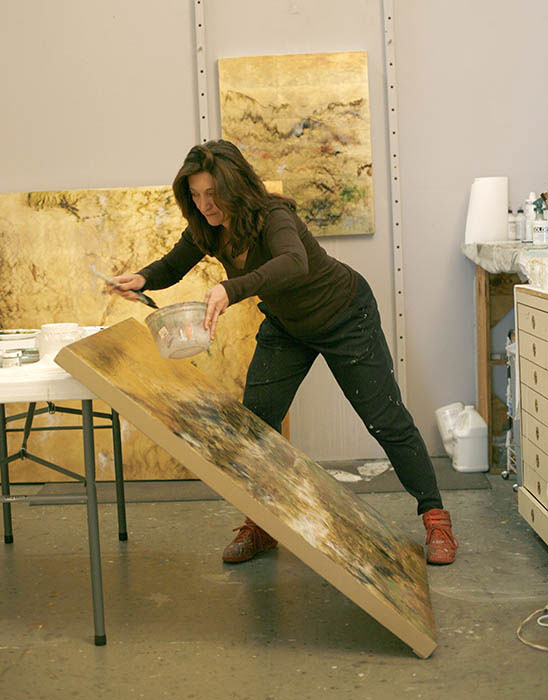 RP: Okay, I want my readers to know about the special discount for the book. How can they order it?
NR: Yes, North Light Books has agreed to offer a special discount for your readers. They can purchase it from their online shop www.NorthLightShop.com and get an additional 10% off (between now and March 31, 2017). They should use the promotion code REYNER10 at checkout.
RP: Nancy, I also love your free instructional painting videos on Youtube. Will you be making any videos to go along with this book?
NR: Yes! I created a series of three videos to accompany the book, and these are all available now. Same instructions as before, and the same promo code will work with these too. The titles are: Creative Color; Perfect Painting Solutions; and my favorite Perfect Color Mixing.
RP: Thank you Nancy! I look forward to devouring your new book and watching your new videos.
NR: Always a pleasure, Renée!
Dear reader, don't forget to order this book through North Light Books and also her videos. Use the promotion code at checkout to save an additional 10%. I know you'll  enjoy Nancy's advice on how to improve your art.

Read another interview I did with Nancy Reyner on the topic of success.
PLEASE SHARE
by