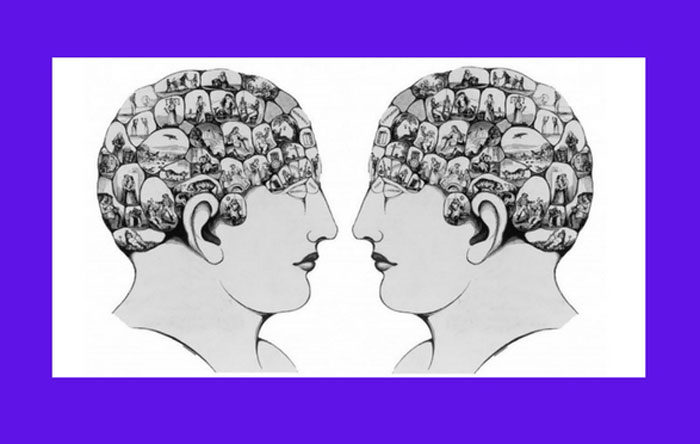 How our brain works is fascinating to me. For instance, the way we perceive the world is based on our beliefs — a collection of what we know on conscious and unconscious levels of awareness. Brain researchers have revealed that our every thought is a chemical reaction that passes through a channel composed of receptors and connectors that lead us to awareness. And, when a certain thought is repeated often enough, it forms a groove. Future thoughts automatically return to the familiar grooves in the brain.
As these grooves deepen over time it takes greater effort to change those ways of thinking. Imagine the damage that's created when we accept negative ideas that invade our conscious and unconscious awareness from individuals and the media. They can have a big impact on what we believe and consequently how we operate in the world. We can easily become hypnotized into a negative groove.
The good news is we all have free will to turn out the negativity and tune into positive thoughts. When those positive thoughts are repeated such as in meditation, prayer and affirmations we subsequently deepen the grooves to enhance our well-being.
At times our own light goes out and is rekindled by a spark from another person. Each of us has cause to think with deep gratitude of those who have lighted the flame within us. ~ Albert Schweitzer
Gratitude Benefits the Heart and More
In addition to enhancing our mental condition through positive gratitude affirmations, there are actual heart benefits. According to Paul Mills, a professor of family medicine and public health at the University of California San Diego School of Medicine, feeling grateful is a wonderful state of being as well as being helpful to the heart. So, these positive affirmations literally help the heart. And, having a positive mental attitude is an armor of protection from depression, stress and anxiety.
Gratitude is a feeling that exceeds beyond the common courtesy of saying thank you. It is a profound awareness of receiving the gifts of optimism, hope, blessings, divine inspiration — whatever you want to call it. Gratitude uplifts and energizes us and renews our perspective.
If you are really thankful, what do you do? You share. ~ W. Clement Stone
When you take the time to really feel gratitude, even for the challenges you face in life, you can become empowered to receive answers and solutions and to give more generously to others..
The art of appreciation for the abundance in every area of your life will attract more success in your art career as well. So, I invite you to consider saying positive gratitude affirmations daily and consider getting a positive affirmations buddy! Perhaps a fellow artist!
One of My Remedies: Gratitude Affirmations
For a few decades I've been saying positive affirmations throughout the day and evening. I've learned the art of creating positive grooves in my brain. Here are some examples from an affirmation list I created. You might call it a form of positive brain washing.
♥ I am grateful for being alive today.
♥ I am grateful for my healthy mind, body and positive spirit.
♥ I am grateful for the love and light within me and surrounding me.
♥ I am grateful for my creativity and passion for being in a continuous state of joyful self-expression.
♥ I am grateful for the abundance of all that's good in every area of my life.
♥ I am grateful for the inspiration I see in art, nature and in other individuals everywhere.
♥ I am grateful for my loving relationships with family and friends that grow stronger daily.
♥ I am grateful for the many selfless individuals who strive for peace on earth and who serve humanity.
♥ I am grateful to have access to nutritious food and water to nourish my body and mind.
♥ I am grateful for my ability to see beauty in everything even in those challenges and the people who challenge me because I know they strengthen my spiritual growth.
♥ I am grateful for my ability to hear beautiful music, words of love, children's laughter, birds chirping, and the lull of ocean waves.
♥ I am grateful for all of my innate qualities, including my quirky idiosyncrasies, that make me the unique person I am.
♥ I am grateful for having the desire and intention to help at least one individual in some way today.
♥ I am grateful for my positive outlook.
♥ I am grateful for being grateful and so much more.
As I say these affirmations I send positive thoughts and healing energy to those I know who need it most and everyone on the planet who may be facing difficult challenges — physically, emotionally, mentally or spiritually.
When I state these affirmations I am propelled to take positive action steps to be more thoughtful, caring, empathetic and generous and to reach my maximum potential.
Develop an attitude of gratitude, and give thanks for everything that happens to you, knowing that every step forward is a step toward achieving something bigger and better than your current situation. ~ Brian Tracy
Thank you for visiting my website and following my articles. I am very grateful to have you in my life!
Do you have any favorite gratitude affirmations or quotes? How has affirmations, gratitude and meditation changed your life. I'd love to read about your experiences. Please share them in a comment.
PLEASE SHARE!
by