When I was a professional artist a major collector of mine, who was a floral designer on the Upper East Side, prominently displayed my garden paintings in his store window. The endorsement and exposure he gave me was priceless. He referred art buyers to my studio a few blocks away. To reciprocate, I distributed his business cards to my friends, associates and customers, and recommended his services to event planners. As I became more educated about art marketing practices, I learned there's a name for what we were doing. It's called "cross-promotion" or "cross-marketing". Since then, I've continued practicing this win/win relationship with many different professionals near and far.
In this article I emphasize the many benefits of cross-promotion for artists. I encourage you to try it, practice it often, and reap the rewards!
What is Cross-Promotion?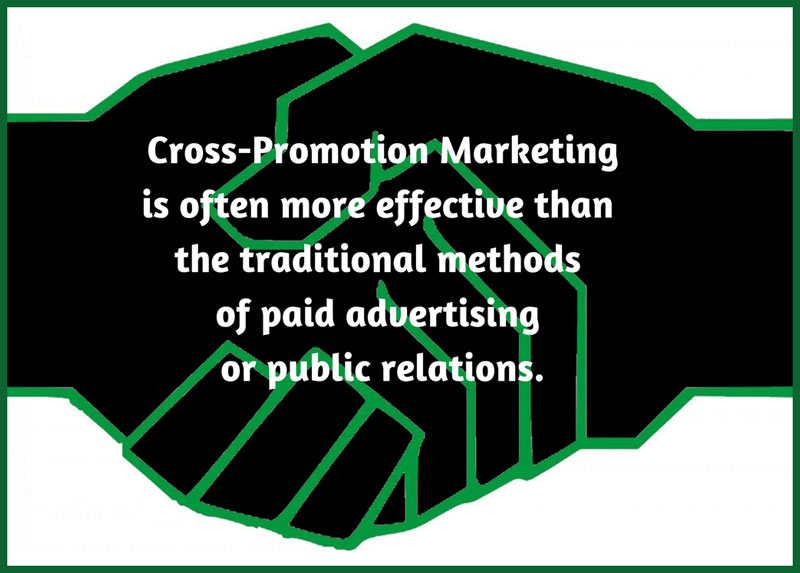 In the world of business, it is a form of marketing or promotion, where customers of one product or service are targeted with promotion of a related product or service. All types and sizes of businesses, nonprofits, and government agencies do it to reach their mutual market more efficiently. For example, when Pillsbury Brownies packages their product with Nestlé Chocolate or when Sephora puts the logo of Operation Smile on their product these are forms of cross-promotion.
Cross-promotion also occurs within the same business that has one or more products and services to offer, such as when you promote your art workshops at your art exhibition. Imagine however the enormous potential to greatly enhance your art business when you cultivate cross-promotion partners.
You don't need to have a major art collector, celebrity or corporation as a partner for this form of marketing to work successfully. You can team up with a business in your neighborhood or an organization you identify with on social media in another country.
This form of professional networking is a wonderful solution if you're restricted by a small advertising budget and it's often more effective than the traditional methods of paid advertising or public relations.
Examples of Simple Cross-Promotion Activities
* Exchange and distribute each other's fliers, catalogues, business cards and event announcements.
* Do a joint mailing.
* Sell a bundled package that contains one of your works of art plus a product or service that your partner offers.
* Mention the benefits of your partner's product or service when you give an artist's talk or write a blog post.
* Share a space and organize an event together.
* Post banners or links on each other's website or blog.
* Write and submit blog posts to each other's site.
Guidelines to Consider When Choosing A Partner
* Before you jump in, be aware of necessary conditions when choosing your cross-promotion partner, such as:
* You're both trying to reach the same type of customer niche and demographic.
* You are not in direct competition with each other.
* You know the partner has a good reputation and you will benefit from this association.
* You are willing and eager to take time and effort to promote each other's products and/or services to your own circle of customers and followers.
Advantages of Cross-Promotion
* Benefits multiply because you and your partner can expand through each other's customer base.
* You can gain a favorable introduction to your kind of customer as well as have an opportunity to reach new clients not accessible to you alone.
* The cost of cross-promotion is less when shared.
* It can be a one-time occurrence or take place on a recurring basis.
* It can be a way to test a future permanent partnership.
How to Use Cross-Promotion
* Find a partner that meets the conditions stated above.
* Establish what and how you plan to exercise cross-promotion services for each other.
* Get your agreement with deadlines in writing to avoid misunderstandings.
* Keep each other notified about how and when you conduct the promotion.
* Track how well the cross-promotion activities are working: ask new customers how they were referred/found you.
* Give each other feedback about its success.
* Learn from each partnership and repeat the process with the same or a new partner.
I encourage you to integrate cross-promotion marketing into your art business routine and watch your career grow exponentially. You'll quickly learn that the sky is the limit and you are restricted only by your creative imagination and the attitude of the person with whom you share your cross promotion activities.
I wrote a similar article that will appear in Professional Artist magazine in 2018.
Have you engaged in Cross-Promotion?
Share your activities in a comment below.
Want to Try Cross-Promotion?
If you want some ideas on how you could practice cross-promotion marketing I'd be delighted to create strategies for you in a private consultation.
PLEASE SHARE
by