Artist Barbara Rachko has one of the best art blogs that I have encountered. And, as one who visits dozens of artists' websites and blogs every day, I consider myself to be an experienced blog reader. I frequently refer to her blog in my art marketing sessions with artists as an excellent model. So, in this article "Artist Barbara Rachko Maintains A Superior Art Blog", you'll find out from her why having an art blog is a smart and valuable art marketing tool.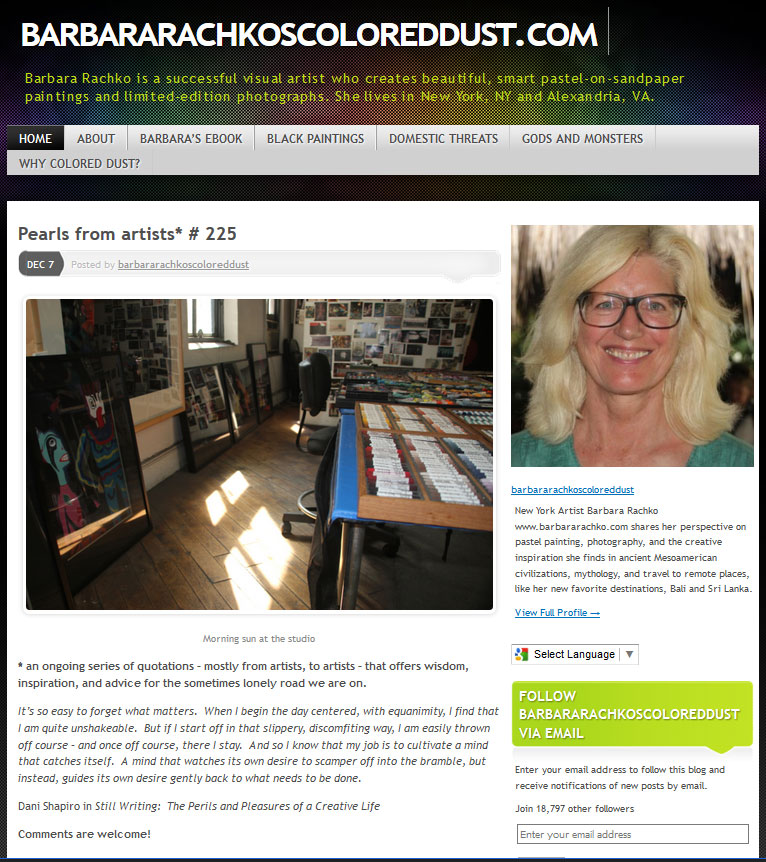 Why do I think Barbara's blog is superior?
* Barbara's blog, Barbara Rachkos Colored Dust is superior for a number of reasons.  As you may have noticed, she has given it a great name that is suited just for her. The inspiration for the title is, "When I work on a pastel-on-sandpaper painting, pastel dust falls onto my easel and onto the floor. At the end of a studio session I can tell how productive I've been – lots of colored dust means I've had a great day!"
* She  posts on a consistent basis so that we can look forward to her new post. On Saturday you can expect her question and answer on a different topic about her art and the business of being an artist. On Wednesday she posts "Pearls from artists", which is "an ongoing series of quotations – mostly from artists, to artists – that offers wisdom, inspiration, and advice for the sometimes lonely road we are on."
* She offers her visitors interesting content about herself and her art.
* She knows how to inform and enlighten through her practiced, professionally developed writing.
* While most bloggers write a post and fail to take any action, Barbara gets the word out. She shares it widely across the social media platforms.
You would be wise to visit her blog and follow her ideas. Even if you apply a fraction of her efforts you'll gain momentum to your art marketing activities.
This article is a continuation of the subject of art blogs. You may also want to read The Benefits of Having An Art Blog which offers 12 good reasons why you should have an art blog.
The following content, which appears on Barbara Rachko's blog, has been published with the artist's permission.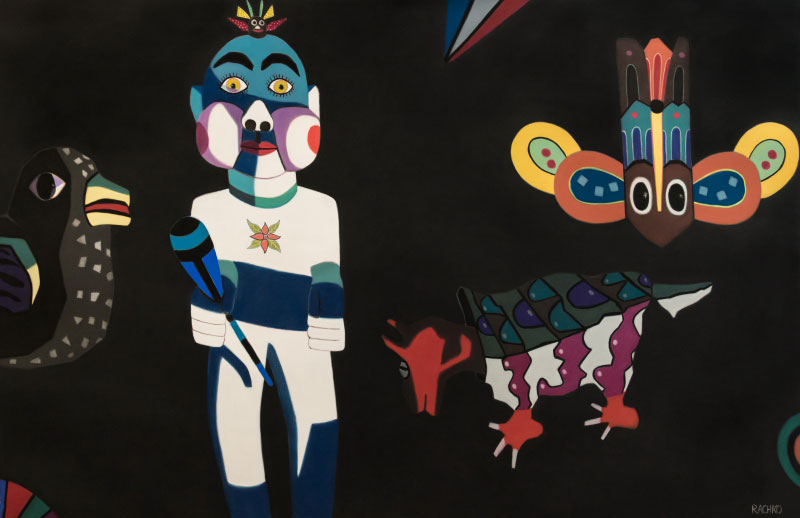 What art marketing activities do you put into practice regularly that work most successfully for you?
My blog barbararachkoscoloreddust.com continues to be a crucial part of my overall art practice. Blogging twice a week forces me to think deeply about my work and to explain it clearly to others. The process has helped develop a better understanding about why I make art and has encouraged me to become a better writer.
What steps does Barbara take to promote her blog?
As far as art marketing, one crucial activity is to take my blog posts and repurpose them for posting on social media sites. Several years ago I realized it's necessary to put as much time and energy into getting my work seen online as it is to create it. With the help of my assistant I stay active on Facebook, LinkedIn, Twitter, Instagram, and Pinterest.
What are some of the results?

I have sold paintings, in the 5-figure price range, through Facebook connections. Recently an art critic reconnected with me via LinkedIn and went on to write a scholarly essay about my "Black Paintings." In December she's presenting a paper at Oxford University and will speak about my work.
I find online marketing to be a constant challenge, but it does yield rewards. You never know what might happen.
(Read an interview I conducted with Barbara Rachko here.)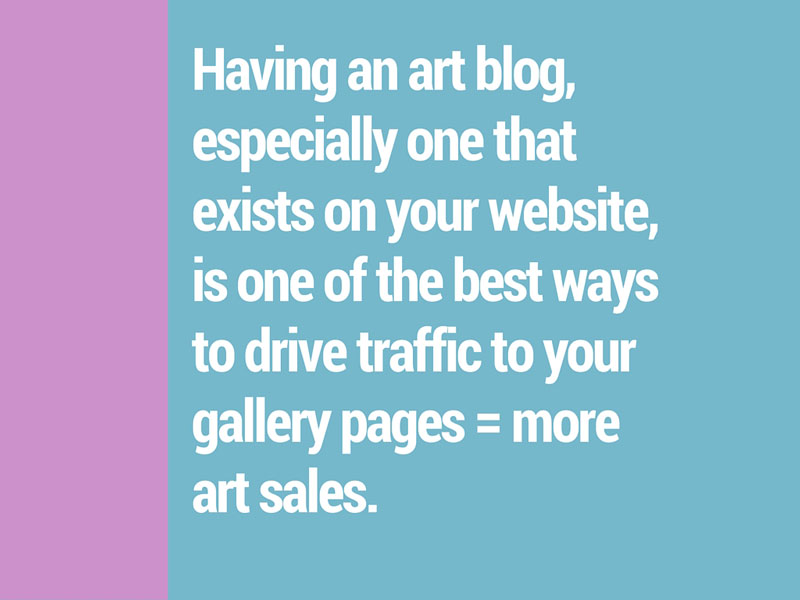 Do you want to learn more about this topic? Read The Benefits of Having An Art Blog which offers 12 good reasons why you should have an art blog.
PLEASE SHARE
by