What makes successfully selling artists different from artists who are struggling to sell their art? They know why their art is selling. They know the unique characteristics of their art work. They know how to identify their primary and secondary art customer profiles.
If this subject is new to you, don't worry. In this article I provide a blueprint that will help you determine who your art customer profile is. That knowledge will help you sell more art with less effort.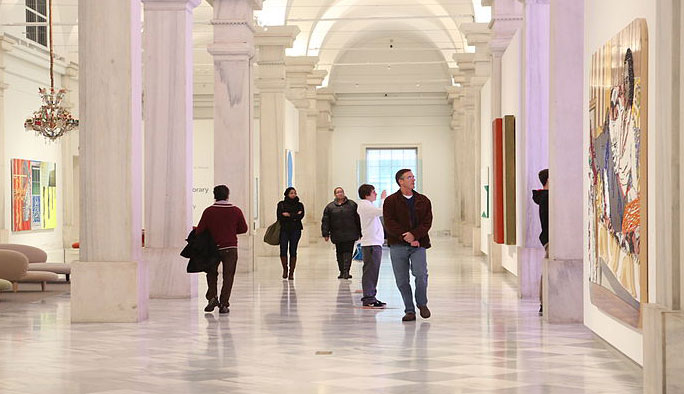 A Few Facts About Art Buying and Art Buyers
As we know, art is a luxury — not a necessity. People do not buy art because they need it to survive. They buy it because they desire it and it brings them pleasure and enhances their lives.
Art buyers come in different shapes, sizes, and from different backgrounds. Their instincts, tastes, passions, preferences, values and financial positions are some of the many variables that influence their art buying decisions.
The average art buyer may consider how the art will improve their living or working space, if it harmonizes with their color scheme and decor, and if they have the space and budget for it.
An experienced collector is more likely to base their decisions upon their desire to acquire art objects that add to their existing collection of pieces that are somehow related to each other.

Become An Expert About The Distinctive Qualities of Your Art
Smart artists know how to focus on reaching their targeted audience and how and where to exert their art marketing efforts. In defining your primary art customer profile I encourage you to become an expert about what makes your art unique and desirable. Identify and appreciate the distinctive qualities of your art work that appeal to others.
Ask Yourself These Questions
* How does my art stand out from other art being created today?
* How and why does my work appeal to others?
* How do people react to my art?
* How do buyers feel when they express a desire for my art?
* How do my followers, fans and buyers describe my work?
* Why is my art desirable?
* What characteristics best describe my art? Is it miniature, large, intimate, bold, subtle, colorful, subdued, universal, abstract, realistic, digital, geometric, impressionistic, peaceful, whimsical, humorous, provocative, surrealistic, conservative, traditional, cutting edge, primitive, decorative, shocking, tactile, visceral, intellectual, psychological, political, historical, visionary or healing?
* Is my art related to technology, recycling, nature, animal, biology, poetry, literature, ecology, humanity, astronomy, people, culture, science or history?
* Does my art involve the use of unique mixed-media, materials, innovative concepts, or new technology?
I suggest you write all of the answers to the above questions, put them to memory, and keep adding to the list!
How and Where to Connect to Your Ideal Customer
Based on the characteristics of your art and how well you know your existing art buyers, the answers to the questions below will lead you to the right people and where you can find them to sell your art.
* Who are the individuals, businesses, organizations and periodicals that react the strongest to my work?
* Where and how do they live? Are they city or rural dwellers?
* Do they fit into a primary educational, ethnic, cultural, gender, age, or professional group?
* Where do they buy their art and home furnishings?
* What periodicals do they read?
* Who do they associate with?
* Where do they spend their vacations?
* What are their hobbies?
* What organizations, charities, religious and political groups do they belong to?
Observe and Adopt the Practices of Experts
If determining your art customer profile is a new concept for you devote yourself to becoming an excellent student in this area. Pay attention to the manner in which other art experts use cater to their art customer profile.
Some Helpful Tips
* Visit successful galleries, art fairs, artists' open studios and art auctions. Observe the types of clientele art sellers attract and how their art is displayed, sold and described.
* Learn the behavior of successfully selling artists who create art that has similar characteristics to yours.
* Read art reviews and interviews in art magazines and blogs about art that appeals to you.
* Read articles about art collectors who collect art similar to yours, especially in your geographic area.
* Observe how art galleries reach out to art buyers in social media.
* Listen to how your admirers describe your art and how they react to it and take notes.
* Look at art advertisements to see how they are designed to reach out to prospective buyers.
* Read the hundreds of articles on the Internet about statistics on art sales, auction results, trends, and art buyers' spending habits.
* Keep in mind you may have more than one art customer profile and one primary art customer profile. They will also change over time especially as your style, subject matter and prices change and grow.
* Consider the process an enjoyable one in which you will discover many paths to interesting people, sales, commissioned work, projects and exhibition and publicity opportunities.
Need personal assistance?
As an artist career consultant and coach I help artists define their art customer profile and show they how to reach them. Consider arranging a consultation with me so I can help you increase sales.
*********************************************************************************************
HELP ANOTHER ARTIST – SHARE THIS ARTICLE!
by