Artist's Biography for Lee Tisch Bialczak – 290 words
Lee Tisch Bialczak (www.borderpinegallery.com, www.leetischbialczak.com), captures the dynamic awe-inspiring vistas of the majestic Montanan landscape. Her realistic depictions of the transformative effects of light and color in the earth, sky, clouds, mountains, water, and flowers are life-affirming.
She has a reverence for nature and love of the outdoors. Her activities include kayaking, cycling, hiking, mountain climbing, horseback riding and camping, primarily in Glacier National Park, which inspire her choice of subjects.
The artist paints en plein air with soft pastel and her practiced technique conveys a sense of immediacy and harmony that we feel with our natural environment. She applies the strengths of her medium to achieve rich velvety surfaces and crystal clear vibrant hues. Her application is confident and full of bravado.
Lee's many exhibitions include those at Hockaday Museum, in Kallispell, Montana, and her artwork is found in several galleries such as Border Pine Gallery of Great Falls, Wild Eye Artistry of Kalispell, and Latigo and Lace of Augusta – all in Montana.
The artist was juried into the Women Artists of the West (WAOW), a prominent organization dedicated to promoting excellence in the profession of women's fine art. A multiple award winner, she has received five Judges Choice Awards in the Montana State Fair in the pastel medium and she won the People's Choice 1st Place Award in 2016. Lee has participated in "The Colors of Fall Art Show and Sale", an event presented by the Great Falls Ad Club, and she is an exhibitor in the annual Russell Art Week, also in Great Falls.
Her artwork is included in numerous private art collections throughout the U.S. and it was selected into the Montana State Fair collection. She has also created many commissioned works of art.
Artist's Biography for Bren Sibilsky – 260 words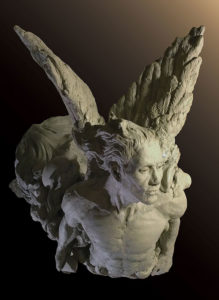 For artist Bren Sibilsky (www.brensculpture.com), there is no subject that is beyond her extraordinary capabilities. She is equally proficient in creating animated poetic sculpture of full standing figures, equestrian statues, portraits, and small scale reliefs.
The international full-time artist has attracted many collectors from North America and Europe. She demonstrates artistic prowess beyond her years and has consistently won multiple awards in a range of mediums throughout her accomplished career. A graduate of the Milwaukee Institute of Art and Design with honors Sibilsky is also an expert in drawing and painting. She is also the founder and an instructor at the Algoma Atelier of Sculpture and Art, in Wisconsin.
As a self-proclaimed "seeker of truth and of our place in the universe" Sibilsky, unveils a palpable reality that transcends the physical properties of her forms and materials. She explores the meaning of our existence and the life cycles of change and evolution. This is particularly apparent in "Esoteric Promises", which won the First Place Cash Award in the Manhattan Arts International "The Healing Power of ART 2016" juried exhibition.
Among her many honors and awards include those from Manhattan Arts International, International ARC Salon™ and the National Sculpture Society, New York, N.Y.
Sibilsky's many one-person and group exhibitions include those at: the Miller Art Museum; Koehline Museum; Fairfield Museum; Cedarburg Cultural Center; Plymouth Art Center; The Francis Hardy Gallery; and Arc Gallery; among others.
She has been interviewed on WBDK radio and featured in many publications including the Resorter Reporter, Peninsula Pulse, and Professional Artist magazine.
Artist's Essay for Kari Bienert – 260 words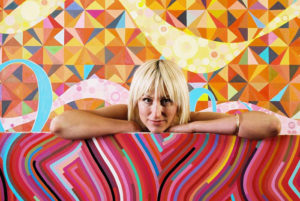 Kari Bienert www.karibienert.com is an Australian painter who excels in the use of color configurations and the art of transforming geometric and curvilinear forms. She explores the unlimited potentiality of chromatic and tonal scales, visual planes and volume within a two-dimensional framework. Viewing her dynamic and exuberant works of art is an exciting kinetic experience.
As a Color Field painter Bienert pursues color relationships with fervor. Her palette is innovative and complex. She mixes more than 25 different oil paints to create every color in her painting.
Due to the large scale of her paintings, her pictorial scheme appears to extend beyond our peripheral vision. As colorful patterns advance and recede, undulate and coalesce, they emulate the manner in which the universe operates in the energetic realms of both the microcosm and macrocosm.
Bienert's use of both organic shapes and pixelated forms serve as references to living organisms as well as the world of technology. These patterns cohabitate in harmony, often superimposed upon the other, to create a reverie of unpredictable movement and transparent effects.
The artist brings an extensive mastery of color theory, innate sense of rhythm, and compositional elements to each painting. As an abstract painter she is an optical illusionist whose art defies spacial limitations. Her art is visual poetry bursting forth with relentless energetic expression.
Indeed, Bienert has developed her own visual vocabulary and inimitable style. With utmost proficiency she invites us to view the world as a magical, fluid and invigorating panorama. Through her paintings we experience our universe with a new expansive and compelling perspective.
Artist's Biography for Eileen Figueroa – 260 words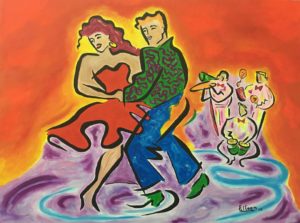 Eileen Figueroa http://eileenartstudio135.com is a contemporary realist painter who lives and works in Houston, Texas. A native of Barranquitas, Puerto Rico, her colorful paintings pay homage to her homeland. Her distinctive personal style emanates joy and peace and expresses the vibrant spirit and atmosphere of the Caribbean culture.
Picturesque landscapes, tropical birds and flowers, musical instruments, and farmers tending to their fields are all brought to life with contrasting and harmonious colors and bold compositions. As the artist explains, "I am a story teller and I welcome you to join me on this visual journey."
As a child Figueroa received prizes for her innate talent. From a young age she has believed, "You can create anything once you see it in your mind." She earned a Bachelor of Science in Architecture from Florida A & M University and Master of Landscape Architecture and Urban Planning from Florida State University — with honors. She is also the recipient of various Awards from the Amando Falcon Studio Gallery in San Juan, Puerto Rico.
Figueroa's artwork has been shown in exhibitions in Puerto Rico and the U.S., including "Dreams and Visions: The Artist Perspective", and Color Show at Spring Studios Art Gallery, Houston, TX. One of her paintings was featured at the Houston Fine Arts Festival. She is a member of the invitational Manhattan Arts International Artists Showcase Gallery, a curated art program that rewards artistic excellence, in New York, N.Y. She has also served as a juror in The Many Faces of Mary Magdalene in Houston, TX.
Sample – Art Essay for Karl H. Szekielda – 100 words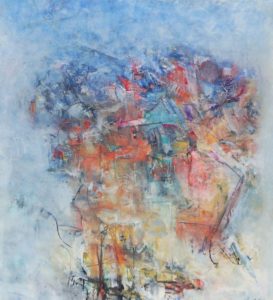 "Karl H. Szekielda's http://www.szekielda-art.com/ paintings are a synthesis of art and science and an expression of mystery and wonder. They evoke a sensual and energetic condition of atmospheric light with effortless movement. His grey-blue backgrounds and soft edges provide a dynamic presence of infinity. His professional background in science brings a unique vision to his compelling paintings and three-dimensional montages. With a superior handling of graduated tones, gestures, and a variety of translucent and transparent applications of paint he achieves a robust rhythmic expression. Colors and forms coalesce in an exquisite sense of harmony, balance and depth."
~ Renee Phillips, Director/Curator, Manhattan Arts International