Throughout your art career there will be many occasions where you will be asked to write about your art. I have written many articles about the Artist's Statement as an important communication tool. It offers you the opportunity to convey your thoughts and feelings about your artistic process. It helps the observer understand your work the way you intended it to be interpreted. Be careful, however, not to get bogged down by having to be an excellent writer. What's more important about your Artist's Statement is to let your personality shine when writing about your art!
Ask yourself, what innate traits do you have that make you and your art unique? Has an early childhood experience impacted your creative expression? How do you feel about the medium you have chosen? Do you share your feelings and philosophy in your work? Do you want your art to provide introspection, healing or other universal messages?
"I'll paint what I see – what the flower is to me." ~ Georgia O'Keeffe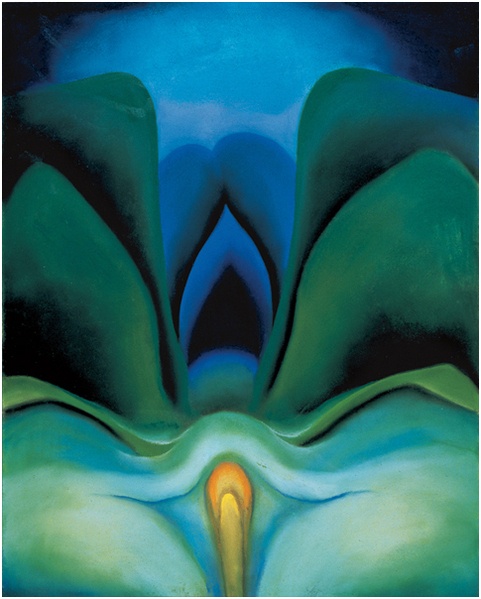 We know that Georgia O'Keeffe had a message to deliver as she wrote, "When you take a flower in your hand and really look at it, it's your world for the moment. I want to give that world to someone else… Nobody really sees a flower – really – it is so small – we haven't time – and to see takes time… So I said to myself – I'll paint what I see – what the flower is to me but I'll paint it big and they will be surprised into taking time to look at it."
When writing your Artist's Statement consider this: Your experiences, education, travels, and idiosyncrasies form your persona and influence the type of art you create. I encourage you to dig deep and discover where your origins have impacted your artistic style and your source of creativity and then simply invite your readers into your world where you can share your ideas and feelings.
"I have fun creating every day with my camera. I experiment with different printing substrates… It is a rare day that I don't learn something new."  ~ Ryn Clarke
Right away you get a sense of who Ryn Clarke www.rynclarkephotography.com is when she quotes Katherine Hepburn: "If you obey all the rules, you miss all the fun." You learn why this quote means so much to her, as she writes: "It pretty much sums up my life as an artist. I have fun creating everyday with my camera."
The multi-award winning, enthusiastic photographer explains the inspiration she derives from her subject matter: "There are many themes in my work, as I draw from personal experiences and my enthusiasm. Trees fascinate me, especially in the frosty winter. The simple lines of arcing grasses stop me in my tracks, as I know that I will be able to create many images from the pure forms. The intricacies of an orchid, blow me away. A broken down structure will create hours of endless fun. Landscapes draw me in with their mysterious lighting and emotional atmospheres created by low-lying fog, rain or snow."
She continues to explain, "I experiment with different printing substrates: handmade paper, metal, acrylic, encaustic and alternative processes. It is a rare day that I don't learn something new."
"There is a ritualistic aspect of the work that appeals to me…" ~ Linda Freuh
Linda Frueh www.atelierfrueh.com is an innovative artist who expresses the emotional connection she has with her abstractions. Choosing spare compositions she allows color and texture to convey emotion. "Each piece of my encaustic art captures a moment – an imagined or real mood expressed with as great clarity and simplicity as possible. Moments of deep emotion are so difficult to express with words. Yet a few carefully chosen colors combined with texture can convey subtle and complex feelings in an instant."
If the process and medium you work with is a deeply profound experience share your feelings, as Linda does: "Encaustic begins to solidify as soon as it touches the surface of a wood panel. In those fleeting moments I must guide and coax the wax into patterns and textural combinations to convey the mood I have in mind."
She continues, "There is a ritualistic aspect of the work that appeals to me – in the application of layers of wax and the repetitive motions of brushing, carving, scraping, and rubbing. I love the intense physicality of it – the scent of wax and honey, the slick surface under my fingers as I polish it, the beautiful and unexpected effects of translucency and color together."
"The effect of light and texture plays an important role in my creations which probably stems from a memory in childhood…" ~ Ann Dunbar

The art of multi-dimensional mixed media artist Ann Dunbar www.ann-dunbar.com,  expresses an amalgamation of who she is, her experiences from her travels, and inspiration from her own garden. Light and texture play important roles in her creations.
She helps us understand what drives her creative passion: "Over the years, my style has evolved through traveling to Asia and Australia bringing new fresh approaches. I now employ other media such as gold leaf, interference medium and inks to achieve more exciting effects on the paper. The overall finish transforms the appearance of the paper making it look more exotic or bolder and even having a completely different textural feel."
As an artist who continues to explore the world around her she exudes: "For over a year I have been inspired by the silent world of the mysterious deep sea and under water scenes, despite the connection of near death drowning experience at the age of ten, my fascination of the colourful wonders of the sea has fueled my curiosity and lured me to visit amazing aquariums like in Singapore and Okinawa, Japan."
Final Thoughts
You have strong beliefs that are communicated, whether overtly or subconsciously through your art. Avoid being timid and shy about what they are.
Don't try to fit into a mold. Be yourself. Be the best you that you can be. Then, allow your artist's statement to convey exactly what that is.
Don't force yourself to write your Artist's Statement until you have strong feelings about the motivation behind your work. Relax, have patience, and you'll be surprised how often it will write itself. Furthermore, sometimes only a few minor adjustments are required in tweaking your Artist's Statement.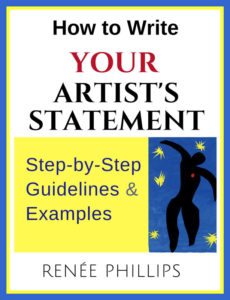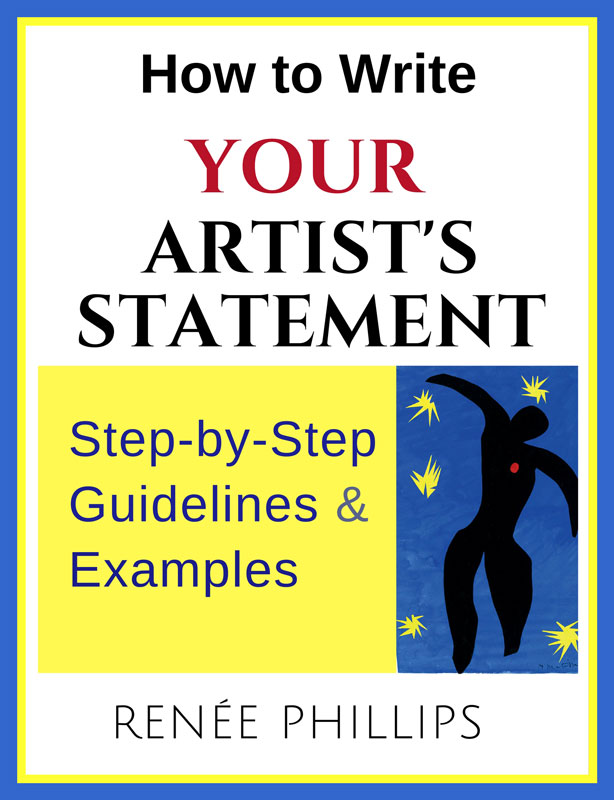 How to Write Your Artist's Statement e-Book
You'll find dozens of different Artist's Statements in this e-Book, chosen to represent a variety of artists from around the world who work in different styles and mediums.
Reading how other artists have written about their art will give you the confidence to write your own or affirm that you are on the right track with your existing Artist's Statement.
You will also find step-by-step guidelines to walk you through the process, some exercises to activate your imagination and common mistakes to avoid.
Learn more about how to order How to Write Your Artist's Statement e-Book
PLEASE SHARE
by