Definitions, Historical Facts and Artists in This Genre
I write a lot of artist's biographies. Last week, three artists who asked me to write one for them described themselves as "Self-Taught" artists. After some discussion,we concluded they actually aren't "Self-Taught" and we chose a more appropriate way to describe them and their art. In recent years, I've noticed an increase in artists who refer to themselves as "Self-Taught" without a full knowledge of the term. That's why I thought it was time to write this article "What Really Is Self-Taught Art and What Does It Mean to Be A Self-Taught Artist?"
In this article you'll find information about Self-Taught Art and the various subsets of this genre.
Definitions of Self-Taught Art and Artists
A concise description of Self-Taught Art, found on The Free Dictionary thefreedictionary.com is "a genre of art and outdoor constructions made by untrained artists who do not recognize themselves as artists."
According to the American Folk Art Museum folkartmuseum.org, "For the last twenty years, the term self-taught has more regularly come to address these artists, whose inspiration emerges from unsuspected paths and unconventional places, giving voice to individuals who may be situated outside the social mainstream."
The Weatherspoon Art Museum weatherspoon.uncg.edu, states, "Whether called 'outsider,' "visionary,' or more accurately, 'self-taught' art, the genre remains one of the most intriguing in modern and contemporary art. Each artist has examined an idiosyncratic reality to create works full of imaginative and visual power, works that stand beside the canon of the mainstream art world."
George Jacobs: Self-Taught Art, self-taughtart.com, is a leading gallery in the Self-Taught genre, located in Winston-Salem, North Carolina. It  offers a more lengthy description: "Self-taught Art refers to art created outside the canon of art history. Perhaps all artists are self-taught to a degree. But in the context of terminology, Self-taught seems to be the most applicable of the commonly used umbrella terms which describe the scope of such art. Folk Art and Outsider Art have also been used as umbrella terms for the field. In my opinion those terms better describe styles of Self-taught Art. There are many valid adjectives for this art. The lack of current consensus regarding terminology within the field is mostly an indication of the magnitude and diversity of artistic creation that recently has been and is continuing to be discovered, preserved, cataloged, exhibited and collected."
According to Phyllis Kind Gallery phylliskindgallery.com, a leader in the self-taught artists genre, "The term 'Self-Taught Art' simply refers to any object or set of objects in either two or three dimensions which was not initially intended to be art but was made for another purpose whether utilitarian or spiritual, whether public or private. The terms Folk Art and Art Brut are both subsets of this phenomenon."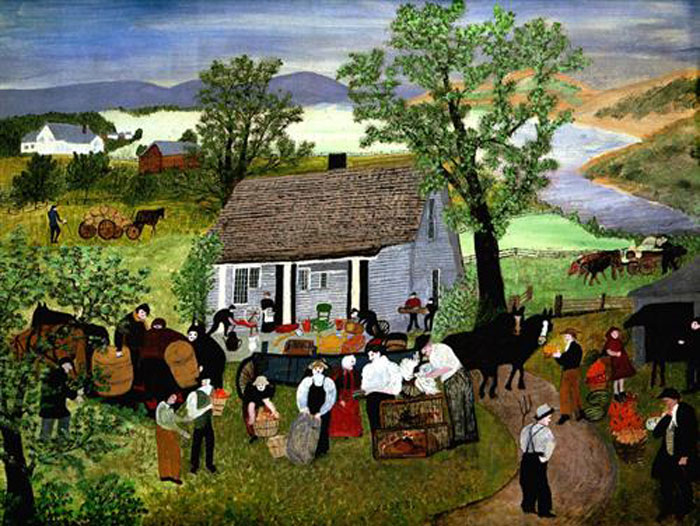 Subsets of Self-Taught Art
Folk Art
The field of American Folk Art was first defined at the turn of the twentieth century in the United States, by collectors, professional artists, critics, dealers, and curators in search of an authentic American art. The primary impetus for the marketability of these items rests with the intense excitement created by some very rich and uncommon ladies (Abbey Aldrich Rockefeller as an example of the best known of the bunch) chasing after the detritis of the common folk in America as their parents were acquiring Impressionists from Europe.
Outsider Art
Outsider Art has emerged as a successful art marketing category; an annual Outsider Art Fair has taken place in New York since 1993, and there are at least two regularly published journals dedicated to the subject. The term is sometimes misapplied as a catch-all marketing label for art created by people who are outside the mainstream "art world" or "art gallery system", regardless of their circumstances or the content of their work.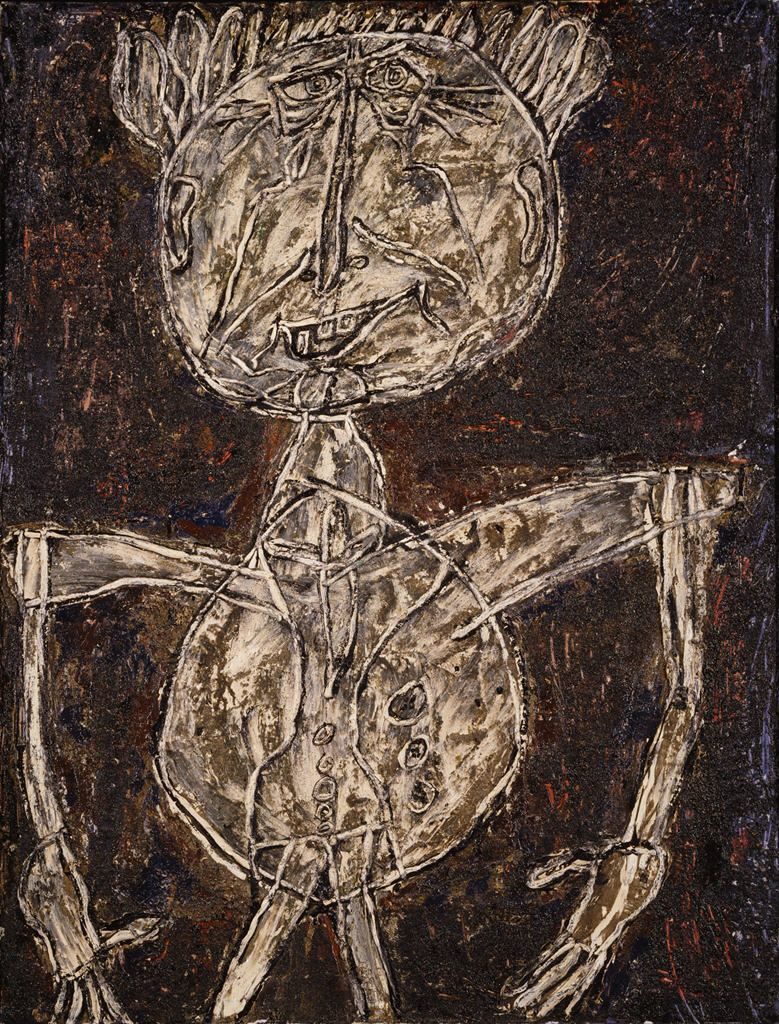 Art Brut
Under the umbrella of Outsider Art is Art Brut is a French term meaning "raw art" or "rough art", most often associated with the French artist Jean Dubuffet to describe art created outside the boundaries of official culture. Dubuffet's definition of Art Brut included art by prisoners, loners, the mentally ill, and other marginalized people, and made without thought to imitation or presentation — art by those on the outside of the established art scene, such as psychiatric hospital patients and children.
Also under this Outside Art category is Neuve Invention. An emerging American English counterpart to Neuve Invention is Liminal Art, which I may address in a future article.
Primitive Art
Primitive Art is another term often applied to art by those without formal training. This involves an innocent picture using a linear format (flat, one dimensional space) that portrays scenes and people with an absence of weather in the skies and shadows around shapes. Historically, it is more often applied to work from certain cultures that have been judged socially or technologically "primitive" by Western academia, such as Native American, subsaharan African or Pacific Island art, also categorized by Tribal Art.
Naiive Art
Naïve art is any form of visual art that is created by a person who lacks the formal education and training that a professional artist undergoes (in anatomy, art history, technique, perspective, ways of seeing). Unlike folk art, naïve art does not necessarily evidence a distinct cultural context or tradition. Naïve art is recognized, and often imitated, for its childlike simplicity. Naïve art[6] is often seen as outsider art which is without a formal (or little) training or degree. While this was true before the twentieth century, there are now academies for naïve art. Naïve art is now a fully recognized art genre, represented in art galleries worldwide.
Vernacular Art
This term refers to work by an artist who is influenced by a specific culture. For example, a group of 27 self-taught African American artists living in the south put together an exhibition of more than 60 paintings, drawings, sculptures and assemblages that explore African-American identity and culture.
Some Well Known Self-Taught Artists
Grandma Moses (1860 – 1961), was a renowned folk artist and primitive artist. Having begun painting in earnest at the age of 78, she is often cited as an example of an individual successfully beginning a career in the arts at an advanced age.
Jean-Michel Basquiat (1960-1988) dropped out of Edward R. Murrow High School in the tenth grade and then attended City-As-School, an alternative high school in Manhattan home to many artistic students who failed at conventional schooling. In 1976, Basquiat and friend Al Diaz began spray painting graffiti on buildings in Lower Manhattan, working under the pseudonym SAMO.
James Castle (1899–1977) was born deaf and spent his entire life at his rural family home in Idaho. He was known for his cardboard-and-string constructions and the pictures he drew with a concoction of saliva and soot.
More Artists in this genre: Bill Traylor, who only began to draw and paint at age 84, was born a slave in Alabama. Eugene Von Bruenchenhein (1910–83), a baker who photographed his wife as the pinup star of his own fantasies and built chicken-bone thrones. Marino Auriti (1891–1980) was a self-taught Italian-born artist.
Sources for this article: Wikipedia.com, in addition to those websites mentioned above with links to their websites.
So, are you an artist who has described yourself as "Self-Taught"? Do any relate to any of these categories? If not, maybe you could be choosing a more accurate genre for your art.
Need Help Writing Your Artist's Biography?
I'd be delighted to help you. Check out my writing services.
PLEASE SHARE
by