You're probably familiar with the  "Calls for Artists" that offer juried exhibitions. There are many excellent, trustworthy people and programs available that offer the best opportunities to exhibit and sell your art and gain recognition. They are worthy of your attention, especially if you're seeking ways to build a resume and exposure. However, you should know that not all "Calls for Artists" are equal.
Every day I notice another new "opportunity" for artists that promises artists more than they deliver, present poor quality/poor taste in the art they show, and charge the artists a higher than average entry fee to submit their entries for consideration.
There are juried competitions advertising with Google Ads and they appear on many different non-art websites. In my professional opinion, I view that as a red flag. It's a message that they are trying to attract thousands of wannabe artists to enter and mostly concerned with raising money than attracting quality.
Beware, just because an "Opportunity for Artists" is advertised on many art blogs or blasted all over the Internet doesn't mean it is credible.
Here are four steps you can take that will help you make the best choices.
Do Some Smart Research
When you visit the website read about the sponsor's history, founder and director. They should have several years of art-related experience. Beware, if they don't list the name and professional background of the director.
Search the competitions' names on Google, Yahoo and Chrome to learn if there has been any independent and objective feedback about them. Check out their profiles and endorsements on LinkedIn.
Ask other artists who have been entering calls for artists and juried exhibitions longer than you have. They will be able to offer their experiences to help you avoid the pitfalls.
Then, if everything checks out you can proceed with confidence knowing you did a thorough background check.
Don't Be Easily Impressed by "Jurors" Names
It's easy to understand if you see a name of a juror for a juried competition who is affiliated with a museum or gallery that you assume your art will be seen by them. Well, the truth it, in many instances, there is a preliminary judging by the sponsor before the remaining entries are viewed by the guest juror. I have been asked by many organizations to serve as a juror for their competitions. When I ask, will I see all of the entries that are submitted, and they say "no", then I immediately decline.
It's also possible that the juror may be an employee with a particular museum, but have little or no influence with it, so the organization is using the name of the museum to lure artists.
My advice is, inquire about their jurying process and the job description of the juror.
Ask The Right Questions
Searching for and finding opportunities is clearly not the only solution for advancing your art career. I think asking questions is a good place to begin in order to make it easier for you to find and accept the best opportunities.
Questions such as: Will this opportunity enhance my career? Is this opportunity in line with my career objectives? Do I feel comfortable associating with the artists they work with?  For more important questions, I suggest you read Use The Power of Questions For Your Art Career Success.
When you have the answers to the most significant questions about your art career, then when you see "Opportunities For Artists" you'll know immediately which ones are the best fit for you.
Also ask: how many entries do they expect to receive and how many artists will be selected. Then do the math. If they attract 1,000 entries and only 10 artists will be chosen your chances are 1 to 100.
Look At Winners of Past Exhibitions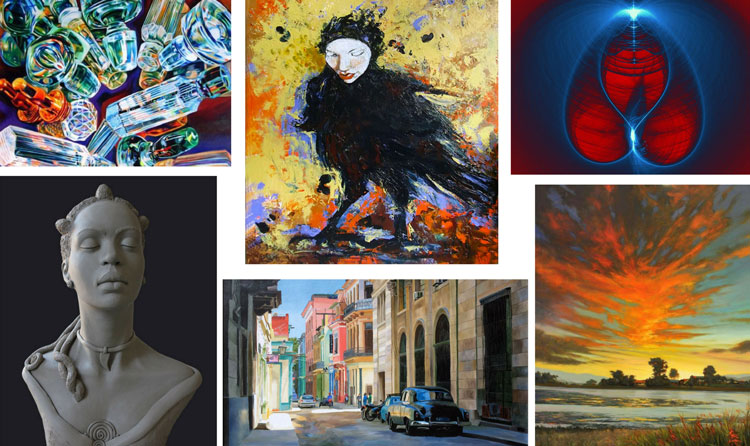 Arts organizations and galleries often publish catalogues of their juried exhibitions, so ask if you can see them. Many online galleries display winners' artwork from previous exhibitions on their websites. That helps you in terms of the quality they attract and select. Also, when you do a Google search for the organization you may find links to the websites of artists who have listed them on their resumes.
On the Manhattan Arts International website you can see the top winners in our juried exhibitions. Above, you'll see some of the winning artists from last year's "New Beginnings" exhibition.
If after you follow the tips I offer here, and you believe you have found the right opportunity that fits your artwork, go for it!
I wish you tremendous success!

You may also want to read:
Avoid Getting Rejected in Juried Art Competitions
Why I love Curating Online Art Exhibitions for Manhattan Arts International
PLEASE SHARE
by