It is an honor to present this interview with innovative artist Nancy Staub Laughlin www.nancystaublaughlin.com who has created a new concept of the "still life".  I've had the pleasure of knowing Nancy for several years and have observed her evolving creativity and commitment to her art and career. The accomplished artist is also a member of the Manhattan Arts International Artist Showcase Gallery.
In this interview Nancy shares her definition of success, advice to artists, what art marketing routine she practices, and much more. She has so much to offer that I plan to feature another interview with her. If you don't want to miss it or any of the articles I write please subscribe to my free email newsletter.
(Read Interview With Artist Nancy Staub Laughline Part II)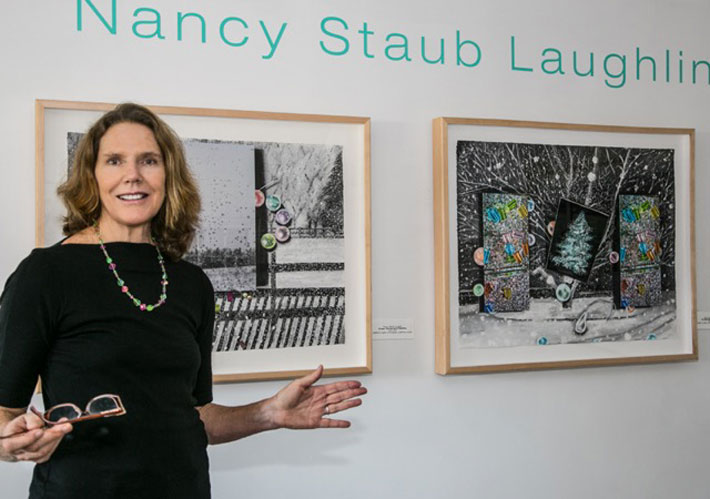 About Nancy Staub Laughlin
Nancy Staub Laughlin is a mixed media innovator who incorporates photographs into her drawings. After photographing her "stills", the photograph is used as a reference to complete the final drawing. The juxtaposition of images are both visually and mentally stimulating.
Nancy has received critical acclaim and reviews throughout her impressive career. One of her many achievements was being reviewed by Sam Hunter, Art Critic and Historian of Modern Art who accurately referred to her art as "refreshingly unique". The artist has exhibited extensively throughout the East Coast of the U.S.  She has a BFA degree from Moore College of Art, in Philadelphia, PA and lives in New Jersey.
RP: Nancy, when did you first realize your love for Art? Do you recall the time and place?
NSL: It was in the 7th grade when I saw a Claus Oldenburg sculpture in a book. In tribute, in my art class that year, I made a 6-foot hot dog with relish and mustard on a roll out of chicken wire and plastered gauze.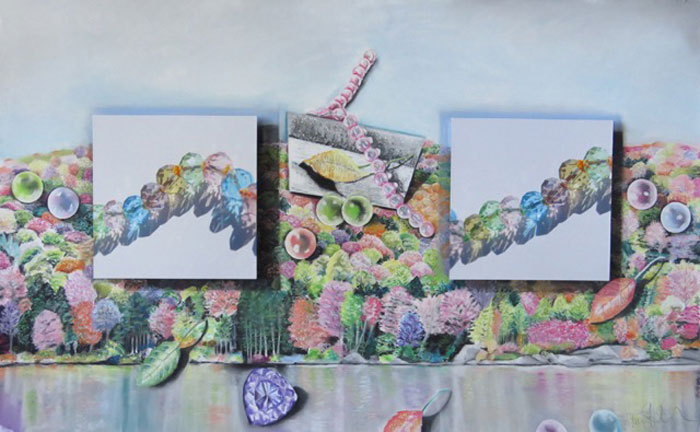 RP: What is your definition of art career success?
NSL: For me, success means that I have used all my capabilities to the fullest. My artistic goals have been met, but nearly as important, my business goals, too. The exhibitions I have accomplished are due to talent and perseverance. There is no doubt that sales are a major bonus, but having a museum exhibit or solo exhibit in a reputable gallery is a major aspect of artistic success. Another success is having your work constantly evolve, without losing your signature style.
RP: As an artist who continuously challenges yourself creatively what advice can you give to an artist who is afraid of pursuing new mediums?
NSL: Ask yourself, "What is there to be afraid of ?"For me, "afraid" is not in my vocabulary pertaining to my work. I equate afraid to being stifled. Being stifled and artistic, isn't that an oxymoron? Ones work evolves from experimentation. Experimentation translates to going out of one's comfort zone. You will know if you are succeeding in accomplishing your goals or not. Just keep at it!
RP: What career accomplishment are you most proud of and why?
NSL: I am most proud of constantly moving forward to accomplish my goals artistically and not letting rejection slow me down. I say to people who have "normal" jobs that being an artist is like applying for a new job every day. I am proud of my persistence and ability to know the fine line of being annoying. If I had to choose a favorite exhibition accomplishment, it would be Six New Jersey Masters at Kean University.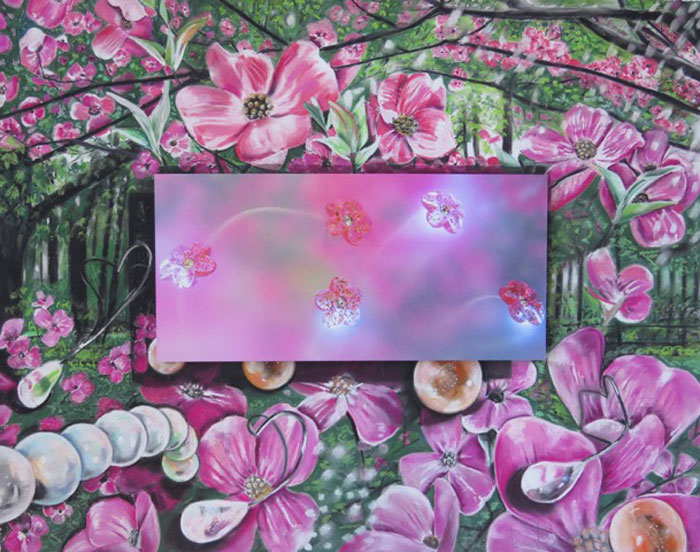 RP: If you mentored younger artists who need art career direction what lesson would you give them that you wish you learned in art school?
NSL: In art school, you learn processes, history, etc. What they don't teach you is the business end of being an artist. This skill is so important. I was lucky to have the type of personality that has a goal and won't give up until I reach it. You may be incredibly talented, but you need to do your own homework to find a spot in the art world. Only in the movies do they find you.
RP: Congratulations, I know you recently had a successful one-person exhibition at the National Club. How did that come about?
NSL: This one exhibit came about from the curator reaching out to me. It is in the town where I live and an opportunity for my local following to see my work since many of my shows are at a distance.
RP: What will you be exhibiting in your next solo exhibition at Kean University in March 2017?
NSL: I will be exhibiting my Pastel/Photograph Assemblages. For my newest one that I'm working on now, I am playing around with different sizes of the photographs within the pastel drawing. I will also change the shadows to give the illusion of the photograph sitting up. I did a small one on my iPad through SketchPro and it came out great. Now I have to translate it to a larger format and actual dimension of the mounted photos on the drawing.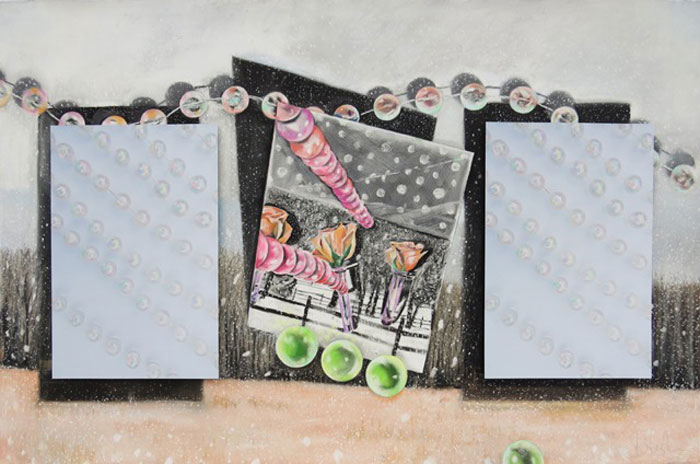 RP: I look forward to learning more about that exhibition. Nancy, what article did you most enjoy on this website and what did you learn from it?
NSL: Wow, Renee… tough to choose just one. The message you give in so many articles is really is to be a complete professional in every aspect. You also reiterate, being yourself is so important and staying true to that! I love all your advice on pricing, art consultants vs interior designers and fees, creating successful art events, and more. You are basically the Emily Post of the art world. That is a true compliment to you!
RP: That is a compliment, thank you. You're also an expert when it comes to the business of art. What art marketing activity do you practice regularly that works most successfully for you?
NSL: I keep my collectors informed of new work. I have a professional Facebook page which is great at keeping everyone informed of new exhibits and posting new work. Renee, of course, you are a huge force in gathering an intelligent, respectful audience to introduce talented artists.
RP: Thank you, Nancy. I couldn't do it without knowing artists like you.

Visit Nancy Staub Laughlin's website: www.nancystaublaughlin.com
Join Nancy Staub Laughlin in Social Media
Facebook: https://www.facebook.com/nancystaublaughlin/
LinkedIn: https://www.linkedin.com/in/nancystaublaughlin
PLEASE SHARE THIS INTERVIEW
by