UPDATED IN JULY 2017
This is a comprehensive e-Book that makes writing your Artist's Statement a much easier and faster project. As an artist career coach and arts writer I have helped thousands of artists write their Artist's Statements, provided feedback, and edited them. In this 80+ page e-Book "How to Write Your Artist's Statement" you'll receive my step-by-step guidance and dozens of samples.
Your Artist's Statement is an essential art marketing tool for your website, art blog, art exhibition, art project  proposal, press release, gallery introduction letter, grant and residency application, "elevator speech", public speaking event, and many more professional uses.
What You'll Find in this 80+ Page e-Book
Step-by-Step guidelines, tips, and exercises to help you through the process
Many different examples by contemporary artists working in different styles and mediums
Different examples for many different uses
Different versions in varying lengths
Examples of artist's statements from major artists
Mistakes to avoid
Resources and more.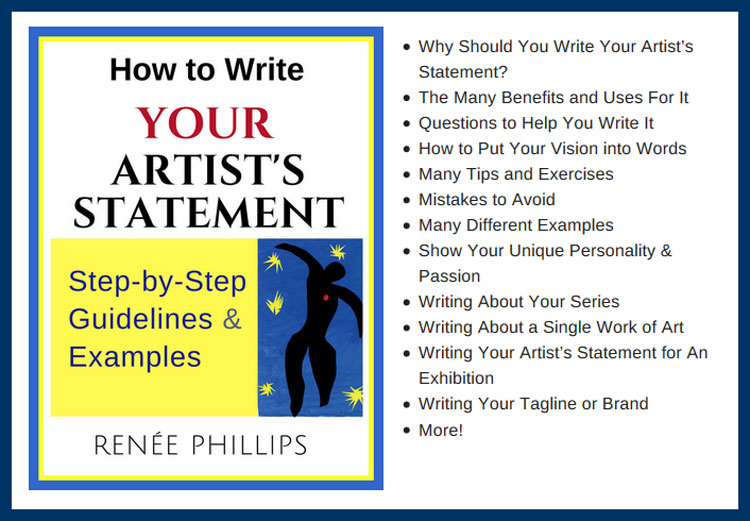 More than 80 pages filled with step-by-step guidance, many different examples and applications.
Cost: This non-refundable e-Guide is currently only $18.
Because this is a digital file all sales are final.
Pay by using easy and safe PayPal. PayPal will offer you the option to Log In or  Pay with Debit or Credit Card to Manhattan Arts International. Please note: Since this is a digital file all sales are final. Thank you!
Link to Download Your e-Book: After you pay for the e-book, you will receive two separate confirmation emails with a link to download the PDF file. Please add info@manhattanarts.com and renee@manhattanarts.com to your email address book to avoid having these important emails go to your spam folder.
Any Questions about Your Order?
Send me an email to renee@manhattanarts.com