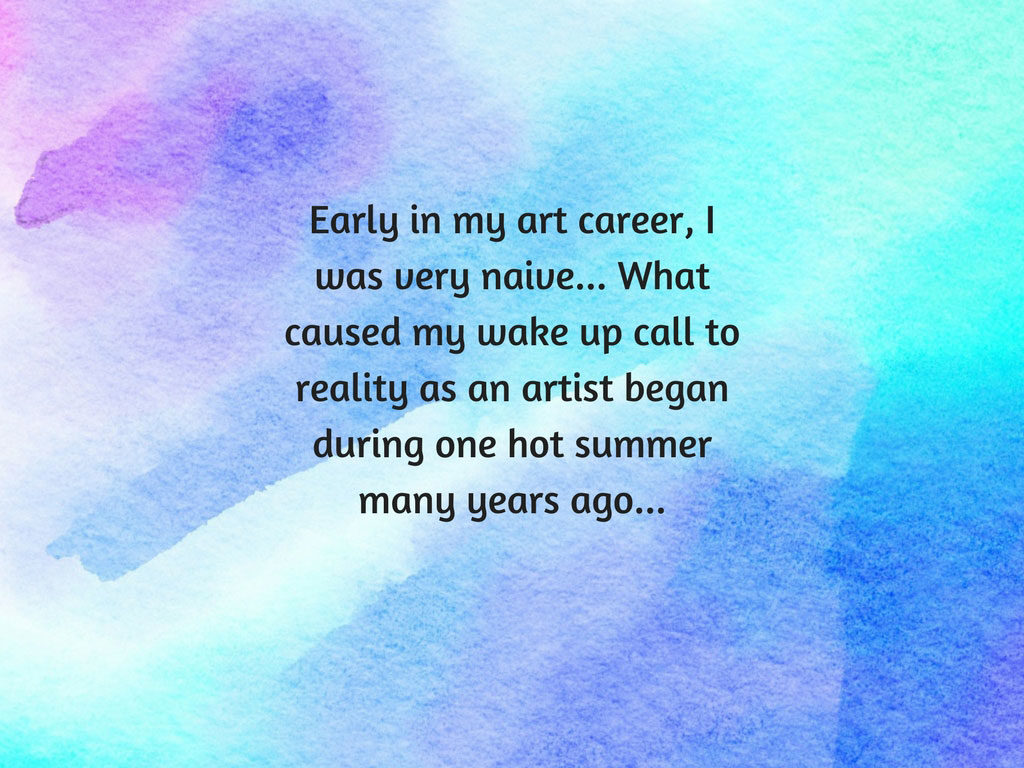 Early in my art career, I was very naive, and assumed all I had to do was create art and I would be discovered. I would say, "I don't want to handle anything that has to do with business; after all, I'm an artist!" With this mindset I was unable to support myself from the sale of my paintings and I refused to accept business advice. I had no plan in mind for success. Eventually, however, I learned how to change from immaturity to self-sufficiency and financial success. What caused my wake up call to reality was an experience I had one hot summer many years ago.
My Painful Wake Up Call
Thankfully, with the help of an unpleasant part-time summer job I gained an improved sense of reality and maturity. My boss at the time was an established fashion designer in The Hamptons, NY, whose clients were celebrities and socialites. She offered me a job to paint fabric. She rolled out long bolts of silks and cottons on a table, and I would paint colorful flowers and butterflies on them. I also painted entire party and wedding ensembles — from hats to gowns to shoes.
She Signed Her Name on My Art!
My work area was a hot, tiny, crowded room in the back of this posh boutique. After I painted the fabric, the designer sewed them into the garments and signed her name on them. I overheard her speaking to her clients in the front of the showroom, as she accepted the compliments. She deceptively took credit for doing the painting when I had done the work. She shamelessly admitted to me that many of her customers bought her apparel because of my art work.
At first my ego was sorely bruised, I was angry, and I was tempted to quit. You may wonder, why didn't I? The truth is, the money I earned for one day's work paid for an entire month's rent in my studio, where I had the freedom to create the paintings I desired for the rest of the week. And, I knew intuitively I had more to gain than monetary compensation.
I Chose to View Her As My Mentor
I don't regret that I kept this job because it taught me valuable lessons that changed my perception as an artist. I suddenly realized I had to stop feeling like a victim. Although I didn't appreciate my boss's dishonesty, instead of seeing her as an adversary, I chose to view her as my mentor. This was an opportunity to learn from her. Every week I went to work with a hunger for knowledge. While I painted on the fabric and she watched, I asked her questions about how she started her career and became a successful business owner.
From Immaturity to Self-Sufficiency and Financial Success
In this boutique I took my first steps from immaturity to self-sufficiency. This experience taught me how to become the CEO of my own business. I learned the importance of setting creative, career and financial goals with short-term and long-term objectives. I designed my first art business plan.
A few months later I had my own successful line of hand-painted "Renée's Originals" which I sold in several boutiques. One local boutique gave me dozens of blouses to take home and paint. And, I signed my name. The apparel drove traffic to my studio where I sold my paintings. As my reputation and business knowledge grew I became a proud self-supporting artist.
Passing On The Lessons I Learned
Soon I began teaching fellow artists how to succeed in business and began organizing exhibitions. It eventually led to publishing a magazine and establishing Manhattan Arts International.
Always being a teacher at heart, I am now a mentor to artists and help them create art business plans and accomplish their goals in private consultations as a career coach. I help artists combine their love for creating art with a positive attitude and pragmatic wisdom and to forge their own paths to rewarding careers.
It's gratifying to see when artists take care of business they gain confidence and creative independence. The key to success is that simple.
Choose Your Path to Success
My message with this story is, an artist needs to choose to become a victor, not a victim. We must reject the myth "Artists cannot be business people". It's not true. There are many art business books and ebooks and webinars available for artists who want to learn more about the business of being an artist. There are mentors and role models out there who have something valuable to teach you in any area you desire. You can also read the biographies of successful artists.
Give yourself time and patience to grow as your own agent and CEO of your business. Art business habits require baby steps at first, but when you reap the benefits you will want to take on greater challenges.
And, if a stubborn and naive artist like me could learn, any artist can!
PLEASE SHARE
by