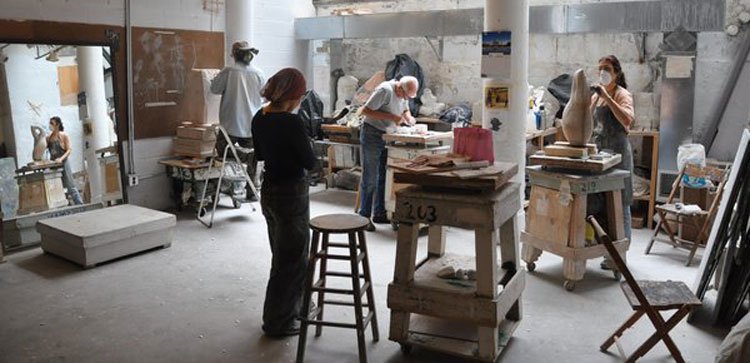 You may spend years creating an outstanding body of art work, however, if you ignore the importance of building relationships your art career may suffer. To build a better art business I suggest you practice the art of "People Power."
Early in my career I had very little money so I decided to invest my time and effort in building relationships based on the principles of camaraderie, cooperation, and collaboration.
I learned that when you invest in helping others and strive to achieve mutual beneficial goals you have more success and fulfillment than you dreamed could be possible.
One artist who has become an expert in practicing "People Power" is John, who contacted me for coaching sessions when he was facing financial bankruptcy.
John was a talented artist with a strong professional resume but when we discussed his professional relationships it was clear he spent a lot of time in isolation. He was paying the price financially for not paying attention to the importance of relationships.
The Rewards of Reaching Out to Others
John agreed he would benefit spending a few hours a week reaching out to others through emails, phone chats, and lunches. We crafted business proposals that emphasized mutually beneficial business agreements he could discuss with them. He immediately gained gallery and exhibition leads and more.
In the weeks that followed John gained more confidence so we added new prospects and refined the proposal letters. He discovered the power of social media and he reached out to build alliances through his connections in LinkedIn and friends on Facebook.
In three months John transformed his business into a very profitable enterprise. He discovered the joys of being a successful artist using the "People Power" formula.
14 Ways to Build "People Power"
Think about all the talents, connections, and skills you can offer to other people.
Create a "People Power List" of friends, customers, business associates, fellow artists, etc.
A arrange it in priority order and then put it to use!
Reach out today to a colleague, friend or fellow artist with a spirit of camaraderie. Even the smallest gesture can reap rewards.
Make an introduction, recommendation or referral to someone who needs it in person and in social media. Don't wait for them to ask you.
Imagine all the powerful ways you can exchange mutual support with others to take both of your careers to higher levels.
Share your professional connections with others with feelings of generosity. Don't expect anything in return.
Join or launch a group with other proactive people who share a purpose or mission.
Set up a phone chat with someone new every week to discuss networking ideas.
After you begin a collaborative project with others make a commitment to follow through no matter how many challenges arise.
Enjoy every step of the collaboration process without conditions or expectations.
Seek and create opportunities to engage in cross-promotion with people outside your inner circle and outside your comfort zone.
Show others you're the kind of person other people want to know and collaborate with.
Express your appreciation freely, often and publicly to everyone who has contributed to your career success.
Looking for some career guidance? I offer consulting services and coaching for artists. Find out more.
PLEASE SHARE THIS ARTICLE & BUILD YOUR PEOPLE POWER!
by