Enhance The Mood, Increase Attendance, Attract Publicity and Get Financial Sponsorship for Your Art Event
You probably already know by now that at one point in my art career I was paid to organize art events in New York City. The venues ranged from such diverse spaces as galleries and artists' studios to major corporations and cultural centers, night clubs, and hotels. I was continuously challenged to provide innovative ideas. The events ranged from 50 guests at an artist's private Open Studio to more than 1,000 in attendance at large televised galas. They were always built around themes. Now, I advise artists and arts organizations about how to create successful art exhibitions. In this article I'll share important reasons and examples for how to create successful art exhibitions using themes.
Themes Ignite Your Imagination
Using themes for your art exhibitions is a powerful way to enhance the mood, increase attendance and attract publicity and financial sponsorship. This article includes ideas from my e-Book "How to Create Successful Art Events", which includes dozens of ideas.
There are many different ways to take your art event from ordinary to extraordinary on any budget. You are limited only by your imagination, confidence and ability to network with others.
Of course budget, space and time will affect the size and scope of your event. You don't need to be as ambitious as some of the examples I provide here. They are successful ideas that you can alter and downsize to fit your needs.
Themes Elevate The Mood
For your exhibitions you'll want to create anticipation and having a theme certainly accomplishes this objective. I recommend you choose a distinctive title for the event that relates to your artwork and expand upon it. For example, when I organized an exhibition of artists' work inspired by France, we named it "The Montmartre Gala". The artists wore attire from "La Belle Époque" period. We transported guests to a different place and time period.  To tie the theme together we served French pastry and Champagne and gave away bottles of perfume from Chanel. To add even more dimension, we asked a French designer to bring a few models to the event and we raffled off French inspired artists' prints.
Theme Events Can Be Held at Alternative Venues
Events at alternative spaces with themes can also be the most successful. For example, at a "Healing Power of Art" event at a new restaurant in SoHo I invited Tai Chi performers and massage therapists to give guests the healing treatment and served healthy foods.
At the Lincoln Center For The Performing Arts gallery I curated an "Art Inspired By Music" group exhibition accompanied by live music.
When a large dance studio invited me to organize an exhibition I curated an exhibition on the theme of dance and movement inspired art.
And, when the Hilton Hotel asked me to put on an exhibition around 4th of July, all of the artists showed art around the theme of freedom and independence. Artists were dressed in red, white and blue attire.
Themes Increase Attendance
Themed events help build attendance because they are more interesting. Furthermore, they offer you the opportunity to reach out to related professionals, businesses and organizations that share your theme and purpose. They help you promote it to their associates and friends.
For instance, as publisher of Manhattan Arts International magazine, I presented various cultural art events, and asked the respective embassies to announce the events in their newsletters. When I helped to organize an exhibition for an artist promoting her animal portraits and prints, we created it as an exhibition / fund-raising event. We invited a local animal shelter during June, Adopt A Cat Month, to join us. They helped to distribute the invitations, that mentioned their organization, to their board of directors and donors.
Themes Attract Press Coverage
Events that are organized around a theme provide more content and value for your press releases. They give the local press, always in search of new stories, the impetus to give you advanced publicity. You will find as I did, when your events have an added community minded service, such as helping to raise funds for a worthy cause, the press will be motivated to cover your event as a positive news story.
Themes Increase Sponsorship and Funding
Whenever I presented events with themes it was easy to find local retailers as well as corporations to serve as sponsors. For the series of art and culture events — including our "Montmarte Gala" — we received funding from Air France, Alitalia Airlines, wine and liquor distributors, French and Italian bakeries, and cultural newspapers, among others. In return we placed their names on the invitations and press releases, which they helped to distribute to increase attendance.
My advice is use your series of art as a springboard for your thematic art event. Expand your imagination and include as many other people, businesses and organizations as possible as your co-hosts, sponsors and promoters. Have fun and let your creativity soar!
I am sure that when applying a few thematic ideas for your art events you'll turn guests into loyal followers and customers.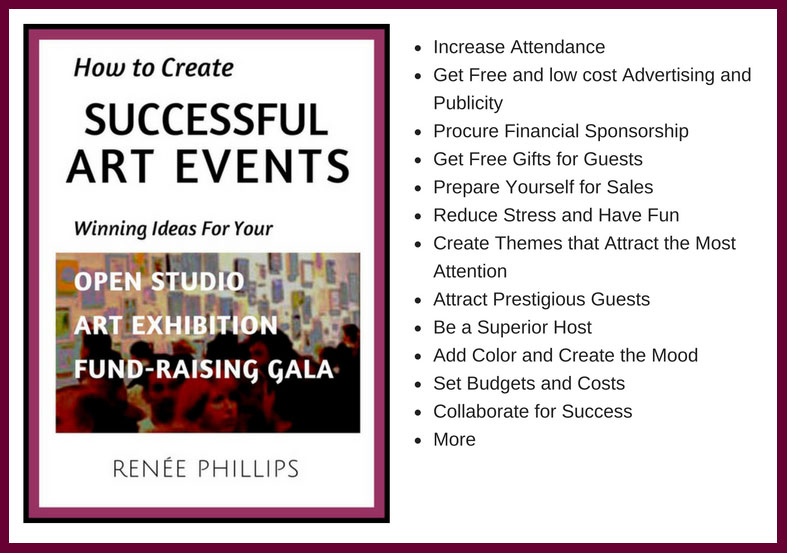 by