I see a lot of artists on social media promoting their art using words like "affordable" "on sale" and "discounts" on a regular basis. If you're one of them I hope you seriously review your art marketing strategies. You may be surprised to discover it's not your prices that are preventing sales but the wrong art marketing messages you're sending. That could make the biggest difference.  In this article  I advise you how to stop attracting bargain hunters to your art and I give you the right steps to use to attract quality-seeking art buyers.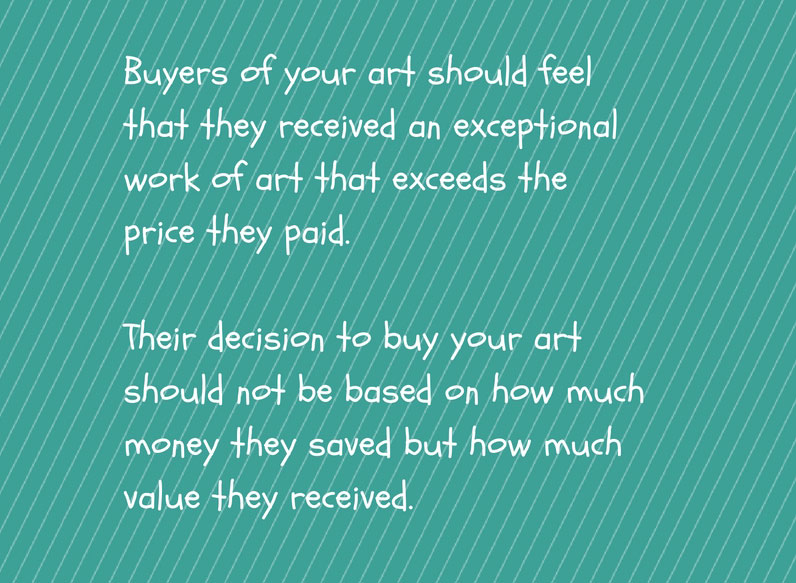 What To Avoid  if You Honor Your Artwork
Don't sell on online art stores and online galleries that accept every wannabe artist, amateur and emerging artist without any criteria or quality standards.
Don't place your art in venues where shoppers can search for art that is classified by color, subject, style and size the way we shop for utilitarian objects.
Don't place your art where bargain hunters go and compare prices and buy the least expensive item that fits their needs.
Don't be tempted to create mediocre art just to make a quick sale.
Avoid creating your art on mass produced items in every imaginative product.
Don't announce discounts on your website, in e-newsletters or in social media.
Refrain from describing your art with words like "affordable".
Believe in your art and your commitment and you'll convince others that you create extraordinary artwork. Raise your standards of self-expectation. Do better work, not cheaper work.
Instead, Take These Art Marketing Steps
Communicate the many virtues of your art.
Point to your use of high quality materials.
Remind people about your art education.
Tell them about the years of commitment and hours spent on producing art.
Offer a certificate of authenticity..
Emphasize the awards you have won.
Remind potential buyers that your art has earned the respect of reputable people in the artworld.
Share news about previous art buyers and their testimonials.
Instead of offering a 10-20% discount offer a 100% satisfaction guarantee.
Compete against yourself, not mediocre cheap art.
Create a smart art business plan.
Choose your art marketing venues and art marketing messages wisely!
Be highly selective about where you exhibit and sell your art.
Final Thoughts
Be prepared to answer these questions: Why does my art have value? Why is it worth the price I am charging?
Buyers of your art should feel that they received an exceptional work of art that exceeds the price they paid. Their decision to buy your art should not be be based on how much money they saved but how much value they received.
Consider this: When you train buyers to expect discounts, they will not be as eager to pay full price in the future.
Instead of attracting bargain hunters strive to establish relationships with art buyers who are seeking quality art.
ALSO READ…  How to Price Your Art and How to Increase Your Profits As An Artist.
PLEASE SHARE THIS ARTICLE!
by